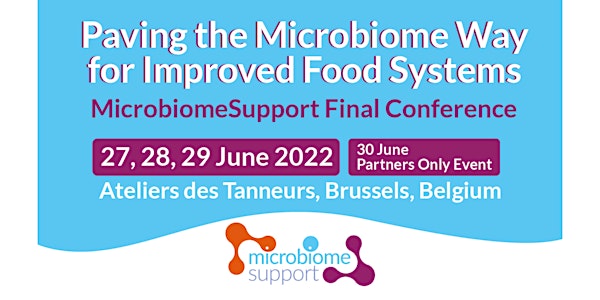 MicrobiomeSupport Final Conference: Paving the Microbiome Way
Location
Ateliers des Tanneurs
60A Rue des Tanneurs
1000 Bruxelles
Belgium
MicrobiomeSupport is organising its final conference in June 2022. Join us in driving the microbiome food system transformation forward!
About this event
From 27 to 29 June 2022, MicrobiomeSupport will hold its final event in form of a 3-day on-site conference before the project officially comes to an end. The event, which will take place in Brussels, brings together experts from all around the globe to talk about the many ways in which microbiomes can deliver sustainable and innovative solutions that create significant positive impacts on our food systems.
Who should join?
Representatives from the scientific community including industry, academia and government, international and national funding bodies, regulators and opinion leaders in microbiome and food system related fields, media representatives.
What can you expect?
Prepare for a plethora of top speakers who will uncover the potential of microbiomes in various fields and present new approaches to microbiome policies & innovation strategies. The event will provide an excellent opportunity to engage in nationwide and global networking, so that you can get involved to future proof our food systems.
Unsure if you can make it?
We are more than happy to be able to host you in person after a long time, which also means we are looking forward seeing a venue full of microbiome enthusiasts! To avoid last minute cancellations, we advise you to register only if you can realistically attend the event. Registrations will remain open until 2 weeks prior to the conference, after which an email will be sent to all attendees requesting confirmation of attendance.
Programme
Keynote speakers:
John Bell, Director Healthy Planet at DG Research & Innovation, European Commission
Justus Wesseler, Chair of Agricultural Economics and Rural Policy at Wageningen University in the Netherlands
Lene Lange, Company founder and owner of Lla-BioEconomy, Research & Advisory, Denmark
Gail Rosen, Professor of Electrical and Computer Engineering at Drexel University, USA
Looking for accommodation in Brussels?
Check out some suggestions close by to the conference location.
* Information regarding the participation and data privacy can be found here.
More on MicrobiomeSupport
MicrobiomeSupport is a EU-funded coordination & support action aiming to pave the ways towards a sustainable and circular, microbiome-based bioeconomy. Having started on 1 November 2018, some of its core activities include the facilitation of multi-actor engagement to align, structure and boost research and innovation in the microbiome field, as well as the support of the International Bioeconomy Forum working group 'Food Systems Microbiome'.
Follow us on Twitter (#Microbiomes4Life) and visit our webpage for further information about the project.