Description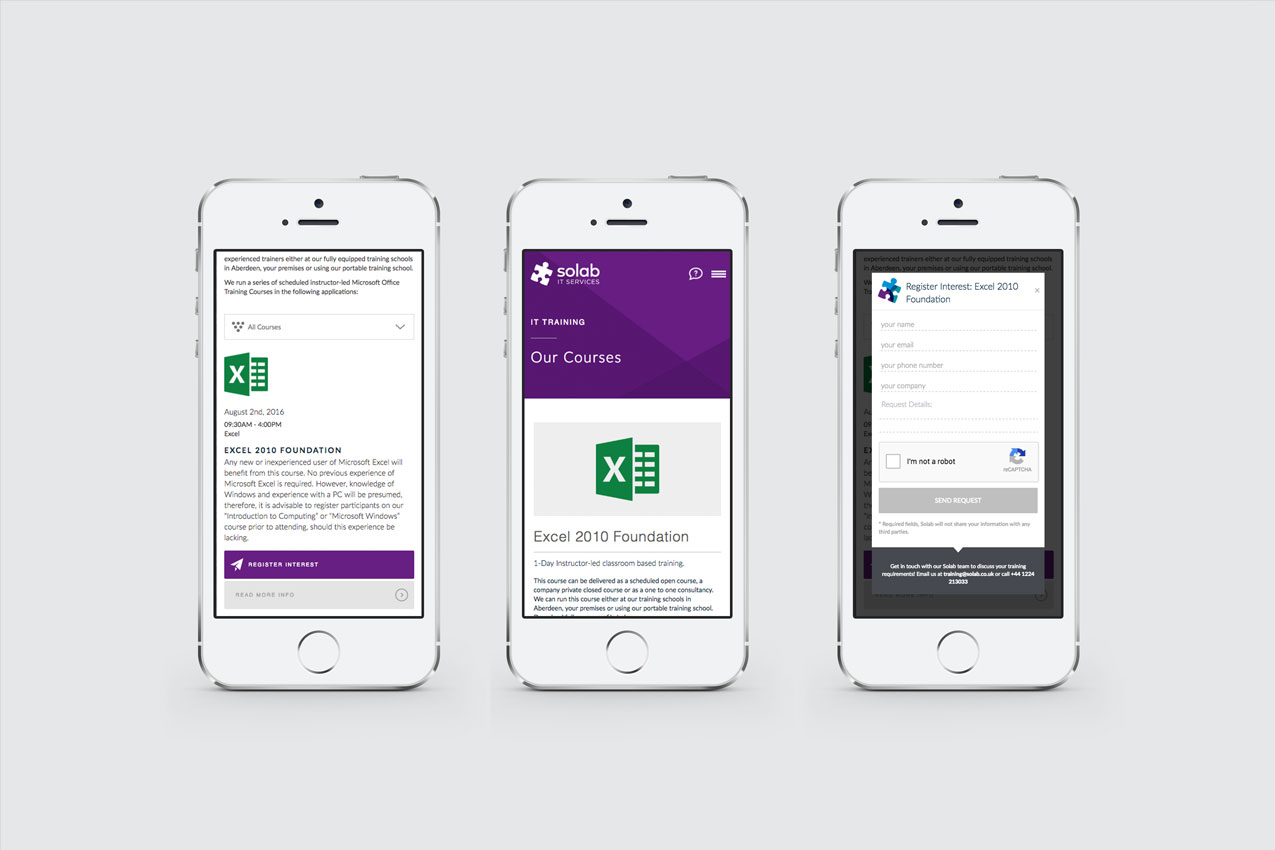 About Solab
Solab is one of the longest established IT Services companies in Scotland.
Based in Aberdeen, Solab has been delivering innovative and flexible IT Support, IT Business Training and Software Development to its clients for over 25 years.
Microsoft Excel - Pivot Tables (Prior knowledge)
A good knowledge of common Excel features.
About Pivot Tables
Creating a pivot table is a great way to summarize, analyze and present Excel data. Pivot tables and charts can help you to compare and contrast data which in turn allows you to make informed decisions.
Who should attend
This training course is designed for anybody managing large amounts of Excel data or downloads from ERP systems such as SAP.
Pivot Tables Course Content
Organise Data before creating a Pivot Table
Create a Pivot Table
Add and Remove Fields in a Pivot Table
Update a Pivot Table
Filter data using Slicers
Drill Down
Format Numbers in a Pivot Table
Format a Pivot Table using PivotTable Styles
Summarize Values by Average
Show Values as
Group Data Automatically
Group Data Manually
Create a Pivot Chart
Create a Pivot Chart from your source data
Create a Pivot Chart from a Pivot Table
Create Multiple Pivot Tables from one Pivot Table
Microsoft Applications Expert
Lynsey Forbes - Lynsey delivers training in a range of Microsoft Office applications – as well as many of the services that constitute the wider Solab training package learn more
Why should I choose Solab for my training?
We've trained over 22,000 client delegates since our schools opened in 1994

Our delegates scored us an average of 95% for the quality of our training throughout 2015

We have developed a loyal customer base with highly satisfied delegates and training bookers returning time and time again

We feel we have the right balance of skills to make that difference when you're looking for the right IT Training Partner – it's more than just a training course, it's a relationship.

---
FAQs
Where can I contact the organiser with any questions?
Contact training@solab.co.uk or use our contact form
Is there any parking available?
Our training centre based in the heart of Aberdeen is a great venue for your training.
Parking is available at the multi-storey pay and display car park next to the nearby British Telecom building. From the car park, walk up South College Street onto Bridge Street; Bridge House is located at the bottom of Bridge Street before the steps up to Crown Terrace. Solab's offices can be reached by taking either the lift or stairs to the first floor.
My circumstances have changed. Can I apply for a refund?
We regret to advise that our course fees are non-refundable.
When will I receive my certificate?
Certificates of Achievement are issued at the end the course, either as a hard copy or via email.