Microsoft Office 365 PPM and Project Online for Consultants Course (1 Day) - 6th December, 2017

Wednesday, December 6, 2017 from 9:00 AM to 5:00 PM (GMT)
Event Details
Course Description
This course is designed to cover the key features and aspects of the Microsoft Project and Office 365 PPM Solution for consultants working in advisory capacity for clients. Whilst not as in depth as the full Office 365 PPM and Project Online Administrators' course, this course will provide the necessary knowledge to advise customers and internal stakeholders on the solution and its capabilities.
Attendance on the Introductory Project Professional course (or equivalent knowledge) is a highly desirable pre-requisite. Knowledge of Office 365 Administration would be an advantage but is not essential. Delegates should also have access to Microsoft Project Professional and ensure that this is installed on the PC/laptop used for training (if BYOD). Otherwise, we will provide 60 day trial licences for use on your own laptops, or laptops will be supplied pre-configured for use on the training course.
Who Should Attend
Anyone who will be responsible for advising either customers, internal stakeholders, or senior management on the use of Microsoft Project and the Office 365 PPM Solution (which includes Project Online) within a specific business or organisation. This course is also useful for those who are in the process of reviewing the Office 365 PPM solution as part of an evaluation process internally. 
Course Content:
The content of this course is as follows and delegates will, on completion of the course, be able to:-
Understand Project Online Concepts and features

Understand the different areas of the PWA Home page and menu links.

Understand how to save Microsoft Project plans to Project Online and the difference between Draft and Published plans.

Understand how users can view, edit, and update projects & tasks

Understand how to reject, create, and delegate task assignments.

Understand how to link documents, issues, risks and documents to projects.

Show how to view projects in the Project Center & understand the concept of custom views.

Show how to view resources in the Resource Center & understand the concept of custom views.

Understand how to view resource and assignment data related to one or more projects.

Understand the concepts of editing enterprise resource pool information.

Understand Calendars and how these work in conjunction with Microsoft Project.

View and update task changes to a Microsoft Project plan and the update process.

Understand rules to automatically update projects.

Understand Check In/Check Out of Project plans, resources and objects.

Understand Categories/Groups/ Permissions & Security Templates and how these can be used to configure the system.

Understand key concepts of reporting for management information.
Understand the relationship between Project Online and Project Sites for collaboration.
Project Online:
Understand the different Security role options.

Understand the communication and messaging process.

Understand Timesheets, Task updating, Time Periods and Fiscal Periods.

Understand how to view and upload documents for projects and public documents.

Understand how to create and edit an issue or risk.

Demonstrate connecting Microsoft Project Professional to Microsoft Project Online.

Understand the functionality of Microsoft Project Online.

Understand the different user types and the how they interact with Microsoft Project Online and the functionality of each.

Understand the importance of adopting best practices when deploying the solution.

Understand Reporting and Business Intelligence capabilities in Project Online.

Understand the concepts behind reporting from Project Online (oData feeds).

Understand exporting data from Project Online to Excel.

Understand license management within Office 365 and the options for Project Pro and Project Online.

Understand how security works within Microsoft Project Server.

Understand the process for setting custom permissions.

Understand and edit the Resource Breakdown Structure.

Understand the Portfolio capabilities (note: there is a separate course covering, Microsoft Project Online Portfolio Management, administration and reporting).

Understand Multi-value fields esp in relation to role matching for resources.

Understand the importance of multiple Project Online instances (Test, Staging, Production).

Release Management process for changes into production.

Further resources and support options.
Have questions about Microsoft Office 365 PPM and Project Online for Consultants Course (1 Day) - 6th December, 2017?
Contact Technology Associates
When & Where

Technology House
1 Shottery Brook Office Park
Timothy's Bridge Road
CV37 9NR Stratford Upon Avon
United Kingdom


Wednesday, December 6, 2017 from 9:00 AM to 5:00 PM (GMT)
Add to my calendar
Organizer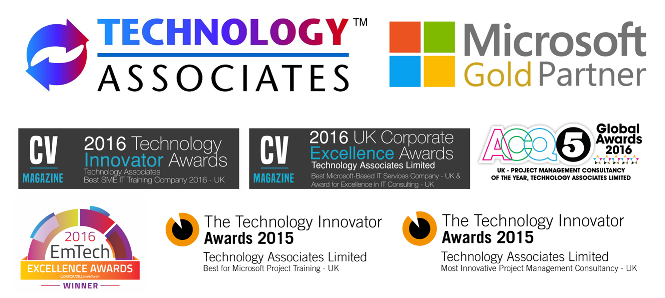 Technology Associates is one of the leading IT solutions companies specialising in Microsoft Project, Project Server, Project Online and the Microsoft Project and Portfolio Management Solution (otherwise known as the Microsoft Office 365 PPM Solution). Since 1990, Technology Associates have provided advice, deployment, consultancy, development and training services on these solutions to more than 900 organisations including some of the world's leading companies.
Technology Associates have deployed hundreds of Project Server and Project Online solutions and deployed more than 2,000 Microsoft Project based solutions. Now focusing on the Microsoft cloud based options available to customers, our portfolio covers Office 365 PPM, SharePoint Online, Project Online, Azure (for dedicated or hybrid scenarios), as well as of course Office 365 itself and all associated products. In addition, we provide low cost custom development, including web apps and integration scenarios.
The company holds several Microsoft Gold Competencies in Project & Portfolio Management, Midmarket, Application Integration and Application Development, along with several other silver competencies and has been a Microsoft Partner since 1992. With such a strong technical tour-de-force we have built a solid reputation for delivering high quality services and solutions, and providing exceptional value for money. Headquartered in the United Kingdom, with overseas offices in New York, San Francisco, and India, and a strategic partner network covering AsiaPac, Middle East and ROW, we work internationally in delivering IT solutions to our customer base in over 39 countries, although our primary customer base remains in the United Kingdom.
Find out more at www.techassoc.com
Follow us on Twitter - http://www.twitter.com/TechAssoc
Follow us on Facebook :-
https://www.facebook.com/TechnologyAssociatesLtd
E-mail : info@techassoc.com
Tel : +44 (0) 1789 292150