Join us for a fun and easy singing session in Chinese - no previous language skills required!
About this event
Inspired by our Music in the Moonlight: Mid-Autumn Festival Virtual Concert on Friday 17th September? Join one of our talented performers, Fong Liu, for a special Sing in Chinese workshop.
Singer, storyteller and teacher Fong Liu joins us for special singing sessions - in Chinese! You'll learn how to sing easy songs in Chinese Mandarin. Learn new words, explore a different culture and express yourself through music.
For this session, Fong will introduce the origins and customs of Mid-Autumn Festival (also known as Moon Festival). We'll then learn how to sing Moon Represents My Heart 月亮代表我的心, along with how to say and write some happy festival greetings in Chinese.
You'll need:
A notebook and pen/pencil to take notes (optional)
No previous Chinese language knowledge required
Recommended for: Children 7+, families and adults. All singing abilities welcome!
Language: English & Mandarin
Workshop Leader: Fong Liu
Artist Profile:
Fong Liu is a Chinese singer, storyteller, voice over artist and UK qualified secondary school teacher. She sings Chinese folk, pop and opera songs. Her brilliant ability to adapt her voice to many styles from China makes her a unique and special performer. She has been acclaimed during residences in China, India and, since 2006, Great Britain. She continued her study in UK and got her teaching qualification PGDE and Master in Education. Her passion is to combine her knowledge in singing and Mandarin teaching to make the Chinese language learning fun and interesting.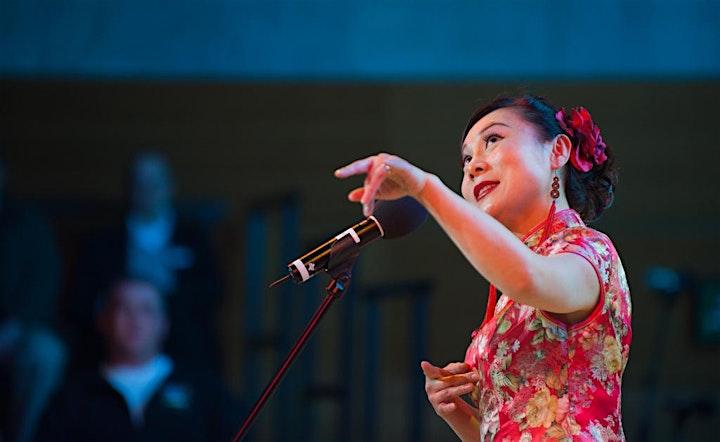 Joining the workshop:
The workshop will be delivered via Zoom. You will receive a Zoom workshop link and password to join the workshop after registration. Please join the workshop on time.
Important:
Participants are expected to adhere to our online event Code of Conduct. We will be kind, respectful and patient towards each other in a positive and supportive environment. Abusive actions or language will not be tolerated. You can read the full Code of Conduct on our website.
As this is an online workshop, Ricefield Arts is not able to assess any safety hazards for participants remotely. We are not able to take any responsibility associated to your safety. By registering, you agree to take full responsibility for your own health and safety when taking part in our online workshop in your own home.
Photo used for this listing maybe subject to copyright.
Organiser of Mid-Autumn Festival: Sing in Chinese Workshop
 Ricefield Arts & Cultural Centre is a registered charity and social enterprise based in Scotland that has gained an excellent reputation for delivering original and inspiring Chinese arts and cultural experiences for schools, community groups, public institutions, arts audiences and the diverse communities in Scotland.