Description
On July 2nd, London-based arts and human rights charity Sandblast will join forces with acclaimed UK music academy Stave House for a multi-arts Mid-summer Western Sahara Festival. The event will highlight the on-going 40-year-long plight of the Saharawi refugees in the Algerian Sahara and present recent efforts to bring early music-learning to the area through project Stave House in the Sahara. The charity will also launch Run the Sahara 2017, known internationally as the SaharaMarathon, which takes place annually in February. UK participants raise funds for Sandblast's music and youth projects in the refugee camps. The majority of the Saharawis became displaced in harsh desert camps, in SW Algeria, after Morocco forcefully annexed their homeland of Western Sahara in 1975. The territory, a former Spanish colony, is officially recognised by the UN as Africa's last colony.
Eye-opening film premiers, photography, music and poetry will offer something for every taste in Hoxton's hipster Hundred Years Gallery. For more info, please check our Press Release: http://www.sandblast-arts.org/blog/press-release-mid-summer-western-sahara-festival-jul-2nd-london
Tickets are a £5 suggested donation to help us cover the expenses of the event. Book yours NOW!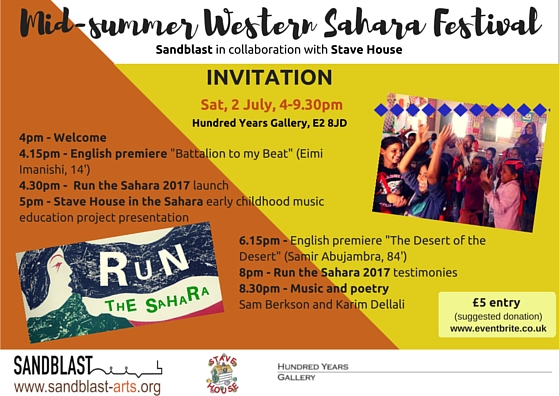 ---
Programme:

· 4pm - Welcome
· 4.15pm - English premiere "Battalion to my Beat" (Eimi Imanishi, 14')
· 4.30pm - Run the Sahara 2017 launch by Sandblast director Danielle Smith
· 5pm - Stave House in the Sahara presentation by project leader Violeta Ruano and Stave House founder Ruth Travers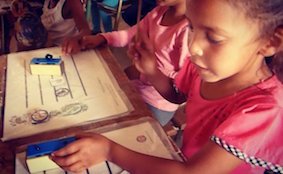 · 6pm - BREAK
· 6.15pm - English premiere "The Desert of the Desert" (Samir Abujambra, 84')
· 8pm - Run the Sahara 2017 testimonies by previous runners
· 8.30pm - Music and poetry by London poet Sam Berkson and Algerian darbouka player Karim Dellali
- Photography display on our projects, Western Sahara and the Saharawi refugee camps (SW Algeria) will be on during the day!
Organiser of Mid-summer Western Sahara Festival
Sandblast is a UK human rights charity promoting the voices and visions of the indigenous Saharawi from Western Sahara through the arts. The protracted conflict, in Africa's last colony, has turned the majority of the Saharawi population into refugees and threatens the survival of their cultural identity.
We believe in the right of individuals and communities to enjoy culture, celebrate the arts and promote their own traditions. Bolstering the cultural heritage of the Saharawi and raising awareness of their overlooked plight are important to our mission.
Since 2005, Sandblast has created platforms in the UK to promote Saharawi arts and culture and undertaken projects in the refugee camps to strengthen artistic expression.Studio-Live, our current project, aims to equip the refugees with the skills and material resources to build their own music industry from scratch in the camps.
If you want to get involved or have any questions regarding our organisations and/or events, please contact us on info@sandblast-arts.org or visit www.sandblast-arts.org. We look forward to hearing from you!