A briefing event for organisations interested in finding out more about the Mid Wales Challenge Led Launchpad series.
About this event
What is the Mid Wales Challenge Led Launchpad Series?
The Mid Wales Challenge Led Launchpad Series is a new programme aimed at developing novel solutions to public sector and societal issues through research and innovation whilst offering new market opportunities for businesses and people in Mid Wales. Projects are 100% funded to participate in R&D, focused on specific identified needs and are open to all organisations that can demonstrate a route to market for their solution.
The programme will enable businesses to analyse and evaluate the potential of concepts and ideas for eventual deployment through collaboration with academia and regional leadership to encourage success and growth. Through a collaborative working model, it will deliver expertise and resources to accelerate the development of innovative businesses and accelerate growth through high impact innovation. The programme will include tailored support and the potential to utilise unique regional capital assets and technology to support businesses in the development of novel solutions. Challenge Led Launch Pads will provide excellent opportunities for businesses to develop and demonstrate technology to a range of stakeholders within the partnership acting as potential customers.
The Opportunity
This challenge is a single-phase challenge intended to show the feasibility of the proposed concept. The development contracts awarded will be for the duration of 3 months with individual contracts valued up to £30,000 (inc. VAT) per project. Successful projects must start on the 31st January 2022 and conclude on the 29th April 2022. Projects will be selected by an open competition process and organisations will retain the intellectual property generated from the project.
Applications close on 10th January 2022.
Aim: Identify innovative solutions to protect our environment and support health addressing core areas of the Well-being of Future Generations (Wales) Act 2015 and Environment (Wales) Act 2016.
Reducing and reusing agri-waste -
Agriculture plays an important role in Mid Wales and the local economy and it is instrumental in the region's culture and communities. However, agricultural waste can have a distinctly negative impact on the environment and human health if not disposed of or reused correctly. The types of waste produced in agriculture are wide ranging from organic to unnatural waste. Typical organic waste can include animal waste such as farmyard manure, poultry manure and slurry whilst common unnatural agricultural wastes include discarded pesticide containers, plastics, tyres, batteries, and old machinery. Chemical waste requiring specialised handling are typically through the use of concentrated and diluted pesticides and sheep dip. Inefficient disposal of agricultural waste not only results in environmental pollution, but also risks the loss of substantial valuable, latent resources. To protect and enhance our environment we need to identify new solutions which promote sustainable farming practices that minimise pollution and maximise environmental gain. This theme is seeking innovative solutions which can help reduce and reuse agricultural waste. Can new or existing technology help us minimise or transform waste? Can waste be transformed into energy? Can valuable molecules be retrieved from waste? Can technology and changed processes create more sustainable farming practices?
Carbon capture and offset -
Climate change is one of the biggest challenges facing Wales and the world. To respond to the threat of climate change we will need to adapt to its impacts and minimise the emissions of greenhouse gases (GHGs) to prevent further climate change. Agriculture is among many sectors that contribute to climate change, however whilst it is a contributor of GHG emissions it is also a sector which has the capability to capture carbon and reduce the volume of carbon dioxide output. While there has been a decline in GHG emissions in agriculture over the last 20 years, the agricultural sector still accounts for 12% of Welsh emissions. Climate change in turn will affect agriculture itself, extreme weather events associated with climate change can cause sudden fluctuations in agricultural productivity. Technological innovation presents the prospect of simultaneously improving productivity and delivering substantial reductions in emissions.  A number of solutions already exist, however there is a need for innovation to mitigate the effects of climate change and meet Welsh Governments ambitious targets of reaching net zero by 2050. Such ambitious targets will require a variety of technologies to achieve this, therefore, this theme is seeking innovative solutions which can contribute to carbon capture and offset within agriculture. Can carbon capture technology produce new fuels or materials to offset agriculture practices? Can innovative approaches to livestock management offset or reduce carbon emissions?
Circular sources of nutritious food -
Good nutrition plays an important role in the optimal growth, development, health, and well-being of individuals in all stages of life. However, our current food production and consumption habits are unsustainable. The 'linear' nature of modern food production, extracts finite resources, is wasteful and polluting, and harms natural systems. By changing the way, we handle by-products and waste, we can create a circular economy for food that regenerates natural systems, combats climate change, and improves access to nutritious food. The circular economy is an economic model which aims to eliminate 'one-use' materials in the production of goods and services. In contrast to linear models of 'make, use, dispose', circular economy principles aim to keep resources in use for as long as possible while greatly reducing waste by recycling and repurposing materials wherever possible. Circular sources of food can improve access to nutritious food and build resilience in food systems. Adopting a more circular economy for sources of food can also save money and create economic value. Our food security and climate change challenges will have numerous solutions involving innovation and technology, either from within our existing food industry or from other sectors. Therefore, this theme is seeking innovative solutions which can produce circular sources of nutritious food. Could food waste be transformed into additional nutritious ingredients? Could by-products be transformed into animal feed?
Please register your attendance to hear how the Mid Wales Challenge Led Launchpad will run and to assist with any of your application queries.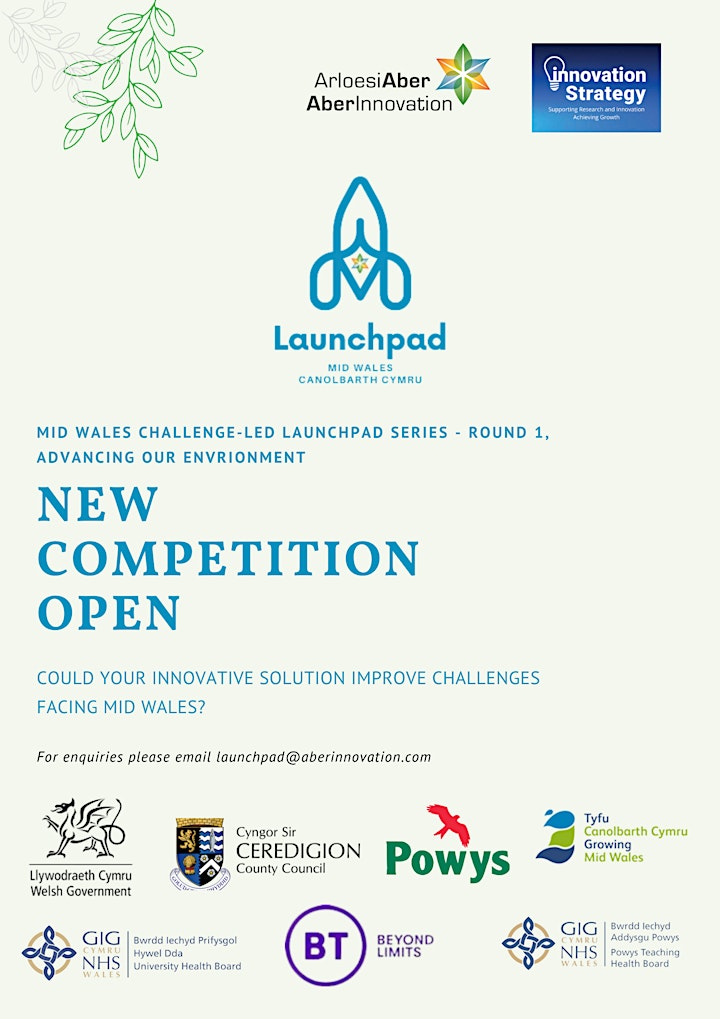 Organiser of Mid Wales Challenge Led Launchpad - Briefing Event