Mid Wales Hack of Kindness | Hac Caredigrwydd Canolbarth Cymru
COVID-19 and your Business – The Mid Wales Hack of Kindness | COVID-19 a'ch Busnes - Hac Caredigrwydd Canolbarth Cymru
About this Event
THIS SESSION WILL BE DELIVERED IN ENGLISH ONLINE. Welsh documents are available upon request.
MI FYDD Y SESIWN HON YN CAEL EI GYNNAL YN SAESNEG AR-LEIN. Mae yna ddogfennau Gymraeg ar gael os oes angen.
(Please scroll down for English)
------------------------------------------------------
Gweminar ar-lein - Hac Caredigrwydd Canolbarth Cymru
A ydych yn frwd dros wneud gwahaniaeth yng nghanolbarth Cymru? A oes gennych syniadau i fynd i'r afael â phroblemau cymdeithasol mewn ffyrdd cynaliadwy?
Mae pandemig Covid-19 wedi gwneud i bob un ohonom feddwl am ein cymunedau a'r hyn sydd orau ar eu cyfer. Mae'r digwyddiad hwn yn ymwneud â chydweithio i'w cefnogi.
Mae Hac Caredigrwydd Canolbarth Cymru yn ddigwyddiad wythnos o hyd a fydd yn dod â phobl ynghyd i feddwl am syniadau creadigol, datrys problemau, a dod o hyd i rai datrysiadau cynaliadwy i faterion cymdeithasol yn ein cymunedau.
Nid oes angen i chi fod ag unrhyw brofiad o fusnes neu fenter gymdeithasol, dim ond angerdd i wneud gwahaniaeth a'r awydd i weithio gydag eraill i ddechrau prosiect newydd o'r dechrau.
Mae'r digwyddiad yn gwbl rhad ac am ddim! Mae angen calon fawr arnoch a pharodrwydd i weithio fel tîm.
Beth fydd dan sylw yn y digwyddiad?
Yn ystod yr wythnos, byddwch yn dysgu hanfodion sefydlu menter gymdeithasol, gan gynnwys cynhyrchu syniadau, profi'r farchnad, gweithio gyda gwahanol grwpiau, a sut i greu effaith ar gyfer cymunedau lleol. Byddwch yn cael cyfle i rwydweithio gydag amrywiaeth o fentoriaid sydd â phrofiad o sefydlu eu mentrau cymdeithasol eu hunain, ac yn dysgu ganddynt.
Bydd yr wythnos yn dod i ben gyda chyflwyniad terfynol i banel beirniadu. Rydym yn chwilio am atebion gwych i'w cefnogi. Yn ogystal â rhoi adborth gwerthfawr, bydd yr atebion gorau o'r digwyddiad hwn yn cael eu gwahodd a'u cefnogi i wneud cais am arian.
Ar gyfer pwy mae'r gweithdy hwn?
Unrhyw un sy'n teimlo y gallant ddod ag empathi, syniadau ac egni i'r bwrdd! Mae'n well datrys problemau gyda'n gilydd, felly byddwch yn gweithio fel tîm. Byddem yn eich annog i gofrestru gydag eraill, ond gallwch hefyd gofrestru fel unigolyn ac ymuno ag eraill ar ddechrau'r hacathon.
Nodwch y mater cymdeithasol yr hoffech fynd i'r afael ag ef pan fyddwch yn cofrestru. Os ydych yn y coleg, bydd eich hyrwyddwr menter yn helpu i drefnu eich tîm am yr wythnos.
Materion cymdeithasol i fynd i'r afael â nhw
Dyma rai o'r themâu y byddwn yn archwilio syniadau mentrau cymdeithasol o'u hamgylch. Y nod yw datblygu atebion cynaliadwy i'r materion hyn:
Iechyd a lles
Trefi eco
Ynysu cymdeithasol
Diweithdra
Fformat
Ar ôl ffurfio eich tîm, byddwn yn ymddiried yn eich menter chi i drefnu amser i weithio gyda'ch gilydd ar y syniad (gallwch ddefnyddio Zoom, WhatsApp, Teams neu pa bynnag fformat sy'n gweddu orau i chi).
Byddwn yn cynnal gweminarau bob nos yn ystod yr Hac Caredigrwydd i'ch helpu i ddatblygu eich syniad. Bydd y rhain yn cynnwys holl fanion cynhyrchu syniadau, creadigrwydd, gwaith tîm, deall menter gymdeithasol, adnabod eich cwsmeriaid, paratoi ar gyfer ariannu a buddsoddi, marchnata, effaith gymdeithasol a sut i wneud cyflwyniadau.
Yn ogystal â'r gweithdai hyn, mae'r sesiynau gyda'r nos yn gyfle i ddod ynghyd, gofyn cwestiynau, gweithio gyda'ch grŵp a chael cyngor arbenigol gan fentoriaid.
Gweminarau 7-8yh a chynllunio syniadau mewn timau rhwng 8-9yh. Bydd yna hefyd sesiwn bore Sadwrn rhwng 9.30-11.30yb. Ond peidiwch â phoeni os na allwch wneud pob sesiwn gan y byddwn yn recordio'r gweminarau ar eich cyfer.
Pwy sydd ynghlwm?
Mae'r digwyddiad yn cael ei gynnal gan Ganolfan Ffocws y Drenewydd ac yn cael ei redeg gan dîm o bobl o Busnes Cymdeithasol Cymru, Prifysgol Aberystwyth, Syniadau Mawr Cymru, Canolfan Gydweithredol Cymru, Tramshed Tech, Coleg Ceredigion a Grŵp Colegau NPTC.
Dydd Iau 24 Medi – Dydd Iau 1 Hydref 2020
_________________________________________________________________________________________
COVID-19 and your Business – Mid Wales Hack of Kindness
Are you passionate about making a difference in Mid Wales? Do you have ideas to tackle social problems in sustainable ways?
The Covid-19 pandemic has made us all think about our communities and what is best for them. This event is about working together to support them.
The Mid Wales Hack of Kindness is a week-long event that will bring people together to come up with creative ideas, solve problems, and find some sustainable solutions to social issues in our communities.
You don't need to have any experience of business or social enterprise, just a passion to make a difference and the drive to work with others to start a new project from scratch.
The event is totally free! You just need a big heart and a willingness to work as a team.
What will the event cover?
Over the week you will learn the basics of setting up a social enterprise, including idea generation, market-testing, working with different groups, and how to create impact for local communities. You will have the chance to network with and learn from a variety of mentors with experience of setting up their own social enterprises.
The week will culminate with a final pitch to a judging panel. We are looking for great solutions to support. As well as giving valuable feedback the best solutions from this event will be invited and supported to apply for funding.
Who is this workshop for?
Anyone who feels that they can bring empathy, ideas, and energy to the table! Problems are best solved together, so you will be working as a team. We would encourage you to sign up with others, but you can also sign up as an individual and join up with others at the start of the hackathon.
Please indicate the social issue that you want to address when you sign up. If you are at college your enterprise champion will help to organise your team for the week.
Social issues to tackle
Here are some of the themes that we will be exploring social enterprise ideas around. The aim is to develop sustainable solutions to these issues:
Health and wellbeing
Eco town
Social isolation
Unemployment
Format
Once your team is formed we will leave it to your initiative to arrange time to work together on the idea (you can use Zoom, WhatsApp, Teams or whatever format suits you best).
Each day of the Hack of Kindness we will be holding evening webinars to help you develop your idea. These will cover all the nuts and bolts of idea generation, creativity, team work, understanding social enterprise, knowing your customers, getting ready for funding and investment, marketing, social impact and how to pitch.
As well as these workshops the nightly sessions are a time check in, ask questions, work with your group, and to get some expert advice from mentors.
Webinars 7-8pm and idea planning in teams 8-9pm. There will also be a Saturday morning session from 9.30-11.30am. But don't worry if you can't make each session as we will be recording the webinars for you.
Who is involved?
The event is being hosted by the Focus Newtown Hub and run by a team of people from Social Business Wales, Aberystwyth University, Big Ideas Wales, The Wales Cooperative Centre, Tramshed Tech, Coleg Ceredigion and NPTC Group of Colleges.
Thursday 24 September – Thursday 1 October, 2020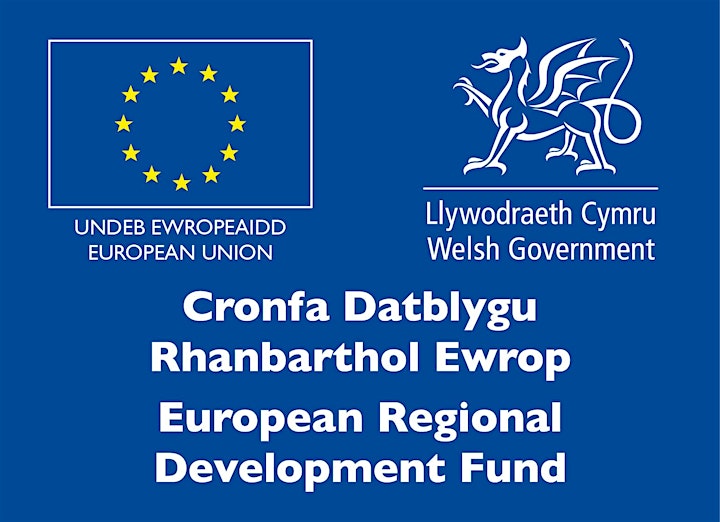 Mae Hybiau Menter Ffocws yn darparu gofod arloesol i ddeori a sbarduno busnesau newydd a'r rhai sy'n ehangu. Mae Hwb Menter Ffocws y Drenewydd a Hwb Menter Ffocws Caerfyrddin yn cael eu hariannu'n rhannol gan Gronfa Datblygu Rhanbarthol Ewrop trwy Lywodraeth Cymru
Mae'r digwyddiadau a ddarperir neu a gynhelir gan raglen Hybiau Menter Ffocws Llywodraeth Cymru am ddim ac yn agored i bobl o bob oedran, ond rhaid archebu lle ymlaen llaw. Mae'r niferoedd yn brin a disgwyliwn alw mawr am lefydd, felly archebwch yn gynnar i ddiogelu'ch lle.
Focus Enterprise Hubs are an innovative space to incubate and accelerate new, and growing businesses. Focus Newtown and Focus Carmarthen Enterprise Hubs are part funded by the European Regional Development Fund through the Welsh Government
Events delivered or hosted by the Focus Enterprise Hubs programme for the Welsh Government are free and open to all ages but must be booked in advance. Please be advised that numbers are limited and we expect high demand for places, so book early to secure your place.