#MidanLearning Webinar: "Game-based Learning Made Simple"
This exciting #MidanLearning webinar will be all about 'gamification' of learning, and the innovative platform 'Gamoteca'.
About this event
Welcome to the second #MidanLearning webinar!
For this session, we are focusing on the topic of 'Game-based Learning Made Simple'. We are delighted to be joined by Atish Gonsalves - founder of Gamoteca - who is at the forefront of innovating in this space, in particular with organisations in the humanitarian and development sector.
Event Details:
⏰ 15:00 - 16:00 (London time) / 17:00 - 18:00 (Beirut time)
🔗 Zoom: https://us02web.zoom.us/j/81464081393?pwd=ZHMvUEdEUTZmUkU5YXlNeFNYTG15dz09
Zoom Meeting ID/Password will be shared on the event page.
**************************************************************************************
Learn more:
#MidanLearning a new webinar series from Midan: A knowledge Hub for Civil Society where we bring in experts to discuss topics of interest for Civil Society Organisations (CSOs) in MENA, including organisational learning, knowledge-sharing, organisational development and much more.
Follow Midan on Linkedin and Facebook so you can catch up with our previous webinars and stay up to date with future announcements. Interested in joining our Midan community? You can register here!
Get in touch:
Feel free to contact us with any queries: midan@asfarifoundation.org.uk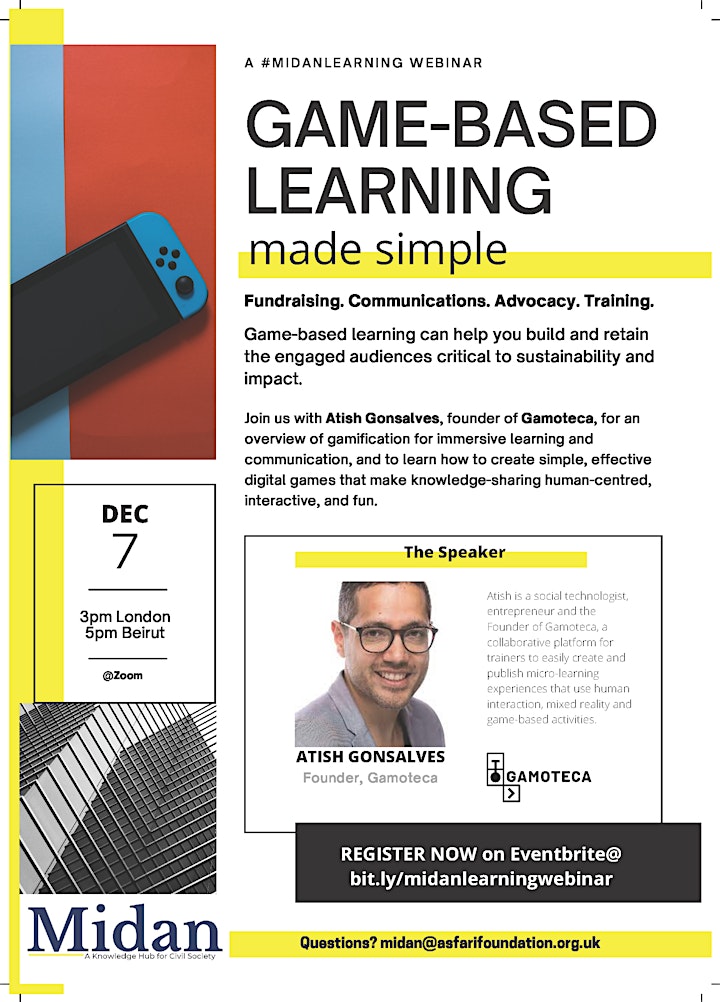 Organiser of #MidanLearning Webinar: "Game-based Learning Made Simple"