Sound healing session for a group of up to 4 people. Private home studio. 13 years experience in sound healing.
About this event
Mats, blankets and pillows will be provided.
At the beginning of the session you will be offered a third eye activation ointment. The ointment and the incense used by Sound Mysterium are all natural, organic and hand-made by Kat herself.
After a short guided meditation, gongs, antique Himalayan bowls, Asian temple bowls, crystal singing bowls and bells will take you to a journey.
Lying down or sitting on a mat on the floor each individual gets a different unique experience, sometimes more physical and emotional, sometimes more visual. Sounds and vibrations of gongs and singing bowls create a feeling of being 'bathed' or carried away into the space. Strong physical sensations might be felt in areas that need healing.
During the session the brainwaves are altered to the state that is self-healing, and has balancing benefits on the body and mind. Occasionally unpleasant emotions can flow up to the surface as a part of a healing process, but in most cases the overall experience is blissful and ecstatic. Participants report being 'switched-off' or 'floating' in timeless nothingness, having rich dreamy visions or seeing splashes of light and colors, sensing subtle energies in the body and around.
Regular gong baths can help fight insomnia, depression, anxiety and other ailments. They do detox, speed up recovery and recharge. They are one of the most easy ways to relax and experience a bit of magic.
Facilitator:
Kat Bumbul of Sound Mysterium has been offering gong baths in London for more than 10 years, along with tea ceremonies, retreats, tuition in sound healing and private gong, singing bowls and shamanic sessions.
As a practitioner of Siberian shamanism, Kashmiri shaiva tantra and Dao Yin Shu, Kat incorporates her gifts and skills from these practices into the sound work to bring a healing experience to a deeper level.
Please arrive about 10min before the beginning.
To book directly with Kat or to arrange a private session email kat@soundmysterium.com
For any last minute enquiries text on 07724302001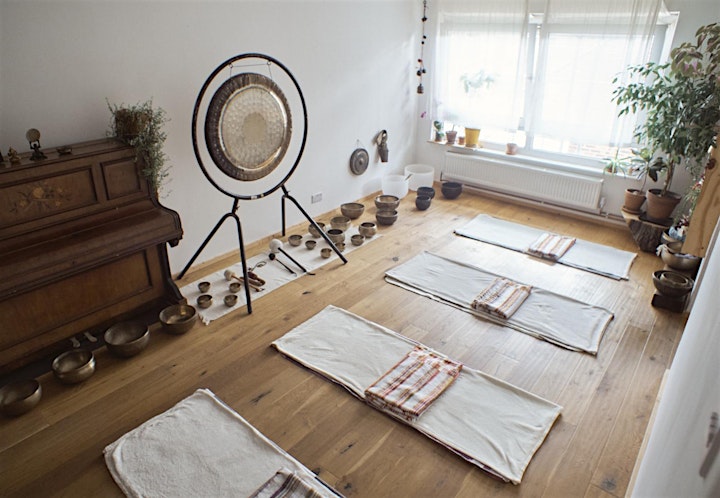 Organiser of MIDDAY GONG BATH 1,5hrs - up to 4 people