About this Event
We are THRILLED to welcome Dinner By Ness to Moregeous Mansions on Saturday 22nd August for a joyful, flavour filled feast. Well used to hosting supper clubs in Bristol and Manchester, chef Ness Cohen's professional background includes professional cheffing across the globe, with her last posting high in the Canadian Rockies! Her heritage features strongly in her vibrant cooking, with Middle Eastern flavours, classic Israeli and Palenstinian highlights and fresh modern twists.
Ness's first supper club is a fantastic three course meal. There is a full menu below, and vegetarians / vegans can be catered for if the lamb main course doesn't suit your palate.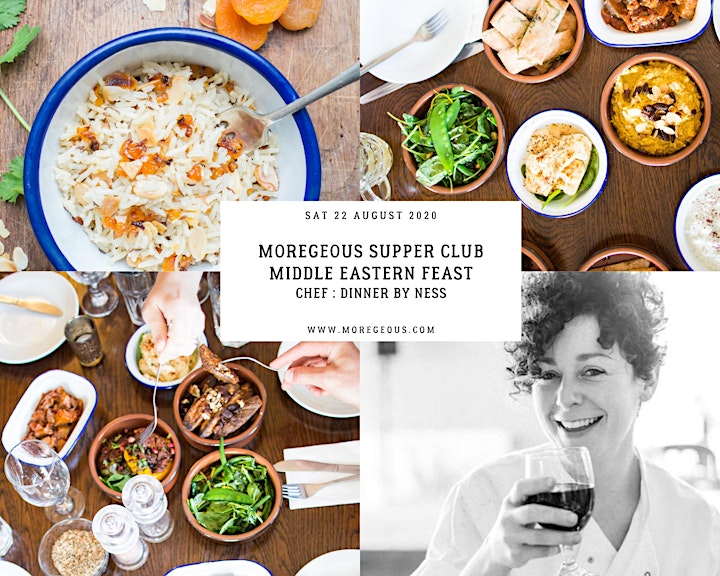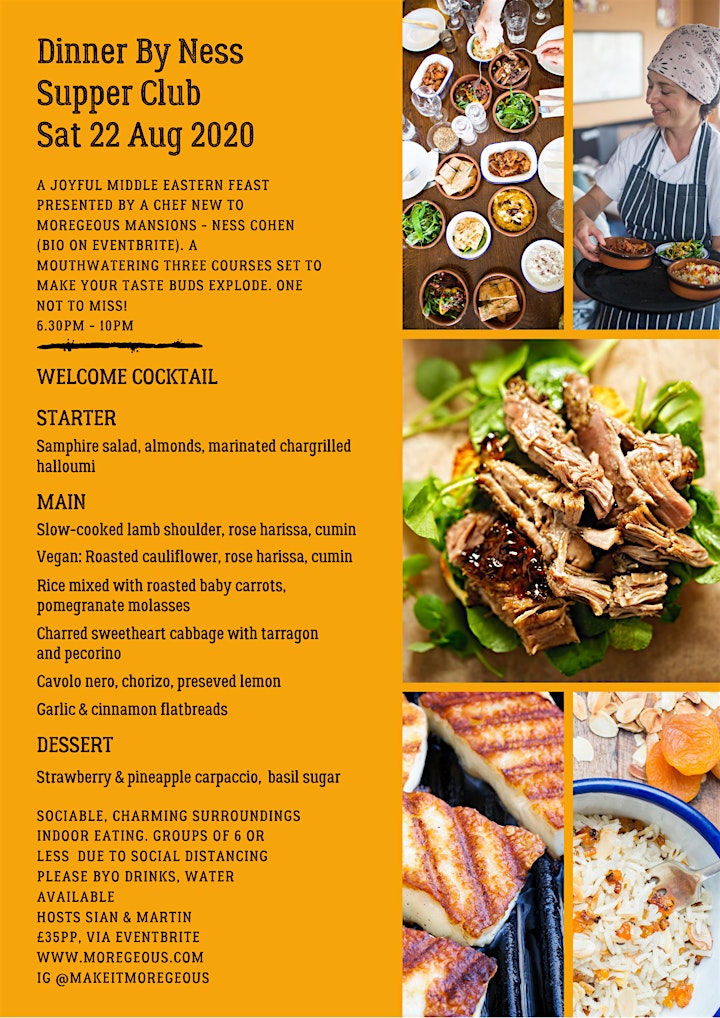 In line with current Govt guidelines and to make seating compliant this will be an outdoor event, please bring a jumper as well, Manchester. The chargrill will be on for cooking parts of your meal. Enjoy spectacular food in relaxed surroundings, with great company, safely and without much of the uncertainty causing concern to those wanting to start enjoying life and going out again.
Our events over Summer 2020 will adhere to the Govt guidelines on social distancing, with temperature testing on entry, limited contact, distanced tables and strict cleanliess rules.
Tickets limited to 30.
During this time of distancing limitations, we cannot seat at tables individual ticket holders unfortunately, so pls rope in a fellow household member if you fancy this event! Individuals are still totally welcome to book and bring a picnic rug, we're a very friendly bunch and you will still have a fantastic time!
Guest comments:
"Fab fab fab day @Moregeous Mansions with the lovely Sian + Martín as hosts in their beautiful home and garden. Safely run and restrictions abided by." Lottie
"First day out post Covid yesterday to a supper club run by Sian and Martin @Moregeous in their fab house, Spanish theme. Well run, safe. Paella was great! Woke up with a bit of sunshine in my soul today. " Mark Garner, Manchester Confidential
"Thanks again for hosting such a fab evening. We had a brilliant time once again." Steph
"The best paella I've ever had! What a brilliant event @Moregeous thanks for having us." Leon
"Amazing food, atmosphere and company at the @makeitmoregeous Spanish supper club. I highly recommend checking it out for a really different and personable way to spend the evening." Jay