Middlesbrough Lourdes Pilgrimage: Day of Formation 2017
Description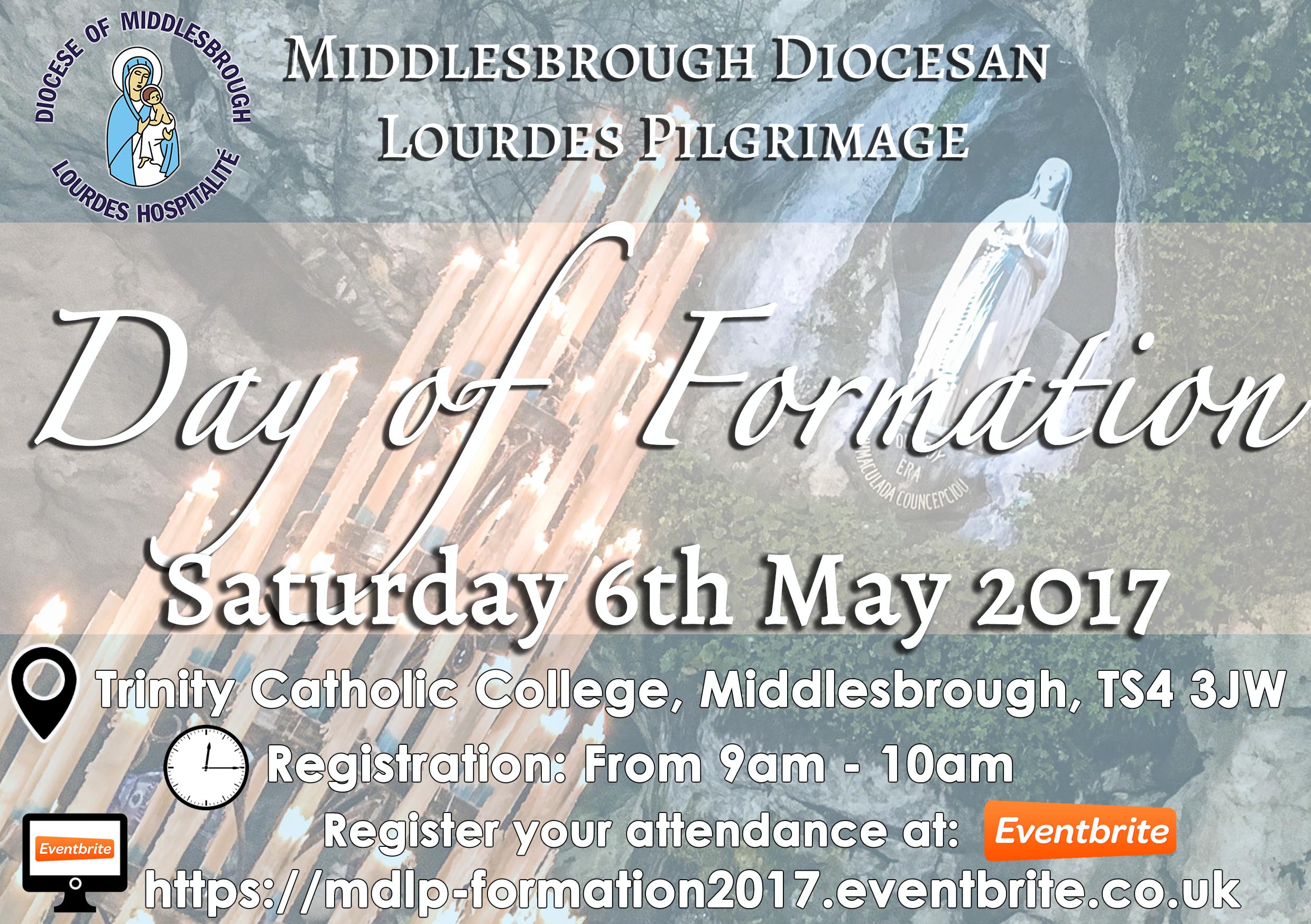 Middlesbrough Diocesan Lourdes Pilgrimage 2017: Day of Formation
In preparation for our 2017 Pilgrimage to Lourdes, members of the Lourdes Hospitalité are invited to a DAY OF FORMATION on Saturday 6th MAY 2017 at Trinity Catholic College, Middlesbrough. During this day, we will spend time together preparing for all aspects of our pilgrimage. The day will start with a welcome from Bishop Terry and an introduction to the day before practical training in lifting and handling, safeguarding and personal care to Supported Pilgrims.

Registration on the day is from 9am - 10am. ID photographs of new helpers will be taken during registration. Lunch will be provided. Please advise on any dietary requirements you have during this booking process.

The day will finish with Mass at 4.15pm. Supported Pilgrims are invited to Mass.

Transport to and from Hull and York will be provided.
For more information on the day, please contact your Head of Department or Pilgrimage Executive Director, Keith Tillotson - executivedirector@dioceseofmiddlesbrough.co.uk

Thank you.

---
When: Saturday 6th May 2017

Time: 9am - 5.00pm
Where: Trinity Catholic College, Saltersgill Avenue, Middlesbrough TS4 3JW
---
TIMETABLE FOR THE DAY

9am - 10.00am: Registration

10.15am -10.30am: Welcome from Bishop Terry

10.30am - 10.40am: Orientation of the day

10.45am - 12.15pm: Session One
12.15pm - 1pm: LUNCH
1.05pm - 2.35pm: Session Two

2.40pm - 4.10pm: Session Three

4.15pm: Mass

Workshop One: Manual handling and wheelchair traning
Workshop Two: Personal care and dressing, hygiene, CPR and confidentiality
Workshop Three: Safeguarding, security, introduction to the Accueil and role of the young people
---