Description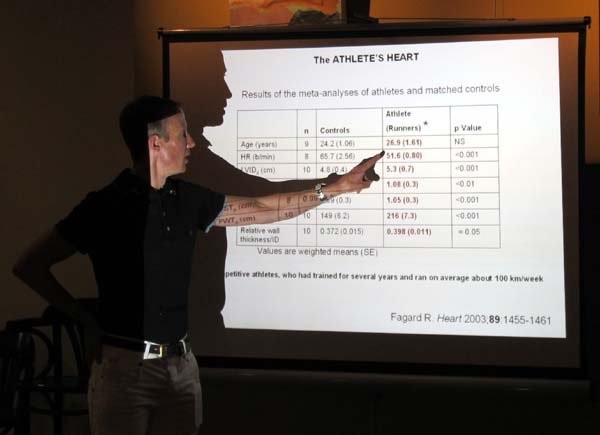 The Midlife Cyclist Series II
Dr Nigel Stephens - Racing, Crashing & Health Worries
Dr Nigel Stephens is the poster-child of The Midlife Cyclist, because he is as happy to speak in his capacity as a long time elite athlete at the very highest level, as he is a consultant Cardiologist. Nigel has kindly kicked off most of our lecture series for the last six or seven years. For good reason. He is a spectacularly popular speaker.
Will I Die?
For The Midlife Cyclist Series I we gave Nigel the title - Will I Die? Nigel limped into the lecture after very recent and complex hip surgery, after a bike crash. We worked as part of Nigel's rehab team to help return him to match fitness. For Series II, Nigel talks more about the about the other strand of his life as an elite bike-racer, and all the elements of acheiving and maintaining elite performance into and beyond middle-age.
Dr Nigel Stephens - Professional -
Nigel Stephens has been a Consultant Cardiologist at Northwick Park, Harrow for the last 21 years. He trained in Medicine at Kings College Hospital and had postgraduate training in Cardiology at Hammersmith Hospital at Papworth Hospital Cambridge. He was Lecturer in Medicine in Cambridge University and Tutor for the MD PhD programme.
Since starting in Northwick Park Hospital he established the cardiac intervention service - now performing 550 procedures per annum. He established- along with Professor Greg Whyte - a unique Sports Cardiology service at the Olympic Medical Centre which saw more than 1000
athletes and remains a repository of clinical experience of the intersection between the heart and sport.
Dr Nigel Stephens - The Bike Racer
His cycling palmares comprise Bronze and Silver medals at World Masters' Track Championships and Gold in the 2017 European Masters' in
Team pursuit. He retains a 2nd Cat Road licence despite being a clapped out 57 year old.
The Midlife Cyclist 2017 Speaker List