| | |
| --- | --- |
| MiFID II / MiFID 2 one-hr Webinar (London/UK/EU) | |
Event Details
**THIS #MIFID II WEBINAR IS A TASTER FOR THE BELOW WEEKEND TRAINING COURSE**
THE WEBINAR WILL GO THROUGH CHAPTERS 1 & 2 FROM THE BELOW SYLLABUS.

Webinar login will be provided upon registration.
Full weekend course details follow:
---
This is an intensive weekend training course that will dissect all aspects of MiFID II. It will require focus but delegates will be richly rewarded. All level I, II and III source legislative texts are considered.
(To enrol on the full weekend training course, click here )


MiFID II Intensive Training...Turbocharge your 2017

MiFID II go-live < 12 months away = heavy MiFID II recruitment throughout 2017. The scope is huge and thousands of additional firms will now be caught by the regulation.

Generic BAs and PMs will struggle to find employment without subject matter expertise. PMs/BAs need to be pre-trained in order to capitalise on this truly once-in-a-lifetime opportunity.

Having successfully published a best-selling book on MiFID II (MiFID II: A Survival Guide), Revival FinReg has decided to run a series of intensive MiFID II weekend courses.

Why this course?
Industry MiFID II programme managers have directed workers to this course after reading our best-selling book on MiFID II.

Readers have attributed it to landing them jobs as well as helping them excel in their existing role.

The course is the result of hundreds of hours of preparation and consultation with city experts and EU legislators. Whenever fresh ESMA guidance is issued, our training courses are reviewed and modified, if necessary, to ensure your training is at the very frontier of knowledge.

(Click here for independent feedback.)

The course draws out practical implementation issues and real life interview questions to contexualise the theory.

Ask questions and network with other senior practitioners.
Course Syllabus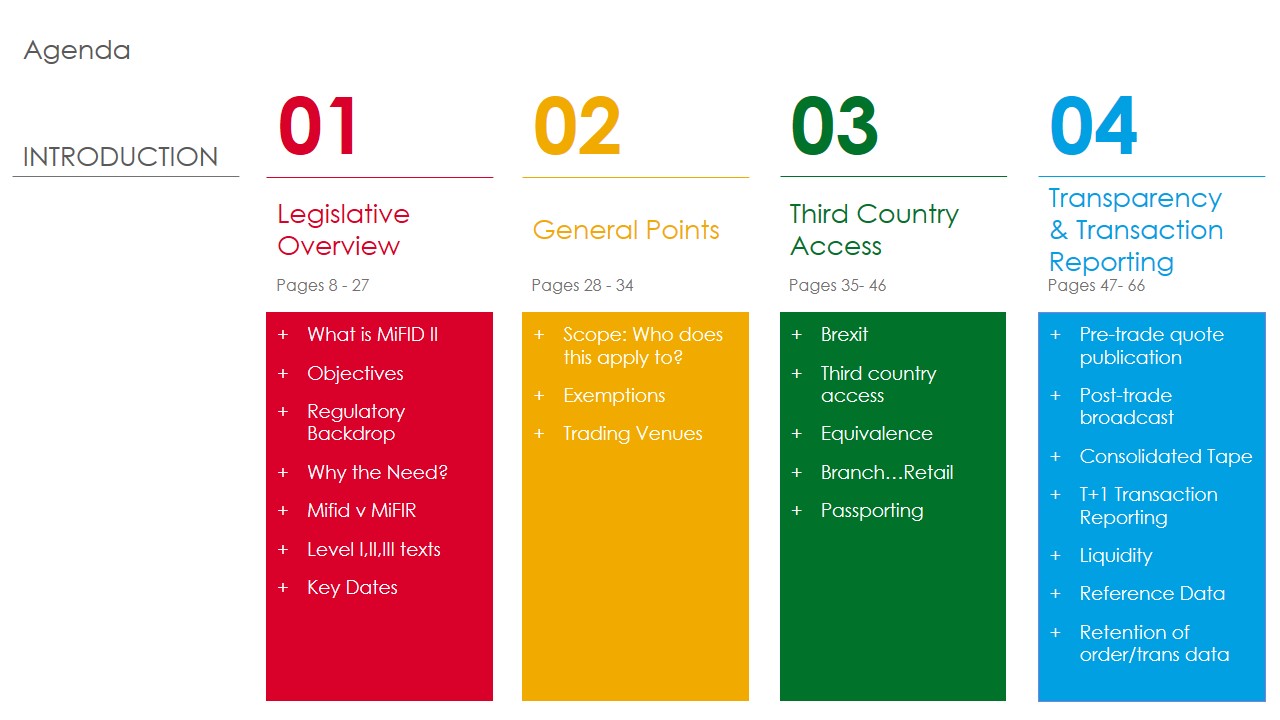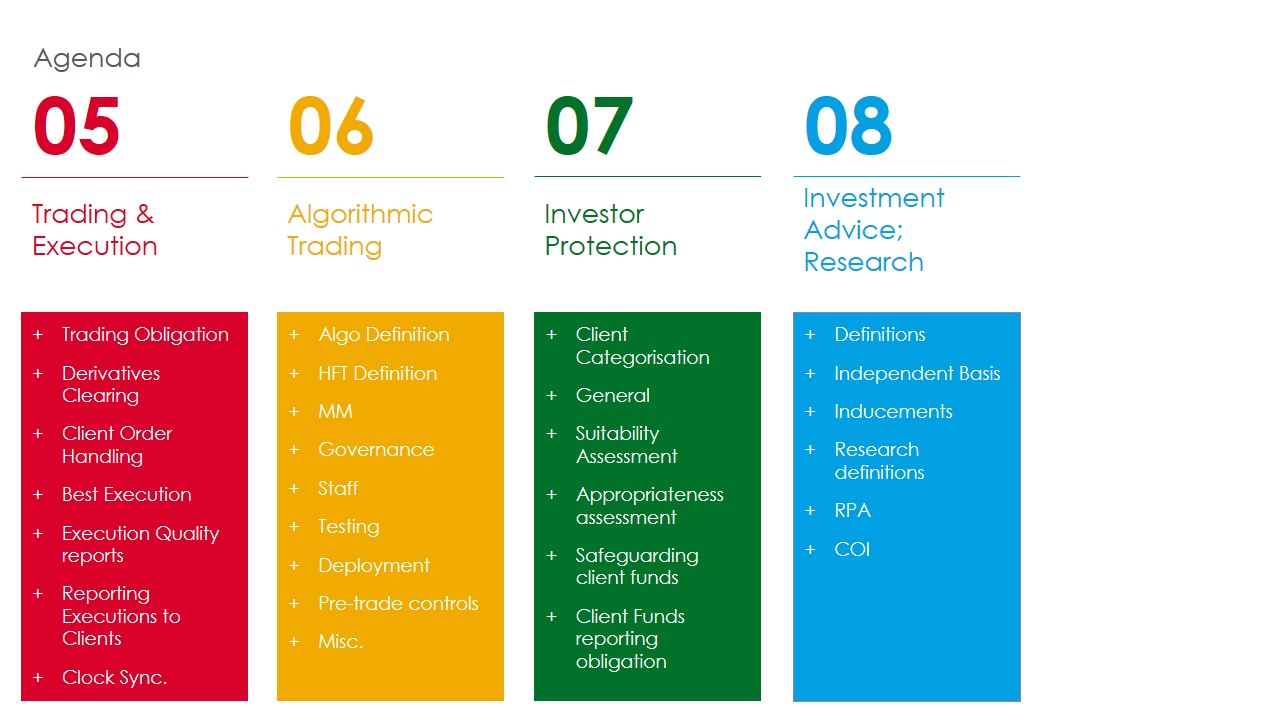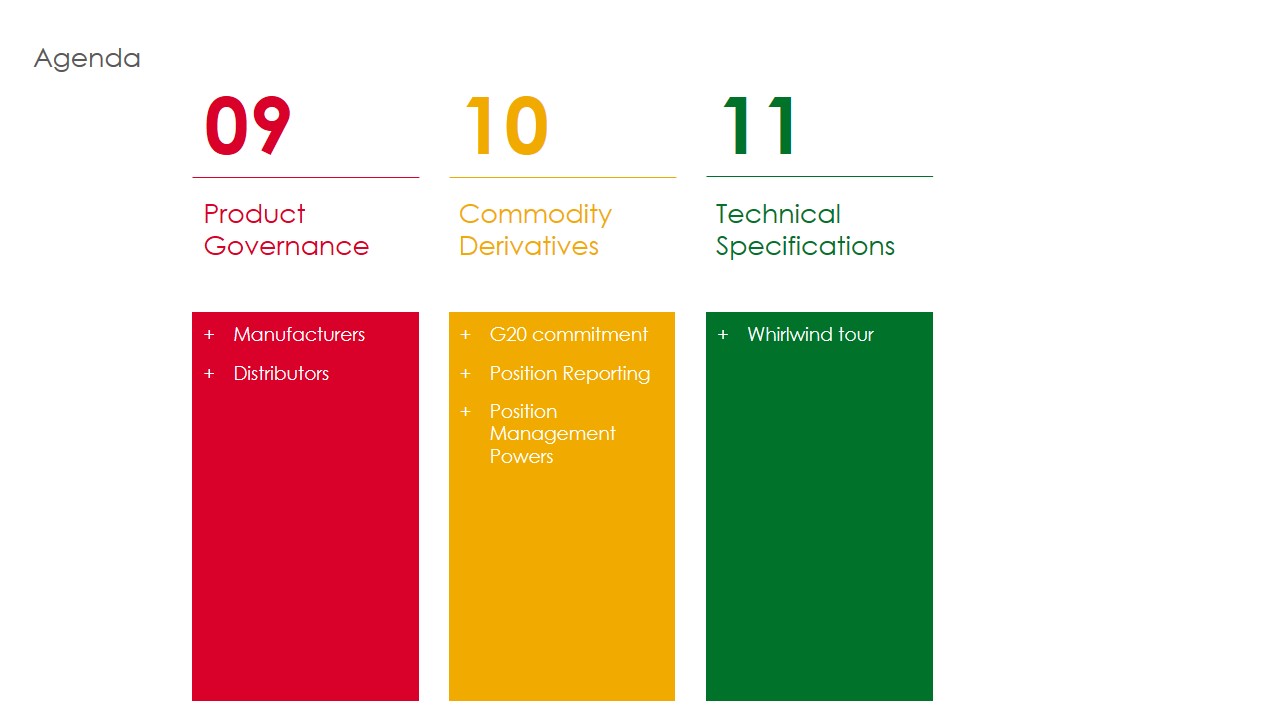 Format
Before the course, come prepared by reading our pre-course background material.

On the day(s): the course adopts the format of a PowerPoint presentation that is delivered in an interactive manner with full group participation. Light overnight coursework is given to ensure delegates independently think through questions, with delegates presenting their work the next day to the group and trainer.

Course material provided:

the precourse reader


condensed print out of the PowerPoint slides

ZIP file comprising all source MiFID II legislative texts

A certificate of attendence will be provided to all.
 (Please click here for full details.)
When & Where

London

London
United Kingdom


Organiser
Market FinReg sits at the apex of the legislators, investment firms, banks and trade repositories, providing the industry with expertise in regulatory legislation.
We advise companies on their obligations.
We also provide group training.