A Workshop ran by Migrant Action that focuses on migrant and BME communities and the difficulty they face in regards to the COVID19 vaccine.
About this event
BME communities continue to be overrepresented in Covid-19 related hospitalisations and deaths. The crushing economic impact of Covid-19 is most visible amongst these communities who are overrepresented at the 'frontline' and in the most precarious, disposable, insecure and low paid jobs. Migrants, who have no recourse to public funds, don't have a 'safety-net' to fall back whilst those with insecure or irregular immigration status, are wary about participating in Covid-19 responses including the vaccine.
Whilst vaccine 'hesitancy' is complex, covid-19 outcomes for BME and migrant communities are precariously obvious.
Migrant Action is organising a collaborative workshop to:
- Enhance constructive discourse about covid-19/vaccine
- Ensure equity of access to the vaccine
- Challenge conspiracies and transform vaccine hesitancy
This workshop features special guest keynote speakers:
- Anna Miller and Matteo Besana (Doctors of the World)
- Aliya Yule (Migrants Organise)
- Tesfalem Yemane (RETAS)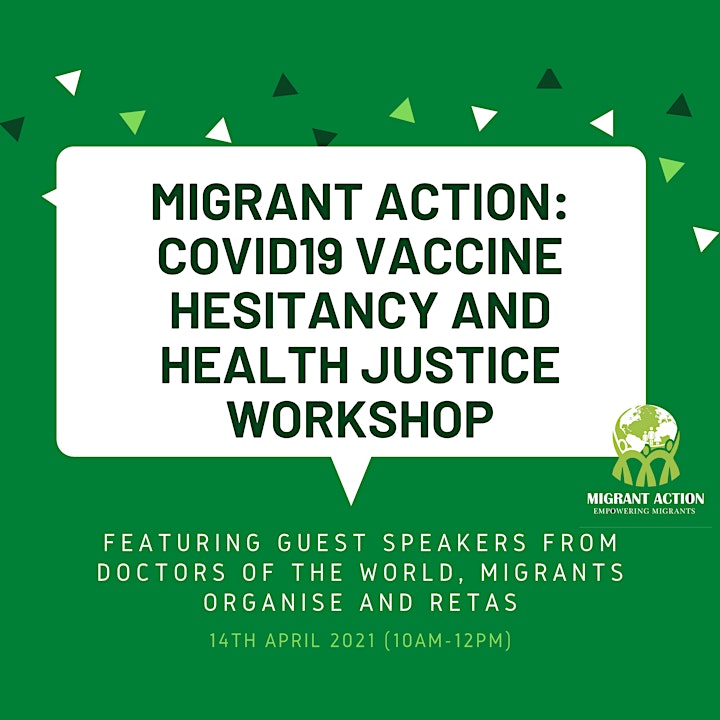 Organiser of MIGRANT ACTION: COVID19 Vaccine Hesitancy and Health Justice Workshop