Migrants in the City: New Dynamics of Migration in Urban Settings
Description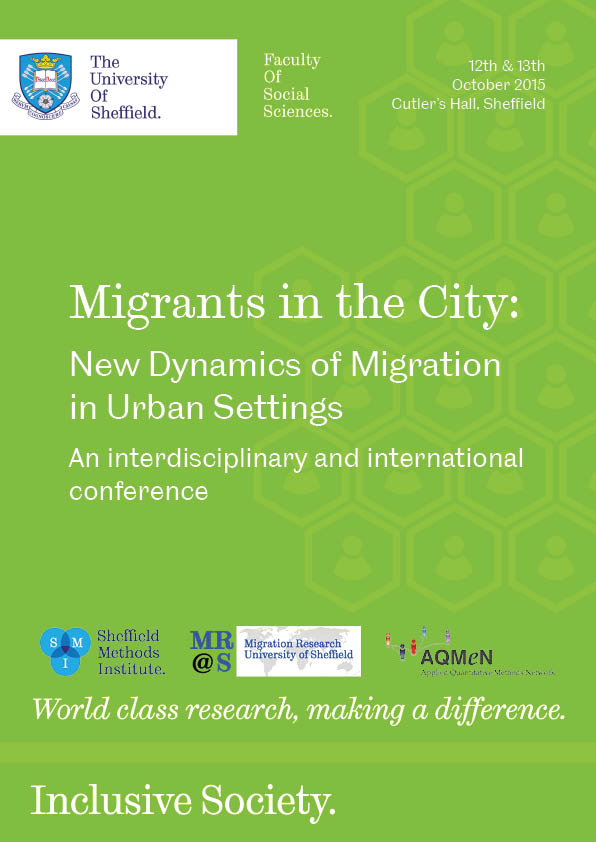 Migrants in the City: New Dynamics of Migration in Urban Settings
An interdisciplinary and international conference
Culter's Hall, Sheffield
12th &13th October 2015
Rapid urbanisation is radically changing the economic, financial, social, and ecological landscape of our planet. It has been identified as the single greatest development challenge and opportunity for the 21st century. International migration has been, is and will continue to be a key route both shaping and being shaped by urbanisation.
Migration research at The University of Sheffield
'Migrants in the city' international conference is a collaboration between The Sheffield Methods Institute, Faculty of Social Science Migration Research Group and the ESRC Applied Quantitative Methods Network.
Confirmed plenary speakers
Rt Hon Charles Clarke, former British Home Secretary




Audrey Singer, Brookings Institution, Washington DC




Madeleine Sumption, Oxford Migration Observatory




Ronald Van Kempen, University of Utrecht




Gill Valentine, Pro-Vice-Chancellor of Faculty of Social Sciences at The University of Sheffield




Janet Sharpe, Director of Housing & Neighbourhoods at Sheffield City Council
Organiser of Migrants in the City: New Dynamics of Migration in Urban Settings