About this Event
POSTPONED DUE TO COVID 19
A special performance from the highly acclaimed Michael McGoldrick, Steve Cooney, Dezi Donnelly & Dermot Byrne at Ionad Cois Locha Theatre Dunlewey, Donegal on Fri 24th April 2020, Doors 7:30pm. Tickets €20 (+b.fee).
A very unique opportunity to see some of the best Irish Traditional musicians in a beautiful theatre nestled in the west of Donegal.
BIO:
Michael McGoldrick has been a member of several influential bands. In 1994 he was awarded the BBC Young Tradition Award, and in 2001 he was given the Instrumentalist of the Year award at the BBC Radio 2 Folk Awards. McGoldrick was a founder-member of the Celtic rock band Toss the Feathers while still at school. He also competed at that time in the Fleadhanna with Dezi Donnelly (fiddle) and John Joe Kelly (bodhrán), whom he had met at local Comhaltas meetings. He made appearances at various local and national festivals and ran whistle/flute workshops at the Cambridge Folk Festival and for Folkworks on their "Flutopia" concert tour.
McGoldrick formed the band Flook with Brian Finnegan and Sarah Allen in November 1995. He was an early member of Lúnasa from 1997 until roughly 2000 and played on their first albums. He also joined Capercaillie in 1997, playing on six albums (one live) up to date. McGoldrick has played regularly for Afro-Celt Sound System and Kate Rusby's band. He has recorded Five solo albums: Morning Rory showcases his traditional skills. Fused explores several other musical genres including jazz, while Wired, released in October 2005, takes the experimental approach of Fused even further. Aurora, released in 2010, And his latest release Arc 2018 He also recorded an album, At First Light, with John McSherry (also ex-Lúnasa) going back to his traditional roots.
An Australian of Irish ancestry, Steve Cooney has been living in Ireland for many years. He spent a number of years living in the parish of Moore where he got to know and play with the local musicians, one of those being Maidhc Dainín. One of Ireland's leading guitarists, he is also a much sought-after and highly regarded producer, having worked with many of the big names in the Irish music industry.
From the age of seventeen he has been playing in rock bands including Bushwackers, Fruitcake and the successful folk/rock band Red Gum. In 1981 he bought a one-way ticket to Ireland where he joined Stockton's Wing, playing bass guitar and didgeridoo. Since then he has been very active performing and recording with Dermot Byrne, Sharon Shannon, Altan, Martin Hayes, Mary Black, Sliabh Notes, Séamus Begley and many others.
Steve has had a long association with Canon Goodman's music and is one of Ireland's leading authorities on the subject. In 1993 he performed (with Odhrán Ó Casaide) a concert of Goodman pieces to mark the opening of the Great Blasket centre in Dunquin, the first time those tunes were heard publicly in Goodman's native West Kerry in over 100 years. In 2000 he recorded a selection of them for 'Scéilín Ó Bhéilín', an educational Irish language CD for schoolchildren.
Dezi 'Fiddle on Fire' Donnelly is a Manchester based Fiddle player. One of the founder members of the legendary Celtic Rock Band 'Toss the Feathers'. Often seen collaborating with the likes of Sharon Shannon and BBC instrumentalist of the Year Mike McGoldrick. "As an interpreter of traditional music, Dezi Donnelly stands apart from others of his generation. Despite his young age his playing bears all the hallmarks of someone who has grown naturally with the music." - Paddy Glackin - from the liner notes of Familiar Footsteps It is a well known cliche, to describe a fiddle player as "a devil fiddler" but in Dezi Donnelly's case this is more of an understatement! The sibling of a Manchester fiddler dynasty is both All Britain and All Ireland Champion, a title truely deserved for his brilliant jigs and reels.
The accordion player for traditional Irish band Altan, Dermot Byrne has taken a fresh approach to the squeezebox tradition of his homeland. The son of a musician, Tomas O'Beirne, Byrne continues to build on his father's legacy. In addition to his work with Altan, Byrne has performed or recorded with such stellar Irish musicians as Seamus and Manus McGuire, the Chieftains, Frankie Gavin, and Dezi Donnelly. His debut solo album, released in 1995, featured accompaniment from guitarist/keyboards player Steve Cooney; double bassist Trevor Hutchinson; and bouzouki, guitar, and bodhran player Donal Lunny. His second solo outing, 2 Worlds United, was recorded with Ontario-based champion fiddler Pierre Schryer, and included French, Irish, Scottish, and Cape Breton tunes. Taught to play the accordion by his father, Byrne mastered the two- and single-row accordion by his teens. A guest on two Altan albums -- The Red Crow and Island Angel -- he became a full-fledged member in late 1993. Since then, he has been featured on three of the Donegal-based group's albums: Blackwater, Runaway Sunday, and Another Sky.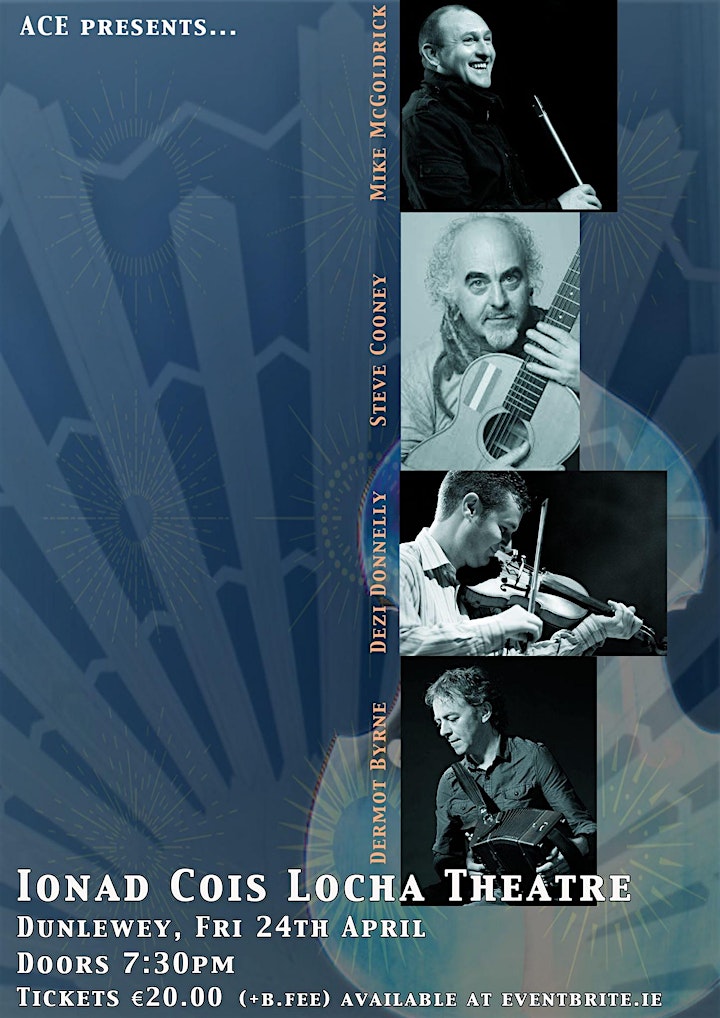 Performers
Date and Time
Location