Location
Garrison House
Glasgow Street
Millport
KA28 0DJ
United Kingdom
Refund policy
Refunds up to 30 days before event
"The beating heart of country music in Scotland!" - Maverick Magazine
About this event
Four live music stages including Nashfield, Maverick Acoustic Venue, Cactus Jacks marquee and our dedicated line-dance venue, with 50 artists from Scotland, across the UK, Ireland and the US, the grand parade and more...
The place to be on August 30th - 1st September 2019 for country music fans in the UK.
Note: Ticket purchases subject to Festival Terms and Conditions
LINE-UP SO FAR...
FRIDAY 30TH AUGUST
Sarah Jory\\ Lockeland \\ Morganway \\ Jade Helliwell \\ Simon James & The Deep River Pilots \\ Kerry Fearon \\ King Of Birds \\ Rick Lambert \\ Rodeo Stomp Disco \\ Silverball Country Disco
SATURDAY 31ST AUGUST
Cam \\ Lockeland \\ Elles Bailey \\ The Adelaides \\ Sarah Jory \\ Stevie O'Connor \\ Kenny Foster \\ Laura Oakes \\ Kezia Gill \\ Izzie Walsh \\ Gasoline & Matches \\ Hotel Caledonia \\ Zoee. \\ Anton & The Colts \\ The Goat Roper Rodeo Band \\ Lars Pluto \\ Elaine Lennon \\ Have Mercy Las Vegas \\ The Scoundrels \\ James & Wood \\ Greyhound Express \\ Rodeo Stomp Disco \\ Silverball Country Disco \\ ACOUSTIC JAM SESSION
SUNDAY 1ST SEPTEMBER
American Young \\ TBC \\ Remember Monday \\ Katee Kross \\ Backwoods Creek \\ Stuart Landon & The Angels with dirty faces \\ Danny McMahon \\ Cow Cow Boogie \\ Carson City \\ Tommy McGuire \\ Hollie Robinson Music \\ The Upbeats \\ Rodeo Stomp Disco \\ Silverball Country Disco \\ MILLPORT EMERGING TALENT SHOWCASE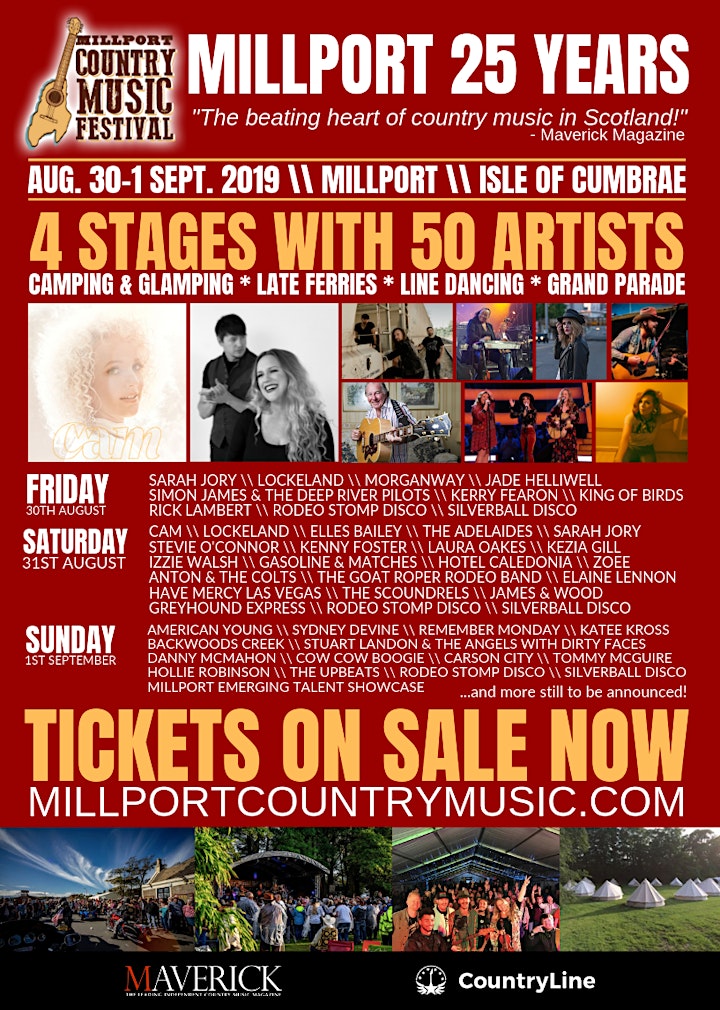 I'M REGISTERED DISABLED, CAN I HAVE A FREE CARERS PASS?
Yes, however we will need to issue this through prior arrangement. Please get in touch via email at info@millportcountrymusic.com and our team will assist. We will require proof of DWP DLA benefit, and request that you leave it no later than Thursday 29th August to get in touch. We'll also do our best to arrange any special requirements.
WHAT FACILITIES WILL YOU PROVIDE FOR DISABLED VISITORS?
There are disabled toilets throughout the festival site, as well as a disabled viewing area at the Nashfield and Cactus Jack's venues. Access to all of the venues is relatively flat and will be via path or walkway. Limited Blue Badge parking spots will be available in the Garrison House grounds (please email in advance to check on availability). Please let us know if you have any specific requirements or needs that we can address for you: info@millportcountrymusic.com
Please read the full Policy for Equality and Accessibility
GOT QUESTIONS? READ OUR FAQ >>> https://www.millportcountrymusic.com/faq