Location
Oakgrove School
Venturer Gate
Middleton
Milton Keynes
MK10 9JQ
United Kingdom
A WELCOME EVENT for newly-arrived people from Hong Kong and a chance to meet locals from Milton Keynes! Children are particularly welcome.
About this event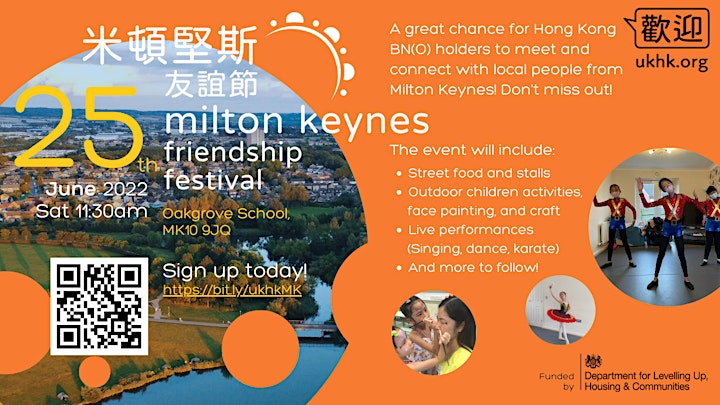 這個初夏,UKHK將在英國各地舉辦一系列友誼節和招待活動,讓大家——新到埗港人、教會、社區組織、還有住在附近的鄰居們——可以一起在陽光下玩遊戲!記下日期、登記索取免費門票,一家大細一起來結交新朋友吧!
活動將在Oakgrove School 舉行,由地方教會、當地組織和UKHK舉辦。
內容將包括:
• 歡迎新抵英移民的儀式
• 品嚐英國及香港的特色美食
• 兒童面部彩繪、手工製作、足球比賽、Bouncy Castle活動
• 歌唱/舞蹈/武術/樂器/Live Band表演
• English corner、攤位遊戲
• 與當地社區團體互動的其他活動
此外,我們還為由香港來的小朋友準備了一份特別的禮物:一本專為孩子設計的《歡迎來到英國》小書。請為您的孩子登記「兒童票」(Children ticket),我們就會在友誼節當日為您的孩子送上一本《歡迎來到英國》囉!
-----------------------
This Spring, UKHK is organising a series of Friendship Festivals and receptions across the UK, so we – people from Hong Kong, local churches and communities, and everyone in the neighbourhood - can all have fun together in the sun! Mark the date, register for the free tickets today, and come have a blast and make new friends!
This event at Oakgrove School is being organised by local churches, organisations and UKHK. The Friendship Festival will include:
• An official welcome for new arrivals to the UK
• Try British and HK iconic food
• Activities for school children, e.g. face painting, handmade craft, football match and bouncy castle
• Performances incl. singing, dancing, martial art, instrument, live band
• English corner, booth activities
• Other interaction to engage with local community groups
In addition, we have written a "Welcome to the UK" book especially for children from Hong Kong. Register for the "Children" ticket to get your child a free copy at the Festival!