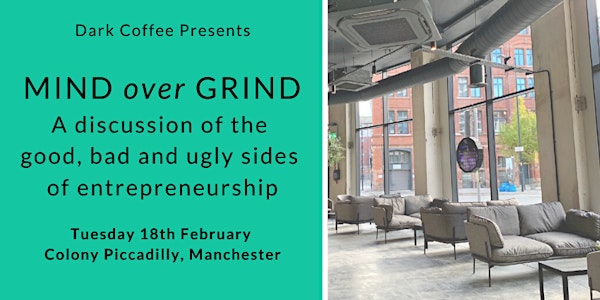 Mind Over Grind panel discussion and networking evening
Location
Colony Piccadilly
Aytoun Street
Manchester
M1 3BR
United Kingdom
Description
The business community is oversaturated with damaging stories about entrepreneurship. 16-hour workdays, Hustle Culture and 'Girl-bossing' are promoted as the norm, with no discussion of how this might impact our wellbeing.
We want to turn the volume up on the true stories behind the bullshit!
Join our panel of entrepreneurs as they share the struggles, challenges and difficulties they have faced while building their businesses, along with the lessons they learnt along the way.
The forty-minute panel discussion will explore the good, bad and ugly sides of entrepreneurship with topics ranging from burnout, stress and mental health challenges to workplace wellbeing, self-care and work/life balance.
We will then open the floor to the audience, giving an opportunity to ask questions to the panel as well as inviting a broader discussion.
This is an open, encouraging and friendly event for people from all backgrounds to share their stories, experiences and advice in order to help others.
The truth is that we all struggle with our mental health, wellbeing and mindset at times. Come and join a group of likeminded professionals who want to talk about it!
Timings for the evening:
5.30 – 6pm - Open networking: Come and meet other members of the Manchester business community for a friendly drink and a chat
6pm – 6.10pm - Welcome from the venue and introduction to the panel from Host Alice Lyons from Dark Coffee
6.10pm – 6.50pm - Panel discussion: An honest discussion of the ups and downs of their business journeys
6.50pm – 7.10pm – Q&A with the panel and comments from the audience
7.10pm – 8.00pm – Open networking: another chance to share your thoughts, experiences and stories.
Any questions? Get in touch with event host Alice Lyons: talk@darkcoffee.co.uk