Description
Mind Over Matter returns for our first event of 2018 'Poetry Prescribed' on Sunday 28th January at The Bedford, in Balham. Join us for an evening of Spoken Word, Hip Hop and Open Mic as we do our part to break down stigma attached to mental health.
Tickets £6 in advance / £10 OTD.
Doors open / Open Mic sign up at 6pm. Show 7pm - 10pm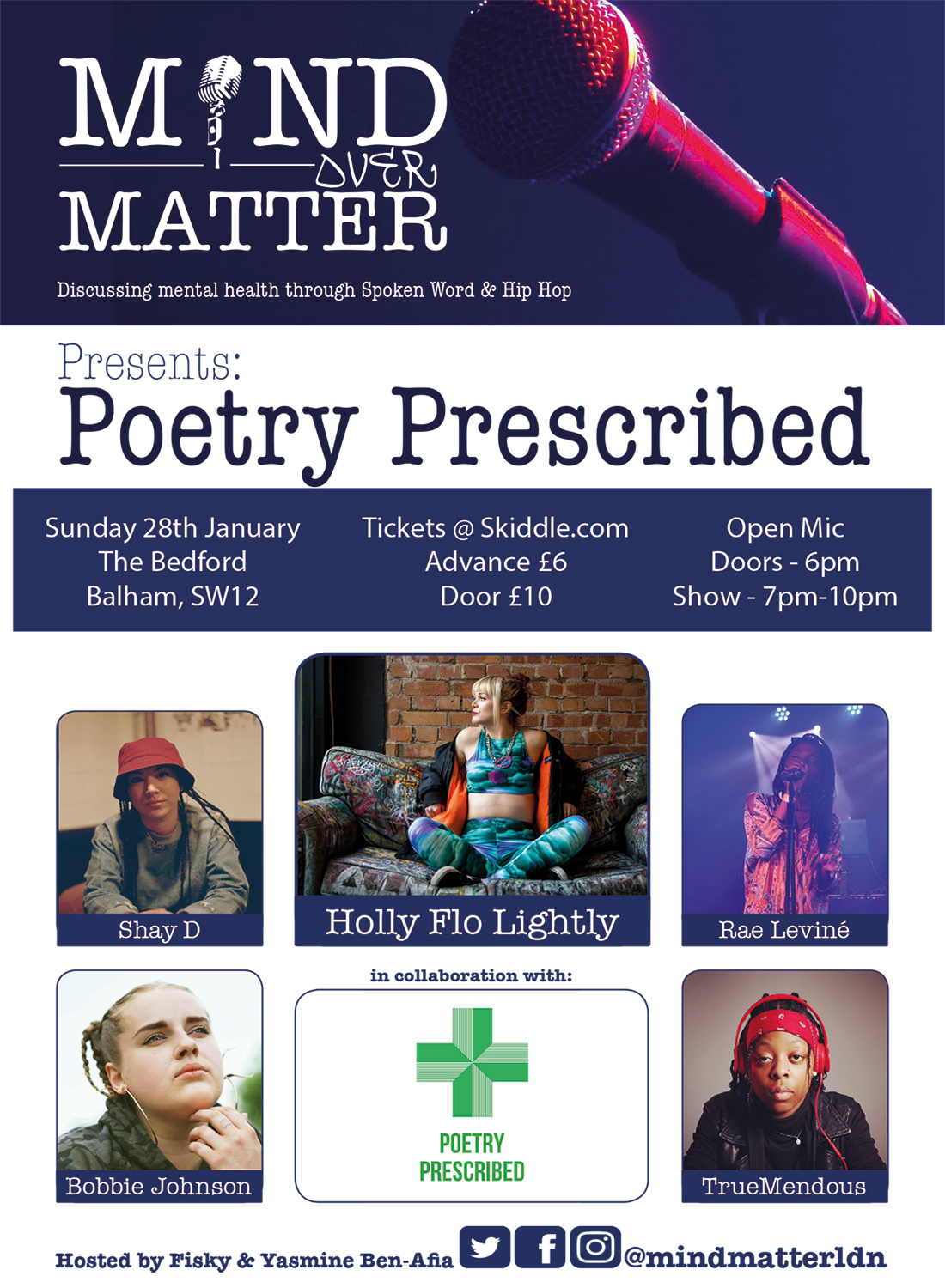 We have an incredible ALL FEMALE line up including:
Holly Flo Lightly [Headline]
Holly Flo Lightly is a name that should be familiar with anyone who is used to seeing an MC mash up the dance. Part of the infamous Sika family and renowned for tearing up stages and shutting down sets, Holly has been carving a name for herself ever since she first picked up a mic.
https://hollyflolightly.bandcamp.com/
https://www.facebook.com/hollyflolightlymusic
https://twitter.com/HollyFloLightly
Born and raised in North London, Shay D has been putting in the groundwork leading up to her long awaited debut album "A Figure of Speech" full of her charismatic personality, social commentary and honest storytelling, keeping it real to the true essence of Hip Hop
https://open.spotify.com/artist/3g75KaSPS8HaMD5SIeHTLX
https://www.facebook.com/shaydrap
https://www.youtube.com/user/shayuk09
MC and producer Bobbie Johnson is no stranger to the UK hip-hop scene. Previous releases like 2013's Lucidly Dreaming, 2014's The Circles EP, a feature in Sektion Red documentary Artimis and more recently My People and have put Bobbie Johnson the radar.
https://www.facebook.com/bobbiejohnsonfanpage
https://twitter.com/bobbiemusic
https://bobbiejohnson.bandcamp.com/
https://open.spotify.com/album/5jP0YkJ5E9nmVlGPD5fasi
https://itunes.apple.com/gb/album/you-i-ep/id1174379983
https://www.instagram.com/bobbiejmusic/
TrueMendous intertwines the art of storytelling with detailed poetry to narrate her pieces across to her audience. She plays with complex flow patterns alongside cleverly constructed lyrics and humorous word play to keep them engaged.
https://www.instagram.com/itstruemendous/
https://twitter.com/ItsTrueMendous
https://soundcloud.com/itstruemendous
https://www.youtube.com/user/DatTrueMendousLady
https://www.facebook.com/truemendous/
Rae Levine is a bona fide storyteller. As a performer, her unique ability to craft songs and spoken word pieces that speak about the human condition captivates audiences every time. Rae is now learning to create soundscapes tailored to tell her unique stories. It's all coming together nicely, as she readies her debut EP Tears Fall, Passion Swims for early 2018.
https://www.instagram.com/raelevine_/
https://twitter.com/raelevine_
https://soundcloud.com/raelevine
At every Mind Over Matter event we promote a different mental health organisation/service to raise awareness and funds for their work. This event shines a spotlight on 'Poetry Prescribed' who promote Poetry as a self healing tool; and an effective way to manage mental health and general well being. Their workshops provide thought provoking sessions of reading, speaking, creating and sharing poetry. Run by Miss Yankey, a London based British/Ghanaian poet with a healthy addiction to verse. Miss Yankey is also a co host and resident poet at The Chocolate Poetry Club. To find out more please follow her on social media or email info@missyankey.com
https://www.facebook.com/CheckMissYankey/
https://twitter.com/missyankey
https://www.instagram.com/missyankey/
https://www.instagram.com/poetryprescribed/
https://www.facebook.com/poetryprescribed/
Poetry Prescribed's next event 'Poetry & Mental Health' is on Saturday 13th January. There will be a showcase from participants of this group at the event so if you would like to be in with a chance of performing on the Mind Over Matter stage alongside some of the scenes best known poets and rappers, click the link below!
https://www.facebook.com/events/2019323254951230/

As always there will be the chance to donate to Poetry Prescribed on the night to help them carry on with the wonderful work they do.

We also provide a platform in the form of an Open Mic for anyone who wishes to share their work, whether that may be a poem, song or story. Everyone is welcome. If you have been wanting to share your work, no matter the level you may be at, this is a safe environment and the perfect place for you to do so. Sign up on arrival (from 6pm) to guarantee your spot.
Lets discuss Mental health. We hope to see you there!