Mind vs. Machine : The role of Creativity in the Age of the Digital Native
Description
Digital technology permeates every aspect of our lives, and the pace of this technological change is only increasing. How can brands and businesses stand out in this cluttered and fragmented media landscape? What works, and importantly, what doesn't? In this next Leeds Trinity Business Network session, we will be looking at how 'old-fashioned' creativity and branding can play its part in the world of big data and bigger AI-powered marketing.
What's happening?
Mark Bower, Managing Director for Woven, a creatively-led brand engagement agency, will offer:
An insight into the latest developments in marketing technology and brand development;

An understanding of the underlying trends in consumer behaviour and how to capitalise on them; and

Tools and techniques to build engagement and trust with digital native audiences.
When?
Wednesday 23 October
1.00 – 2.30pm
Where?
Leeds Trinity University, Brownberrie Lane, Horsforth, Leeds, LS18 5HD
How can I book?
Please click register above and input your details as required
Further information?
If you're unable to attend this event but would like to be informed of upcoming networking events, please email Events Coordinator Christopher Hulme (c.hulme@leedstrinity.ac.uk) or call on 0113 467 3942.
Sessions include a buffet lunch and networking from 1.00 – 1.30pm, followed by introductions and guest speakers from 1.30 – 2.30pm. There are usually 60-80 members at each event, with a different theme relevant to boosting business. Events take place every two months.
Further dates for 2019-20
Wednesday 11 December

Wednesday 8 January

Wednesday 26 February

Wednesday 22 April

Wednesday 3 June
Speaker Information: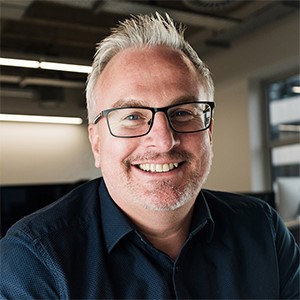 Mark found his way into marketing relatively late, via technology sales, having worked for both Apple and SUN microsystems selling DTP and publishing systems in the pre-internet world.

Mark started his first ecommerce business with a book on HTML (and no idea what he was doing in 1994 at his first 'agency' or rather web development business, in 1999). He then founded Coolpink in 2001, as one of only a small handful of specialist digital agencies in the Yorkshire region.
Over the next 13 years Mark developed Coolpink into a leading strategic/creative marketing agency, becoming increasingly interested in blending the best of 'old school' marketing – brand, creative, great copy, deep insights, an understanding of human psychology etc. with all the great stuff that digital could add to the mix. Mark has worked with major national and international businesses such as Weber, SMEG, DFS, Bensons Beds, Wren Kitchens, Warner Music, PPG etc, in the early days of their digital explorations.
Coolpink came to an end in 2013, as a result of several of the biggest clients finally getting serious about digital and either hiring 'big name' London based agencies, or taking the digital marketing function in house.
Mark spent the next three years working in a range of consultancy and interim roles (both client-side and agency) before joining the board of what was then Ink Digital Agency in Jan 2017.
Mark subsequently rebranded the business to Woven and has since continued to develop their strategic/creative offering, picking up the trajectory he was on in 2013 with Coolpink and building a world class creative/strategic agency, but based on a foundation of over 20 years digital experience.