MIND YOUR LANGUAGE: CAN LANGUAGE BE TRULY INCLUSIVE WITHOUT CULTURAL AWARENESS?
About this event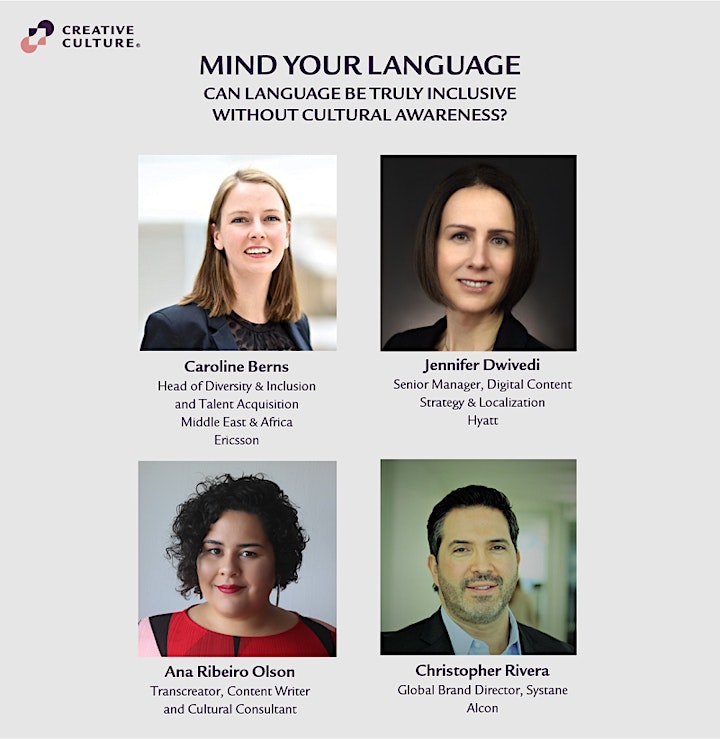 MIND YOUR LANGUAGE
CAN LANGUAGE BE TRULY INCLUSIVE WITHOUT CULTURAL AWARENESS?
9 December 2021 at 3pm GMT
Not all individuals in an organisation are clear on how DEI can benefit them, which is why the use of inclusive language is sometimes misunderstood or rejected. Therefore, it is critical for HR, DEI, Internal comms and Marcomms teams to work collaboratively and agree on the foundations and overall strategy.
This will ensure that their teams are not only trained to use the new language framework, but also understand why they are using it. However, within global organisations, the complexity of navigating inclusivity across multiple markets, cultures and languages often isn't acknowledged.
How can companies leverage culture (corporate culture, country cultures and elements of subcultures) to develop successful inclusive language strategies across markets?
During this conversation with Creative Culture's CEO Melanie Chevalier, our panelists will share concrete examples of their experience in implementing an inclusive language strategy in their organisation, and highlight the importance of being culturally-sensitive in a context where global DEI teams face markets with different levels of acceptability.
Our experts:
Caroline Berns is the Head of Diversity & Inclusion and Talent Acquisition for Ericsson Middle East and Africa. Her work spans across 70 countries and she loves the cultural diversity the region is offering. Raising awareness of diversity and inclusion is a topic Caroline cares about deeply: she is part of Ericsson's global D&I team, has been writing a weekly D&I blog since 2014, and supports many local and international projects and initiatives. During our session, she will discuss these initiatives and explain how Ericsson is implementing inclusive language processes at an HR level.
Jennifer Dwivedi is Senior Manager, Digital Content Strategy & Localization at Hyatt Hotels Corporation. Her role involves delivering compelling and high-quality content for Hyatt's global portfolio of brands, while working collaboratively with different internal functions and external partners to ensure members, guests and colleagues feel included. She will discuss how Hyatt is implementing strong processes internally to drive inclusivity in content.
Christopher G. Rivera is Global Brand Director, for Systane at Alcon. He has 20+ years of experience leading local and global teams, growing brands, launching products, and driving sales across diverse categories and customer segments. Christopher has extensive experience working for and with Fortune 500 companies on culturally intelligent marketing communications and will discuss the importance of diversity and inclusion of language.
With over 10 years of experience as a transcreator, content writer and cultural consultant, Ana Ribeiro Olson has helped a range of companies adopt a more gender-neutral language in their internal and external comms. As an advocate for inclusive language, she will share her expertise on how language naturally evolves over time, the challenges and benefits of being more inclusive in comms, and share tips on how companies can implement these strategies globally.
Organiser of Mind your language: can language be truly inclusive without cultural aware
Make culture work for you.
Apply cross-cultural insights to your business strategy and creativity for real competitive advantage.
Culture is made by people for people. It's about ideas, customs and behaviours. Culture is constantly evolving, and it does so in real time, everywhere. We draw upon the expertise of over 2,800 in-market specialists in over 120 countries to unearth cultural differences and insights, and turn them into opportunity.
Discover how we understand and apply cultural differences, drive relevance, optimise delivery and enhance local engagement with your customers and within your organisation.
We believe in human intelligence, diversity and inclusion. By people for people.
Proud to be women-owned, we are WEConnect certified.
Some of our clients:
Accor Hôtels, Cointreau, Devialet, Hager, Hyatt, L'Oréal Luxe, Maserati, Orange, Planon, Rémy Martin, Sanofi, Sony, Ubisoft, Urban Decay.
www.creativecultureint.com