Event Information
Location
SEC Centre
Exhibition Way
Lomond Auditorium
Glasgow
G3 8YW
United Kingdom
Description
'Mind Your Own Business'
Shaykh Muhammad Al-Yaqoubi
WMC event in conjunction with IST and GUMSA
How many times are we told to mind our own business? The Prophet ﷺ said: "Indeed among the excellence of a person's Islam is that he leaves alone that which does not concern him." Hadith.
What if our intervention is necessary to assist others? The Prophet ﷺ also stated: "He who amongst you who sees something abominable should modify it with the help of his hand; and if he has not the strength enough to do it, he should do it with his tongue, and if he has not the strength to do it, he should abhor it from his heart and that is the least of faith." Hadith.
How do we distinguish between matters to intervene or to mind our own? How do we respond to all the information that we are exposed to on social media platforms?
Join us to learn when to mind your own business in the light of Prophetic traditions.
Host: Faraz Yousufzai
Nasheeds: Al Musafirun - The Travellers
Date: Friday 2nd February
Time: 7pm
Venue: SEC Centre, Lomond Auditorium, Exhibition Way, Glasgow, G3 8YW
Early Bird: £10. Take advantage of the Early Bird offer of £10 per ticket if booked before 28th January 2018.
We are now able to accomodate children 7 and under and mothers alhamdulillah who will be in a separate room with a live visual and audio feed.
Child 3 and under: Free
Child 4-7 years: £5 (Early Bird)
Group booking: £10 off. Take advantage of an additional offer of £10 off for a group booking of 5 people.
Full ticket price: £15 (after Early Bird expires)
Limited seats | Reserve your seat via the link: https://propheticwayglasgow.eventbrite.co.uk
Open to all | Segregated Seating.
FAQs: http://thepropheticway.com/faq/
Filming and photography will be taking place in all parts of the event.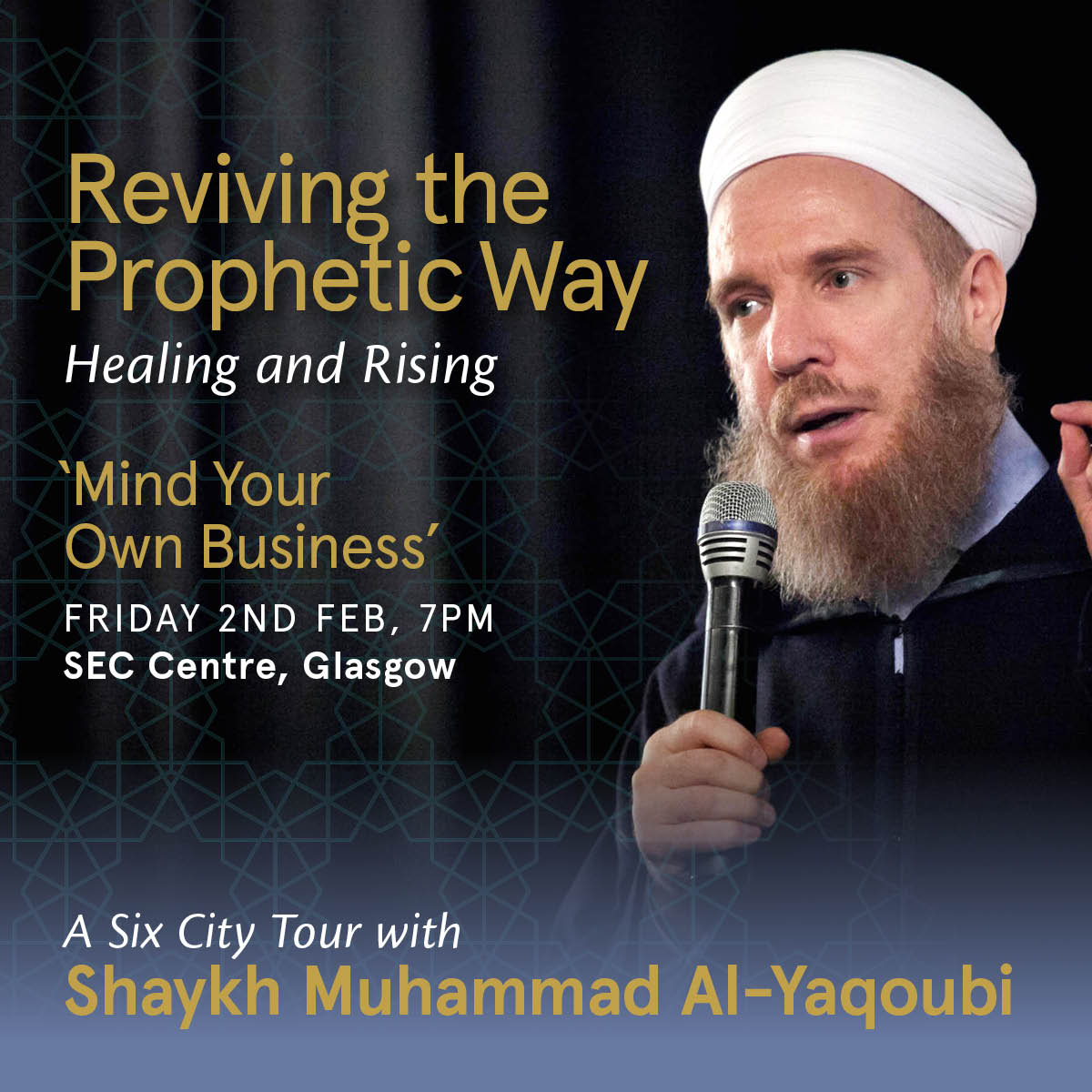 Date and time
Location
SEC Centre
Exhibition Way
Lomond Auditorium
Glasgow
G3 8YW
United Kingdom
Refund policy