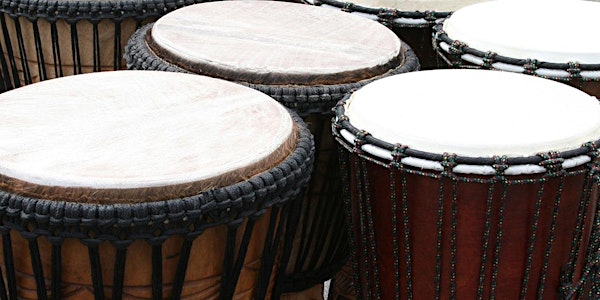 Location
Morton Community Centre
10 Lorne Street
Belfast
BT9 7DU
United Kingdom
Refund policy
Contact the organiser to request a refund.
Eventbrite's fee is nonrefundable.
Join us for an informal evening of stress reduction, mind-body wellness, and connection with others through the power of rhythm.
About this event
Join us for an informal evening of stress reduction, mind-body wellness, and connection with others through the power of rhythm.
Drum Circles are used around the world in community gatherings to heal and connect people and communities through rhythm.
This workshop uses this philosophy and taps into everyone's innate rhythm, getting us playing together in a fun and non-judgmental environment.
• No prior musical experience necessary!
• All levels welcome
• Djembe drums and percussion provided (or you can bring your own)
What is a drum circle?
A drum circle is a group of people coming together to share in the experience of making music through drums and rhythm. Our circle will be a casual and informal group where we will walk through the basics of technique and rhythm together, before having the opportunity to let go and enjoy the shared beat.
What will the workshops consist of?
Every week, we will go over the foundations we need for an enlivening drumming circle; hand-drumming technique, rhythm and listening. I believe in tailoring workshops to individuals experience level, so I will adapt the session, finding ways for those new to music to participate in the circle, while developing new skills in those who are more experienced. Once we have collectively found our feet, we'll be able to relax into the session, enjoying the rhythms and sounds we create together. I will also be incorporating elements of mindfulness to reduce stress and improve mind-body awareness. We'll learn to play mindfully, improvising rhythm together in a fun and non-judgemental environment.
What will you get out of it?
• Connecting with others through rhythm
• Mind-body wellness
• Develop musical skills such as rhythmicity, improvisation, and ensemble playing
• Self-expression
• Fun!
Do I need to be committed to learning the drum?
You are in control of your time commitment and what you want to get out of it. You can come for the whole term, or just a couple of sessions. Feel free to treat this as a relaxing and mindful activity at the end of the day, or as an opportunity to develop your musical skills over a longer period of time.
About Rowan
I am community musician and rhythm enthusiast. I have completed a master's degree in community music and have facilitated a wide variety of music workshops in different settings.
If I am not playing drums, or listening to music, I spend most of my time researching drumming and rhythm. I am particularly interested in the effect that rhythm has on our wellbeing and mental health, how rhythm is used in other cultures throughout the globe, and the musical theory and philosophy of rhythm. I hope to use these workshops to share my knowledge, experience, and passion with others.
Cancellation Policy:
48 hours prior to the event: Full Refund
24 hours prior to the event: Refund only if the spaces can be filled.