Collage-making with Liaqat Rasul
About this event
Crafts magazine invites you to the first in a series of three online mindful making workshops to help you relax, unwind and enjoy the meditative power of working with your hands. It marks the launch of our Mind & Body issue (May/June 2021), which explores how the enrapturing act of making can boost your wellbeing. It also kicks off Hey Craft!, the Crafts Council's nationwide festival of craft participation.
In this 90 minute workshop, Liaqat Rasul – a Hackney-based collage artist who transforms humble everyday materials into vibrant compositions that have been exhibited in spaces across London – will lead you through a series of short exercises to re-engage you with the present. He will combine breathing exercises with processes like cutting, pleating, folding and drawing. Finally you will assemble your collage. This workshop is suitable for all abilities and kit requirements are humble items you will most likely have in your house already.
Essentials you will need:
Tissue paper
Receipts
Invoices
Envelopes
Cardboard
Recycled items
4 or 5 large sheets of white paper (preferably A2)
Elastic bands
Extras:
Egg boxes
Newspapers
Old magazines
Wool
This Zoom event will feature automatic live closed-captioning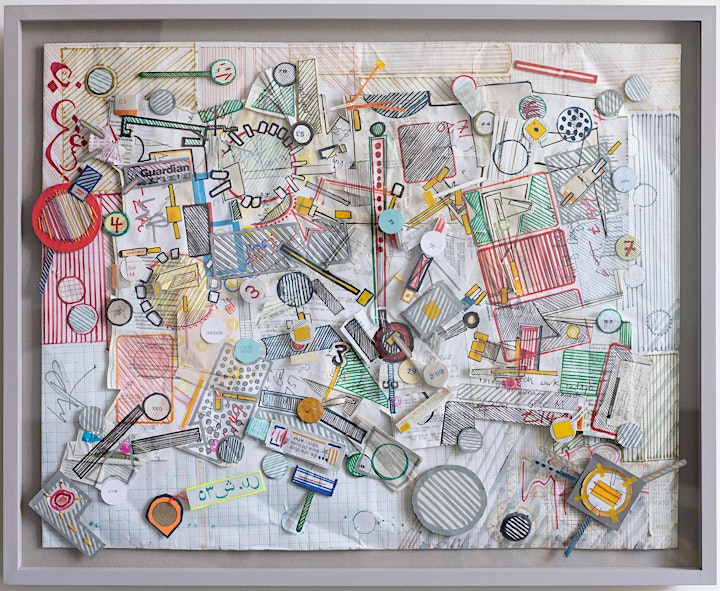 About Liaqat Rasul
Liaqat Rasul takes inspiration from the colour, chaos and energy of the Indian subcontinent to create his richly worked, abstract collages, which often take the form of installations and incorporate every day ephemera. He describes his work as a 'visual expression of how my mind processes depression' – something he has lived with for 18 years. 'My art is my act of hope - tactile, low-tech and physical,' he says. 'I find great comfort in creating these collage combinations. It's definitely therapeutic.' Rasul is part of the Crafts Council Directory of UK makers.
For details on Crafts' next two mindful making workshops, led by textile artists Claire Wellesley-Smith and embroidery artist Ekta Kaul, follow @craftsmagazine on Instagram.
Discover other events you can join as part of Hey Craft! from 14-16 May 2021