Join us for a fun morning of mono-print!
About this event
Mindful Monoprint for Kids
Saturday 31 July in Drumceatt Square
Workshop 1: 10am - 10:35am
Workshop 2: 11am - 11:35am
Workshop 3: 12pm - 12:35pm
Cost: £5 each, ages 3-11
Join us for a fab workshop that's part of our ArtBeat initiative by exploring creativity and wellbeing through art and nature. In this workshop kids will have the opportunity to create their own mono printed pencil case and card. Children will use natural objects to create their prints and be able to use their senses, including sight and touch to get creative. This workshop is a great opportunity for kids to learn a Heritage craft and have fun with art!
We will be running 3 workshops with a maximum of 5 children plus an accompanying adult per workshop. A parent is required to accompany the child/children for the duration of the workshop.
This workshop will take place in Drumceatt Square outside of Roe Valley Arts and Cultural Centre if weather permits. If this is not possible it will take place indoors in one of our workshop rooms.
**Each participant will have their own materials and equipment**
To help us keep you and our team safe, please adhere to the following Covid Safety measures:
Please provide your track and trace information at reception before attending the class.
Max 5 students per class to adhere to 2 metre social distancing in the classroom/outdoors.
All participants will have their own equipment so no one has to share.
Please wear a mask. Children 11 and under are not required to wear masks.
The class tutor will be wearing either a facemask/visor and hand sanitiser stations will be provided.
The room will be well ventilated if not held outdoors.
Your details may be passed on to the Public Health Agency if requested to aid their track & Trace.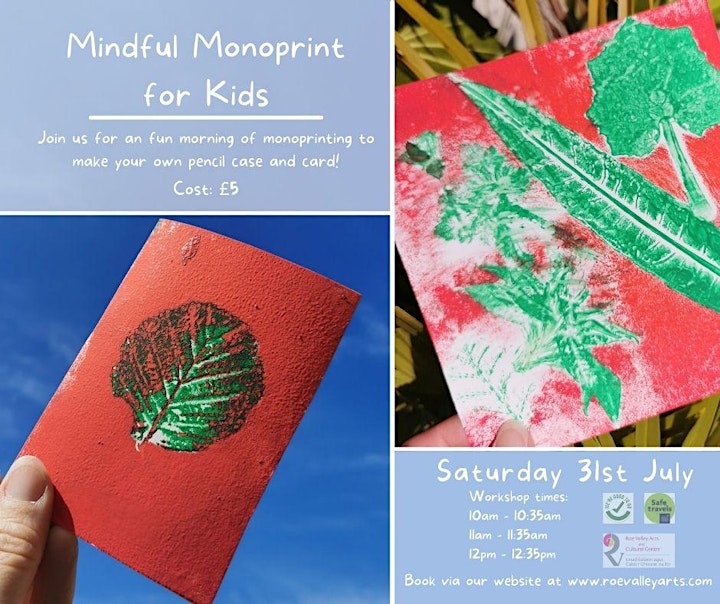 Organiser of Mindful Mono-print for Kids