Exploring Mindfulness, how it can support our daily walk with God, our mental health, in an act of creative worship using colour and paint.
About this Event
Cathy Ward from the Christian Mindfulness Network is a nationally accredited Mindfulness teacher, specialist Massage Therapist working with the way the body and mind work together, and Methodist Pioneer. As she leads us through the morning, we will explore some of the skills and tools of Mindfulness and Meditation and how they can support our daily walk with God, using them in an act of creative colourful worship using paint. Anyone can do it! But also an artist can develop and stretch the idea. This is for everyone.
The first time I did this activity my son looked at my work and said "you should be an artist Mum", I laughed. In that moment I realised that an artist isn't just someone who is "good at art", but someone who has learnt to value their work and what it means to them.
It took me back to "me" as a teenager sat in front of the mirror. My Mum telling me how beautiful I was, when all I could see was everything I didn't like, all I could see was ugly.
Is this what we do with our creativity?
Mindfulness, Creativity and Faith have made me look at me, sit at my creator's feet and find the person I was created to be, value me and value my work, value who I am, and the beautiful journey I am on, and enjoy God's presence in the stillness.
The other thing I found is great relationships are built often when we do the things we love together, with each other and with God. For many years I have seen people find faith by reciting prayers and putting their hand up in church, and if I am being honest, I wouldn't have the faith I have now without a church that did that. I have grown a love of liturgy, and the power of communal worship.
But doing the things I love doing, being the person I was created to be in God's presence as an act of worship is just great, amazing, and awesome. Being with God, just being truly 'me' is a gift.
Now some of you will laugh when I say "anyone can do this", you may say "but you don't know me". But you can do this, if you didn't have a slight interest, you wouldn't be reading this now.
So we will be exploring meditation, painting, colour, prayer, worship and being mindful.
I will have a document camera to share my work, demonstrate and clearly work with you.
There will be only 12 places on this retreat, so don't wait too long to book.
How to prepare and what you will need.
Plan for your time a few days before, buy in what you need, and set up the night before if you can. Find a nice space, safe, light, comfy, homely, and pleasant. Make it somewhere you can enjoy being, somewhere you can't be disturbed. Make yourself a drink and a nice snack, and while our time together is between 9.30am and 1pm you may want to take the rest of the day for you. You may want to just carry on.
A zoom retreat doesn't need to be a second best experience; it is whatever you make it, it's the beauty of being together and sharing together, with the beauty of that space to be alone with God. What could be better? So open your heart, and give your time just to be with God.
Here below are the supplies you will need explained. Do use as much as you can from around the house, none of my supplies are expensive. Some of it is optional depending on how far you want to go.
You will need
White A4 preferably water colour paper (slightly thicker than normal paper but not card)
Print onto the painting paper the attachments (outline drawing) in the email I will send you, 3 copies of each, and blank paper free styling.
Water paints I use blocks, children's paints you will need a White, Yellow, Red, Blue, and Green
Fine-ish paint brushes, if you haven't got much money, this is where I would splash out £2 - £3 each on a couple of good brushes, I use Daler Rowney round size 1 and 3. If you could only get one, the 3 is the best one to go for.
Cup for painting water
Plate or mixing pallet
Pencil and rubber
Scissors
Artists tape or masking tape, but selotape will work too.
A board to tape your paper to so it stays flat, I use a piece of MDF, but you could use an old book or manual, or a piece of foam board. Cut to slightly bigger than an A4 sheet of paper (about 1cm each side).
Table and chair that are a comfortable size for you to work at and sit on for a while.
Table covering so you don't need to worry about damaging the table.
Bible
Journal
Pen to write in your journal
A drink and a snack, a little treat to relax with.
And good light, I sit in front of a large window, but also have a light or lamp for if it's a dull day.
You may need
Ruler
Painting pencils
Comfy chair in case you want to sit back and chill for a moment.
Compass if you want to draw your own sheet. I have a small and a large.
Take care, and I look forward to seeing you.
Cathy Ward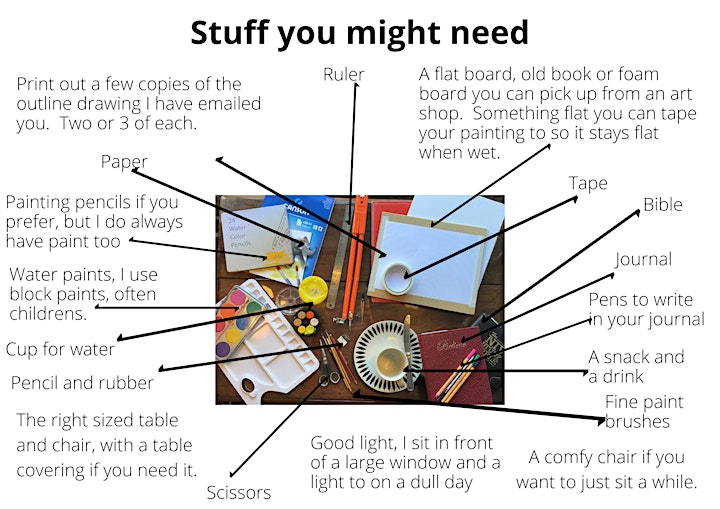 Date and Time
Location
Refund Policy