Description
People who practice mindfulness credit it with creating positive change – both within and outside of work. The latest neuroscientific studies back up this anecdotal evidence: suggesting that using mindfulness techniques regularly for just eight weeks produces structural changes in the brain.
But don't take our word for it.
These two sessions running on Friday 02 June and Friday 16 June 14:00 - 17:00 will provide you with the understanding, experience and techniques enabling you to develop – or deepen – a regular mindfulness practice. And they will help you destress for the weekend.
Who is it for?
These sessions are aimed at leaders and aspiring leaders from across the University of Westminster. Course leaders, module leaders, Heads of Department, corporate staff and Senior Managers. You are all welcome.
What can you expect?

Learn secular mindfulness techniques
Explore the stress response and learn new and healthy ways to respond
Participate in group discussions on mindful aspects of work and leadership
Learn mindfulness exercises that you can practice between and after the sessions

What will you get out of it?
The benefits of mindfulness practice are personal to each individual. However, in addition to the tools, techniques and exercises you will learn, many people find that they
discover improved capacity to focus attention
experience raised levels of wellbeing
find positive effects are also experienced by those they work with
Session content
Workshop One – Friday 02 June

Mindfulness and its benefits (including neuroscientific research data) 1
Bodyscan
Exploring the stress response 1/discussion of reactions to stress within a leadership context
Mindfulness meditations: breath, body, thoughts
21 ways to be mindful
Readings
Q and As
Recommendations for home practice
Workshop Two – Friday 16 June

Mindfulness and its benefits 2
Bodyscan
Exploring the stress response 2/discussion on changes in reactions to stress within a leadership context
Mindfulness meditations: breath, body, sounds, thoughts
Mindfulness within a leadership framework - discussion
How to look after yourself
Readings
Q and As
Recommendations for continuing home practice.
Email course facilitator Jenni Nowlan for more information
Facilitator
Jenni Nowlan is a Chartered Psychologist and an Associate Fellow with the British Psychological Society (BPS) and an Academic Member of the Chartered Institute of Personnel and Development (CIPD). She is also a Fellow of the Higher Education Academy. and is working on her Doctoral thesis on the theme of Mindfulness in Higher Education.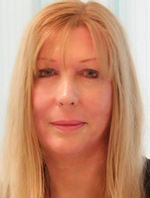 Jenni is a trained mindfulness teacher (University of Bangor) who has been practising mindfulness techniques for more than 20 years.