Location
Conway Hall
25 Red Lion Square
London
WC1R 4RL
United Kingdom
Description
Join us for an inspiring evening as Richard Burnett explains how mindfulness can transform wellbeing in schools and help create the foundation for fulfilling lives and a happier society.
There has been a recent explosion of interest in mindfulness and its proven benefits for mental and physical health. But perhaps the most profound shift is the introduction of mindfulness in schools, where it has the potential to equip future generations with vitally important skills for life. Could this be the path to a genuinely happier, wiser and more compassionate society?
Richard will share some innovate ways in which mindfulness is being taught to young people, including via the ground-breaking .b programme which he co-founded. He will review the exciting progress being made and look at the wider implications for our education system, our adult lives and our society.
"Mindfulness is an invaluable tool to help bolster young people's resilience to psychological stress. It boosts concentration, depth of thought, happiness and achievement" ~ Sir Anthony Seldon
About The Speaker
Richard Burnett is the Co-founder and Director of Mindfulness in Schools Project and co-created the highly-acclaimed 10 week .b (pronounced dot-b) mindfulness programme, designed to engage young people in the classroom. He is a teacher and boarding Housemaster at Tonbridge School, which generated significant media coverage in 2010 when it became the first school in the UK to put mindfulness on the curriculum.

"Our mental health and happiness are profoundly shaped by what we do with our attention. Wouldn't it be wonderful if we could teach young people to train their attention in the same way we teach them to read and write. What a difference that would make." ~ Richard Burnett
Location and Timings
This event will take place at Conway Hall in central London on Tuesday 27 September 2016. Doors will open at 18:30 and the event will start at 19:00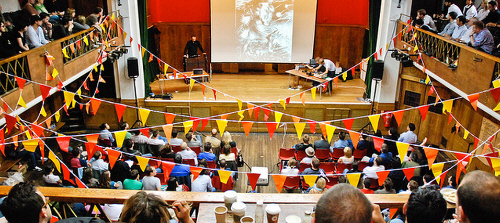 Tickets
This event is in support of Action for Happiness. We want to make it accessible to as many people as possible, so rather than charging a fixed fee we're instead asking you to make a donation. It would be great if you could donate £20, but if you can spare more, or feel unable to give that much, then please give what you feel is appropriate.
Any funds raised (beyond the costs of the event) will contribute directly to Action for Happiness' work to promote mental wellbeing in local communities. Action for Happiness is part of the Young Foundation, a Registered Charity (274345) in England and Wales.
Any questions about the event please contact events@actionforhappiness.org.
We look forward to seeing you there!