Mindfulness to Help Teams Thrive in Uncertain Times
About this event
Hi, I'm Christoph Spiessens. Mindfulness and Insight Timer app teacher and published author. I help teams thrive with my inspirational, accredited mindfulness workshops and talks.
I bring my secular mindfulness teachings to employees across all sectors and all levels in a practical and usable way.
Join me for an informative and experiential ZOOM session full of tips to help your teams thrive in these uncertain times.
Alleviate isolation. Inspire connection. Support wellbeing.
In today's unpredictable world, Mindfulness is more important than ever. It can cultivate calm, resourcefulness and resilience. During this complementary introductory session to Mindfulness, we will cover:
What Mindfulness is / (is not!)
How it can help your teams and business
How they can practice it effectively and safely
Please note, there will be a few short practical experiences of Mindfulness during this zoominar. Participation (and the use of your camera in general) is entirely optional.
Real benefits of Mindfulness in business can include:
Reduced anxiety and stress
Better communication
More empathy
More collaboration
Increased job satisfaction
Positive outcomes that ripple through the organisation but also help outside of work.
Unsolicited feedback from the previous free zoominar:
"Thank you so much for the amazing session. You had my undivided attention which by the way, is rare. I really enjoyed the introduction to mindfulness and have to commend you on your great ability to deliver this insight to others. Thank you again and really appreciate you sharing this wonderful passion of yours with others."
Limited places, unlimited passion. Register today!
I look forward to spending an informative 45 minutes with you soon,
Christoph
Lets connect on LinkedIn: CLICK HERE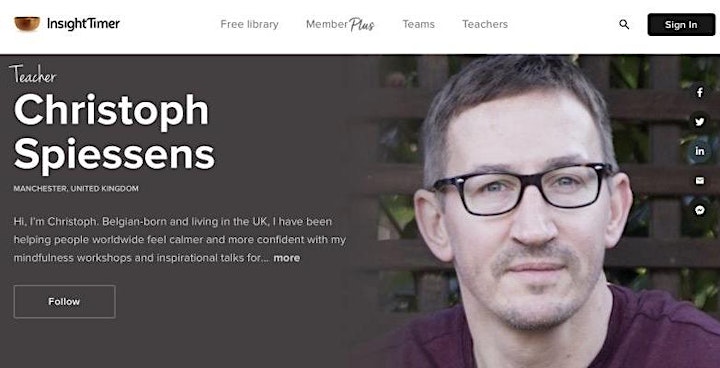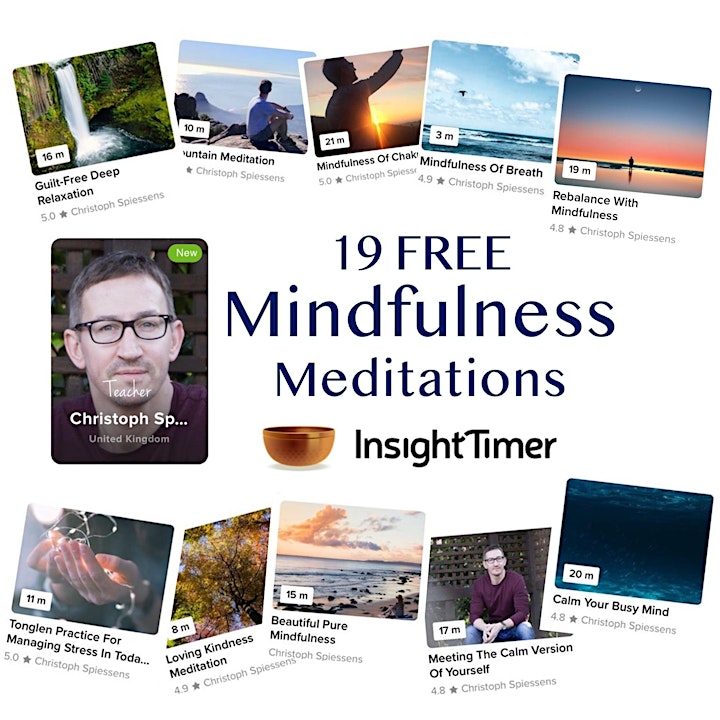 Organiser of Mindfulness for Teams: An Introduction
Christoph Spiessens is a published author and mindfulness guide. His consultancy is an Open Awards recognised Training Centre and his motivational book "Life of a Lifetime" is published by Business Expert Press, NY.
All info: 0788 407 68 93  | www.ChristophSpiessens.com
(*) Disclaimer: Christoph Spiessens is a Certified Coach and experienced Learning & Development Professional. He is not a licensed psychologist or health care professional and his website content (articles, videos, podcasts, etc.) and coaching services (including workshops, talks, seminars and interviews) do not replace the care of psychologists or other healthcare professionals. Christoph Spiessens will at all times exercise his best professional efforts, skills and care. However, results are not guaranteed. The information contained within the website, coaching services or workshops, is not a substitute for professional advice such as that given by a medical doctor, psychiatrist, or counsellor. The information provided by Christoph Spiessens does not constitute legal or professional advice, nor does it intend to do so. All content is expressed in good faith for general guidance, and no liability can be accepted for loss or expense incurred as a result of relying in particular circumstances on statements made on the website or during interactions with Christoph Spiessens. Under no circumstances can you hold Christoph Spiessens liable for any actions that you take as a result of participating in coaching or workshops with Christoph Spiessens. Refunds: Please contact Christoph to discuss your refund request: Connect@ChristophSpiessens.com or 0788 407 68 93. Thank you.