Event Information
Refund policy
Contact the organiser to request a refund.
Eventbrite's fee is nonrefundable.
Strategies for Mindful Living through Life Challenges
About this event
Mindfulness in Action 5-Week Course
Gain insight, awareness and resilience!
About the course
This 5-week course is for beginners and practitioners who want to learn more about the key principles of Mindfulness and Meditation, and apply practical techniques to assist in your day to day life.
Past participants came on the course for many reasons such as: To gain insight, healing and renew their commitment to self-development, to re-enforce a Mindfulness routine, to develop more spiritual awareness, to assist their team of counsellors and therapists, to feel more grounded and self-empowered.
This introductory course assists participants to reduce levels of heightened anxiety and tension when dealing with personal challenges, external factors/events and throughout the lockdown. You will learn how to apply a range of life-enhancing techniques, gain insight and clarity, become more resilient, cope better and improve your well-being through self-awareness
Date of the next 2 courses:
Friday mornings starting on: 12th November 2021 to Friday 10th December 2021
5 sessions
Time: 10.00am - 11.30am (UK time)
Zoom
and
Friday mornings starting on: 14th January 2022 to Friday 18th February 2022
5 Sessions
Time: 10.00am - 11.30pm (UK time)
Online (Zoom)
Course Content Includes:
Understanding Mindfulness and its Health Benefits
Key Principles and Daily Application
Applying Present Day Living in Troubled Times
Body Scanning Technique – Being Aware of your Tension Spots
Light Energy and Mindfulness
Practical strategies for Mindfulness
Lower Abdominal Breathing and Breathwork Techniques
The Stress response – Fight, Flight or Freeze
Re-Training the Brain with Positive Self-Talk
High Vibrational Foods
What to bring with you when online: Please bring a notebook and pen with you for the sessions, and ideally be seated in an upright chair. Please wear loose and comfortable clothing to assist you when undertaking the breathing activities.
After the course: You will receive a certificate of attendance upon completion of the course . (At least 4 of the sessions will need to be completed for certificate).
Cost:£45.00 Block-Booking [Saving of £5.00)
What participants have said about the course:
"I am taking the Mindfulness course with Imani. I am loving the way she delivers this topic. She is passionate about offering the gift of mindfulness to her students. The course material is very helpful. Although I have been meditating for many years, Imani's course has helped me take my meditation to a brand new level. I am already feeling more in the now and the breath work she is teaching me is very powerful. I've been using her method for a couple of weeks now and already feel the physical, mental and emotional benefits. Imani has such inner peace and is very grounded. It has been a delight being one of her students". Walkiria Bass Feb 2021
About the Trainer - Imani Sorhaindo
I am a qualified Holistic Health Practitioner, Life-Coach and Teacher specialising in guided Imagery, Acupressure, Energy Balancing work and Mindfulness Meditation. I work with mixed-groups online, and also specifically with women one to one, assisting them in womb-wellness, to address health conditions such as fibroids and heavy menses. I was born in Dominica, West Indies and came to the UK in 1976. From my late teens, my life in the UK has been centred around equality, justice, community development, health, well-being and healing.
Much of my current work is centred around online one to one coaching, group facilitation and event management.
Director of KMT Rising Ltd www.kmtrising.com
Co-Director of Be Me Like We
www.bemelikewe.com
Email: kmtrisingltd@gmail.com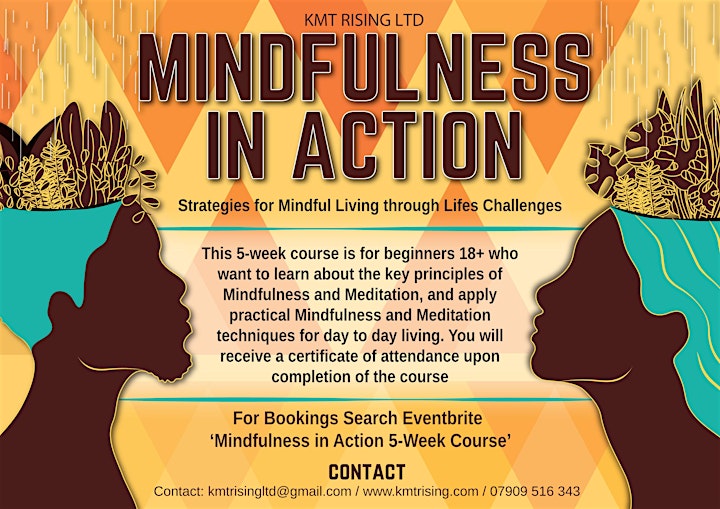 Date and time
Location
Refund policy
Contact the organiser to request a refund.
Eventbrite's fee is nonrefundable.