Make time for yourself to slow down, take notice and ease your mind
About this event
Join our self-care Sunday session to explore techniques for mindfulness. In these trying times taking care of our wellbeing is more important than ever. This 45-minute session will explain mindfulness, what it means, how it works and an opportunity to try a mindfulness activity.
Who for: Primarily for women / womxn in Derby/shire, and children 12yrs+ with adult supervision, but this is virtual so you can join us from wherever you are! For groups / households / support bubbles who can watch together you can book one ticket to join the virtual event together. All self-identifying women, and non-binary folx who feel affinity or siblinghood in spaces that center women's experiences, are welcome.
How it works: Once you make your booking you will be able to log in to eventbrite to access the Online Event Details with the info and weblinks to join this online video meeting on the day; you will also get an email reminder with a link to the event info.
Access: When booking there is a question about access - please inform us in advance of any access requirements to enable you to take part so we can get everything ready for you. Auto 'Live transcript' can be displayed on request.
This workshop will be delivered online via a web-based video calling service. To access this event, you'll need an internet connection, and a computer or device that has a webcam and microphone, which is usually built-in on most devices.
Financial hardship? Need free tickets? We offer 'Donate what you can' tickets to help us cover the costs of putting on this volunteer-run festival but if you don't have money to spare and want to take part we want to help - free tickets are also available via the Register button - we are also issuing free tickets via various local women's charities as always to reduce barriers to participation. Love and solidarity x
ABOUT THE SESSION LEADER:
Pam Sidhu (pictured), Learn 2 Rest, is an award winning radio presenter, Mindfulness Teacher, Nutritionist, Life Coach, NLP practitioner and sharer of acts of kindness. Her guided meditations and visualisations offer a release and an escape from the pressures of modern life, making space for self-love and nurturing inner calm.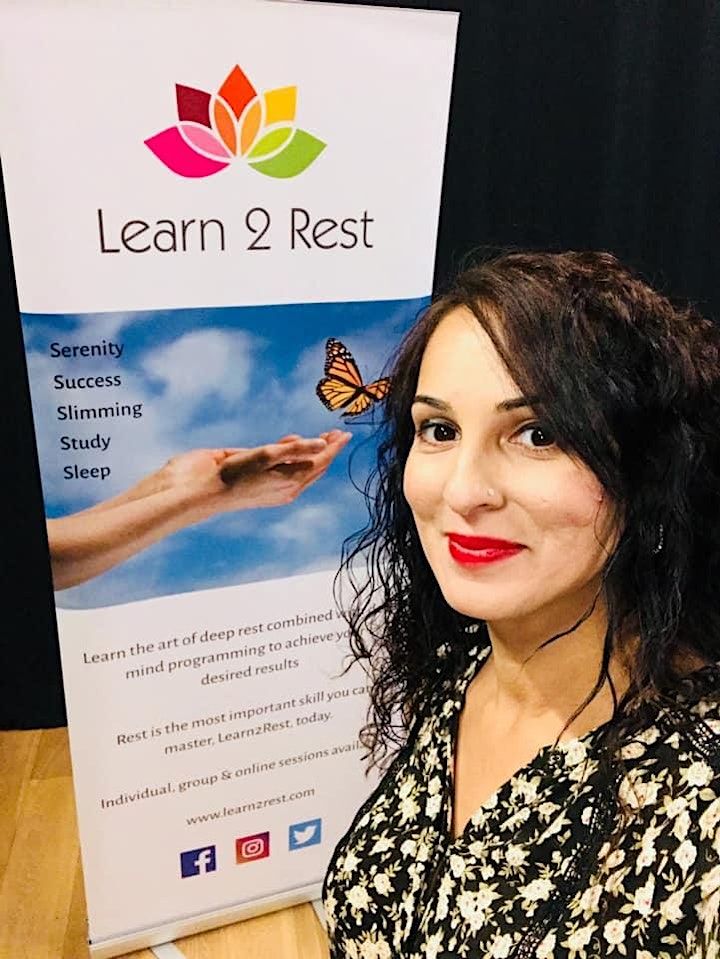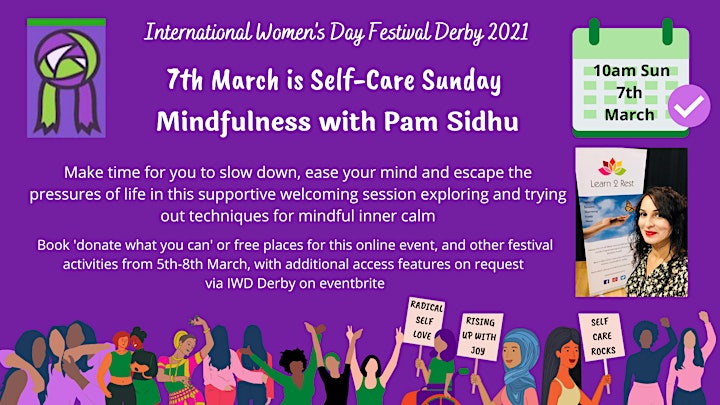 Organiser of Mindfulness with Pam Sidhu
International Women's Day (IWD) Derby is a voluntary group running inspiring events by and for the community to advance the equality and quality of women's lives.
The IWD Festival is the flagship annual event, with other fundraisers, community workshops and collaborations during the year to create a brighter, safer, fairier future for women and girls