Description
Meditation workshops led by Martin Evans and Julia Moisei. Martin is an experienced teacher of mindfulness and meditation. Julia is a student of mindfulness at Bangor University.
Free sessions, no booking required, beginners are welcome.
'Paying more attention to the present moment - to your own thoughts and feelings and to the world around you - can improve your mental wellbeing.' NHS website.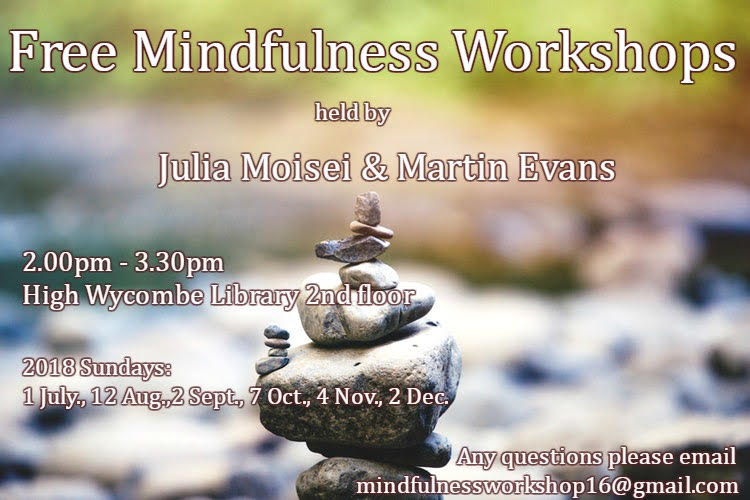 FAQs
Do I need to have practiced meditation or mindfulness before?
Complete beginners to mindfulness and mediation are welcome.
There's a date I can't make. Do I need to attend all workshops?
No, you are welcome to attend as many sessions as you'd like.
How can I contact the organiser?
You can email Martin Evans on mindfulnessworkshop16@gmail.com.
Ways you can practice mindfulness
Formal mindfulness meditation to train our minds to be more aware of the present moment:
Establishing an upright but relaxed sitting posture – finding and focussing on a point of balance – relaxing the shoulders – being more alert.
Noticing sensations in the body – body scanning – directing your attention to the body to see what sensations are present.
Mindful breathing – noticing the natural flow of the inhalation and exhalation of the breath.
Mindful movement – standing, walking, sitting down, stretching, doing simple exercises …
Mindfulness in daily life:
Being aware of ordinary activities – getting dressed - cleaning your teeth – cooking - eating a meal - washing up – having a conversation – working – playing …
Using a breathing space – noticing a breath as a way of creating space around your experience – especially when you notice feeling stressed.
Using natural breaks in your day as opportunities to be mindful – waiting for a bus or a train or waiting at traffic lights – using any opportunity to be present with what is happening.
Noticing nature – the ripples on a pond, the sound of wind in trees, the passing clouds.
Being aware of thoughts and feelings:
Noticing unpleasant/painful thoughts and feelings and resisting the impulse to react – resisting the temptation to see them as a problem you have to fix.
Noticing where the body is feeling tense - can you connect that to feeling stress or anxiety.
Questioning the negative stories you are telling yourself – asking, 'are you sure?' – 'is that always true?
Noticing the judgemental mind – listening to our 'shoulds' and 'oughts' and not believing in them.
Breaking our habits – try taking a different route to work – try a new recipe – do something different.
In relationships - consider the possibility of changing yourself, instead of trying to change the other person.