Description
Saturday 10th October 10.00-12.00 and 14.00-16.00 The afternoon workshop has been cancelled

In 1815 William Smith published the first edition of his Geological Map of England and Wales. As well as providing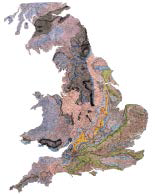 and understanding of the ground beneath our feet and giving birth to a new branch of Geology (stratigraphy), the map is a beautiful work of art.

From Palaeolithic times until the 1800s artists used natural minerals as pigments for paints. Join us at the Brighton Building to learn which minerals were used, have a go at mixing your own paint from mineral pigments and colour your own geological map of England and Wales.
Free
Ages: 8+ children must be accompanied by an adult
Please note the workshops are at the Brighton Building in W.Cambridge not the Sedgwick Museum. Parking is available
Please book one ticket for each person attending
Organiser of Minerals, pigments and William Smith
Bookable family and adult events for the Sedgwick Musuem.

The Sedgwick Museum of Earth Sciences opened in 1904 and is the oldest of the Cambridge University Museums. Today the Museum forms a part of the Department of Earth Sciences. The Museum exists to promote access to and stimulate learning through the collections in its care, and has a long history of being a friendly, accessible place of learning for the whole community.