Multiple Dates
Mini Acoustic Speaker (Free tickets for low income attendees)
Event Information
Location
ATOMIC 50 Factory
Leyton Sports Ground
4 Crawley Road
London
E10 6RJ
United Kingdom
Description
Learn to work with sheet metal and create your very own smartphone speaker. Starting with a square sheet you will form and assemble a pocket-sized speaker to amplify sound and music from your phone. Using a range of specialist equipment, such as a fly press and metal guillotine, you will cut, fold and stamp your sheet metal together to create this functional design. This one-off metalworking class gives you the opportunity to work with a versatile and useful material not commonly used.
Developed by metal working specialist Rob Fawcett, Workshop Manager at Blackhorse Workshop.
This class is for adults 16+
We have a limited number of free tickets available for low income families. You can book a free Low Income Ticket if you are:
-A carer or a single parent looking after a child under 12
-Working less than 16 hours a week
-Have no income
Please note that refunds and/or changes to ticket are available up to 7 days before workshop date.
The ATOMIC 50 Adult classes will run throughout the month of April in evenings and weekends alongside the children's experiences. For full information about the children's programme go to our website: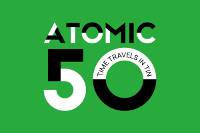 Location
ATOMIC 50 Factory
Leyton Sports Ground
4 Crawley Road
London
E10 6RJ
United Kingdom