Postponed until 16th December when we will meet in St. Mark's Church or online via Zoom, details to follow in line with Government guidance.
About this Event
Dear friends,
We are delighted to invite parents, grandparents and carers with babies and little children under-five to a short but blessed, socially distanced Mini-Mark's service at the later time of 1.15pm for 1.30pm on Wednesday 9th December in St. Mark's Church, Holbrook, celebrating Jesus' Birthday at our Christmas Party.
Mini-Mark's sessions are shorter now as government guidance currently prohibits lunch, refreshments, toys and singing but we hope that this will not put you off coming, as our Mini-Mark's sessions since our restart in July have been very special. We have an interactive Bible story with drama, prayers, action and percussion songs, and craft and colouring to take home.
In order to hold a Mini-Mark's service we have to adhere to the following:
Please do not attend if
Anyone in your household is showing symptoms of COVID-19: a high temperature, a new continuous cough or a loss or change to your sense of smell or taste, or if you have been advised to isolate.
Face Coverings
To be worn in church by adults and children over 11 unless they are exempt.
Social distancing within and outside church is essential
Seats are reserved in rows with a 2-metre gap between rows and 3 empty chairs left between you and the next person in a row if you are not in the same bubble.
Rule of 6
Do not mingle in a group of more than 6 (other than with people you live with or have formed a support bubble with).
Please arrive from 1.15pm
Allowing time for a 2-metre socially distanced queue for entry into church, use of hand sanitiser and being shown to your reserved seats before the service starts at 1.30pm. Toilet facilities will be available.
Parents and carers will be responsible for ensuring children maintain social distancing
We will do what we can to help you with 2-metre lines to follow. You are welcome to bring your pram/pushchair/car seat/ booster seat into church. Wear/bring extra layers to keep you warm as we have increased ventilation.
At the end of the service
Please leave the church promptly keeping 2-metres apart, taking a craft activity and colouring sheet in a pre-prepared envelope for each child to do at home, you will just need some crayons, a glue stick and sticky tape.
As numbers are limited
Both the team and families need to please pre-book your free seats using Eventbrite you will receive a confirmation email soon after reserving your seats.
We continue to closely monitor all the latest government and church guidance and will contact you if anything changes.
We look forward to seeing you at Mini-Mark's.
With every blessing to you and your family,
Richard
Reverend Richard Coldicott, Vicar St. Mark's Church, Holbrook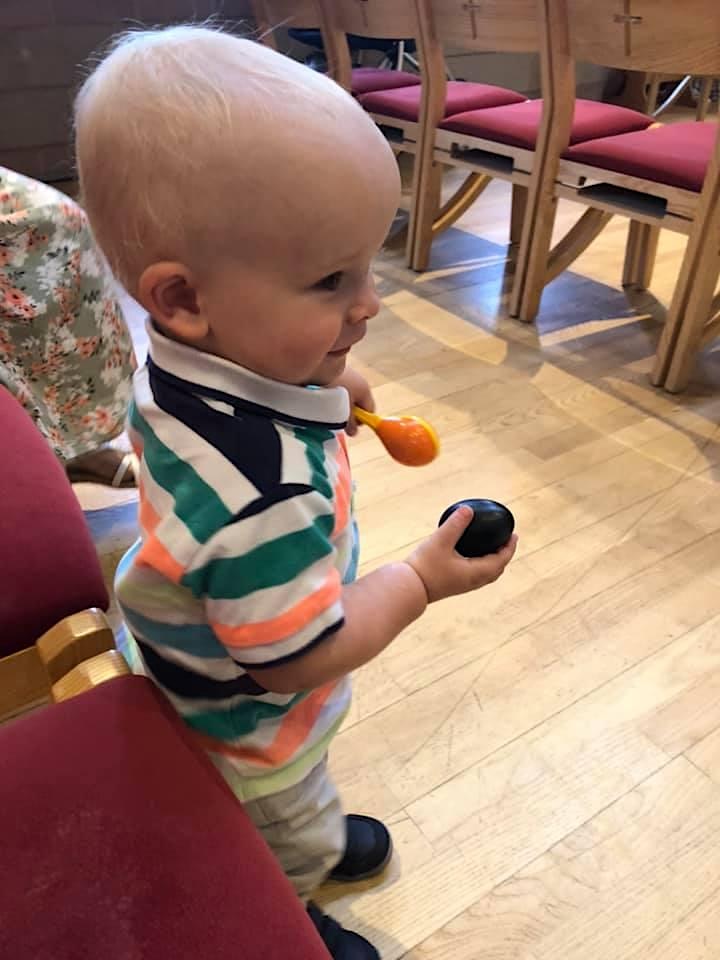 Aeron adored going to Mini-Mark's today. Lots of dancing and using our shakers. The church have worked so hard to make it COVID safe. With prebooking so social distancing is done among other things. A brilliant space for children (and adults) to have fun!
16th September 2020