Join Liz Lord and Christoph Spiessens for a mini mindfulness retreat
About this event
Following the success of The Manchester Mindfulness Festival last October, we are delighted to announce our next event and invite you to an intimate Mindfulness mini-retreat hosted by Liz Lord (Oxford Mindfulness Centre) and Christoph Spiessens (Founder of The Manchester Mindfulness Festival).
A nourishing morning of practice and community, suitable for beginners with an existing mindfulness practice and more advanced practitioners.
All practices will be based on the traditional practices from the Mindfulness-Based Stress Reduction (MBSR) and Mindfulness-Based Cognitive Therapy (MBCT) programmes, for example: Sitting Meditation, Body Scan, gentle Mindful Movement, Loving-Kindness, Mountain Meditation and Choiceless Awareness.
We look forward to spending a mindful morning with you!
Limited to 35 guests.
Official Website: https://www.manchestermindfulnessfestival.com/
We believe in sustainability. For all our events, a portion of all ticket sales will be donated to OneTreePlanted.org, an environmental charity with a focus on global reforestation. These projects restore forests after fires and floods, create jobs, build communities, and protect habitat for wildlife. Thank you for your support!
ACCESSIBILITY
Just like our flagship event, The Manchester Mindfulness Festival, we aim to make this retreat as accessible as possible to visitors with visible and non-visible disabilities. We will endeavour to make your visit as safe and comfortable as possible. For example, a BSL sign language interpreter will be available on the day upon request, or special seating arrangements can be provided. Please contact us as soon as possible to discuss your requirements and we will liaise with the venue to establish how all necessary arrangements can be made. The venue is wheelchair accessible.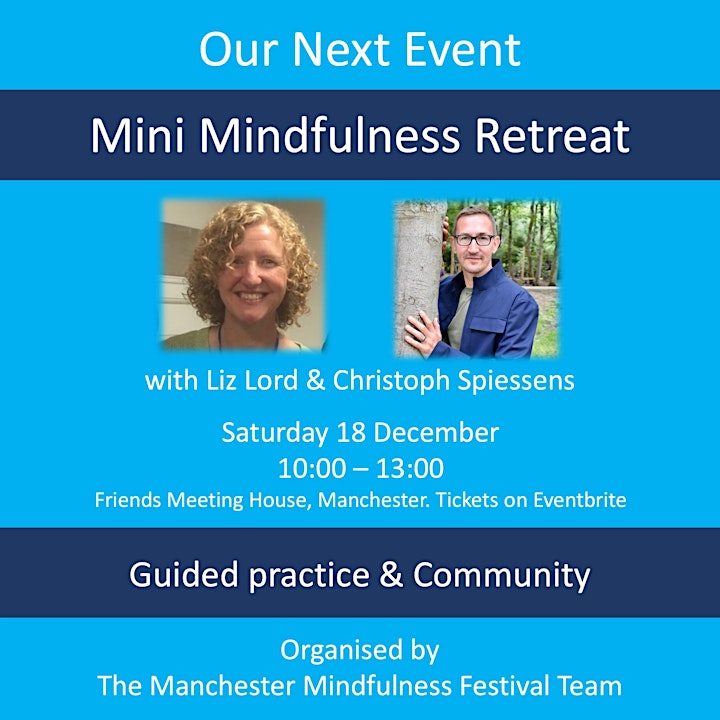 Liz Lord is a teacher and trainer at the University of Oxford Mindfulness Centre and the Head of Teacher Development for The 'Mindfulness in Schools Project' (MiSP) charity. She is now based in Manchester having spent the last 6 years as a senior researcher and the school's liaison lead for the MYRIAD project at the Dept. of Psychiatry, University of Oxford. She is passionate about communicating the latest scientific research in 'Mindfulness for schools' effectively to the Education community and beyond. Before joining the OMC, Liz worked as a school teacher and part of the Senior Leadership Team in a Pupil Health Referral Unit in Salford where she taught mindfulness to pupils and led its implementation. Previously, she was an Assistant Head at the Royal Manchester Children's Hospital school. Liz has taught mindfulness courses to teachers, heads, parents and educational psychologists. She has an MSc in Mindfulness-based Approaches from Bangor University, where her particular interest was looking at mindfulness for school teachers.
Christoph Spiessens is the founder of The Manchester Mindfulness Festival. His vision is simple: To organise events in central Manchester that make Mindfulness more accessible to both beginner and advanced practitioners, without bells (well, with the exception of meditation bells!), whistles or territoriality, but with inclusion, collaboration, and respect for the integrity and essence of Mindfulness. He is a certified Mindfulness teacher, Learning & Development professional, and also teaches on the app, Insight Timer. His personal development book, 'Life of a Lifetime,' is published by Business Expert Press, NY. Christoph is particularly fascinated by the intersection of neuroscience, Mindfulness and spirituality. He is studying for a master's degree in Teaching Mindfulness-Based Approaches at Bangor University.
FAQ's
Where is the venue located? The venue is located in central Manchester, just off Albert Square and opposite the Central Library. The address is: Friends' Meeting House, 6 Mount Street, Manchester, M2 5NS. Easily accessible by public transport. A car park is nearby. The venue is wheelchair friendly.  
Is Mindfulness safe? Although our facilitators are professionals and Mindfulness practice is generally very safe, you take part at your own risk and we ask you to stop practicing if you feel uncomfortable and let Liz or Christoph know if you require psychological help.  
"Mindfulness is neither relaxation nor in the service of becoming relaxed. While relaxation may be a positive outcome of some mindfulness practices, mindfulness is about attending to and being aware of our experiences, whether they are positive, negative, or neutral. Mindfulness is not about zoning out. In fact, it is referred to in classical teachings as waking up to our experiences and lives. In mindfulness-based programmes, the practice has the intention to better understand the mind and then to train it in the service of living with less suffering and greater joy and ease."
From "Mindfulness – Ancient Wisdom Meets Modern Psychology" by Christina Feldman and Willem Kuyken, PhD.
If I can no longer attend, can I get a refund? You can request a refund up to 1 day before the event. If you are not satisfied with your experience during the event, please contact us to discuss a potential refund on 07884 076 893.  
What about Covid-19 restrictions? We adhere to the latest capacity restrictions and rules set out by the Government. This means that guidance can change, but we will contact you with any updates before the start of the event. In case of event cancellation or postponement, you will be contacted to be offered a ticket refund (minus any booking fees) or alternative date. 
Is this a religious/spiritual event? Although it is generally considered that Mindfulness has its roots in Buddhism, Mindfulness can be experienced and practiced entirely secularly.
What do I need to bring/wear? A casual dress code applies at the event. As longer meditations will be included, it is important that you feel comfortable. If you prefer to lie down during the sessions, feel free to bring a yoga mat or meditation cushion.
Does the ticket price include catering? Water will be freely available at the event.