Description
"Our lives begin to end the day we become silent about things that matter".
- Martin Luther King Jr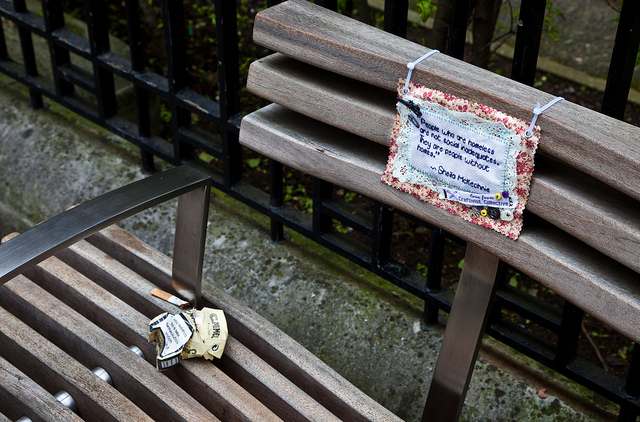 Fly solidarity's flag for those suffering as a result of the world's injustices. Craft your own banner, turn heads & influence change.
This project is a chance to slow down and - in the safe environment that craft creates - make a cross-stitched banner about an issue you care about and hang it in a relevant public space to provoke thought and discussion.
By making it small and hanging it off eye level, people have a sense that they have chosen to engage with the message, rather than it being forced upon them.
The mini protest banner kit will provide everything you need: two cable ties, fabric with eyelets in the top, cross stitch aida, needle and thread, instructions, ideas for content, a little Craftivist Collective label and more information on Craftivist Collective.
Limited to 15 attendees.
Led by Founder of Craftivist Collective Sarah Corbett
Deposit of 100SEK will be reimbursed on your arrival at the workshop (the remaining 10SEK is the fee eventbrite charge).
Buy kits and tools here if you cannot attend the event
Svenska:
Mini Protest Banner
18:00 - 20:00 onsdag 9e september.
Vifta Solidaritets flagga för dem som utsätts av världens orättvisor. Skapa din egna flagga, vänd huvuden och influera förändring.
Organiser of Mini Protest Banner workshop
We are a social enterprise that believe craft can be a tool for gentle activism
aimed at influencing long-term change
.
By using the quiet, reflective time it gives us to explore global issues and how they affect the world around us, we can create something beautiful, considered, positive and poignant.
We provide kits, tools and services for individuals and organisations around the world to do effect craftivism. 
Join us, together we can change our world, one stitch at a time…