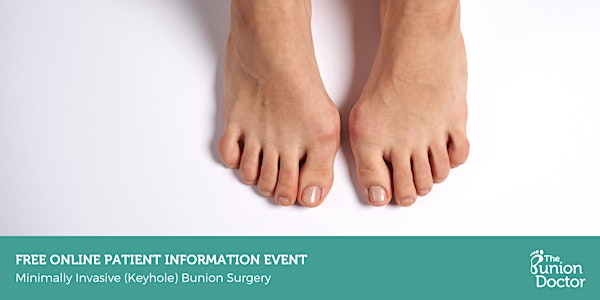 Minimally Invasive (Keyhole) Bunion Surgery - Patient Information Event
Free online patient information event on minimally invasive (keyhole) bunion surgery, with Mr David Gordon, Consultant Orthopaedic Surgeon
About this event
During this free online patient information event, Mr David Gordon, Consultant Orthopaedic Surgeon and Bunion Specialist will be providing information and expert advice on bunions and treatment options, including the minimally invasive (keyhole) approach to bunion surgery he specialises in.
Bunions are a common condition affecting both women and men. Many people live with symptomatic bunions which affect their footwear and lifestyle choices, without knowing the treatment options available. Surgery is often thought of as painful, with a long recovery. This need not be the case with the minimally invasive approach to bunion surgery, a relatively new technique which offers minimal scarring and a faster recovery and return to work and normal activities.
Event Agenda & Tickets
This one-hour webinar via Zoom will consist of a 30-minute presentation by Mr Gordon, followed by a Q&A session.
The presentation will cover:
What are bunions?
Treatment options
The minimally invasive approach to bunion surgery
Recovery and patient outcomes
Fees and Insurance
Places are limited – please secure your free attendance by booking here. Once you have registered, you will be able to access our Eventbrite Online Events Page. The Zoom access link and codes to join the webinar will be published here prior to the event.
If you have any questions or would like any further information, please e-mail wendy@thebuniondoctor.com and we will be happy to help.