Description
Welcome to the FIFTH and FINAL Minogue vs Minogue: THE REFERENDUM.
The score currently stands at Kylie 2 - 2 Dannii. This time: THE WINNER TAKES IT ALL.
Hustings start at 9pm, polls open soon after. We expect to have the results shortly after midnight.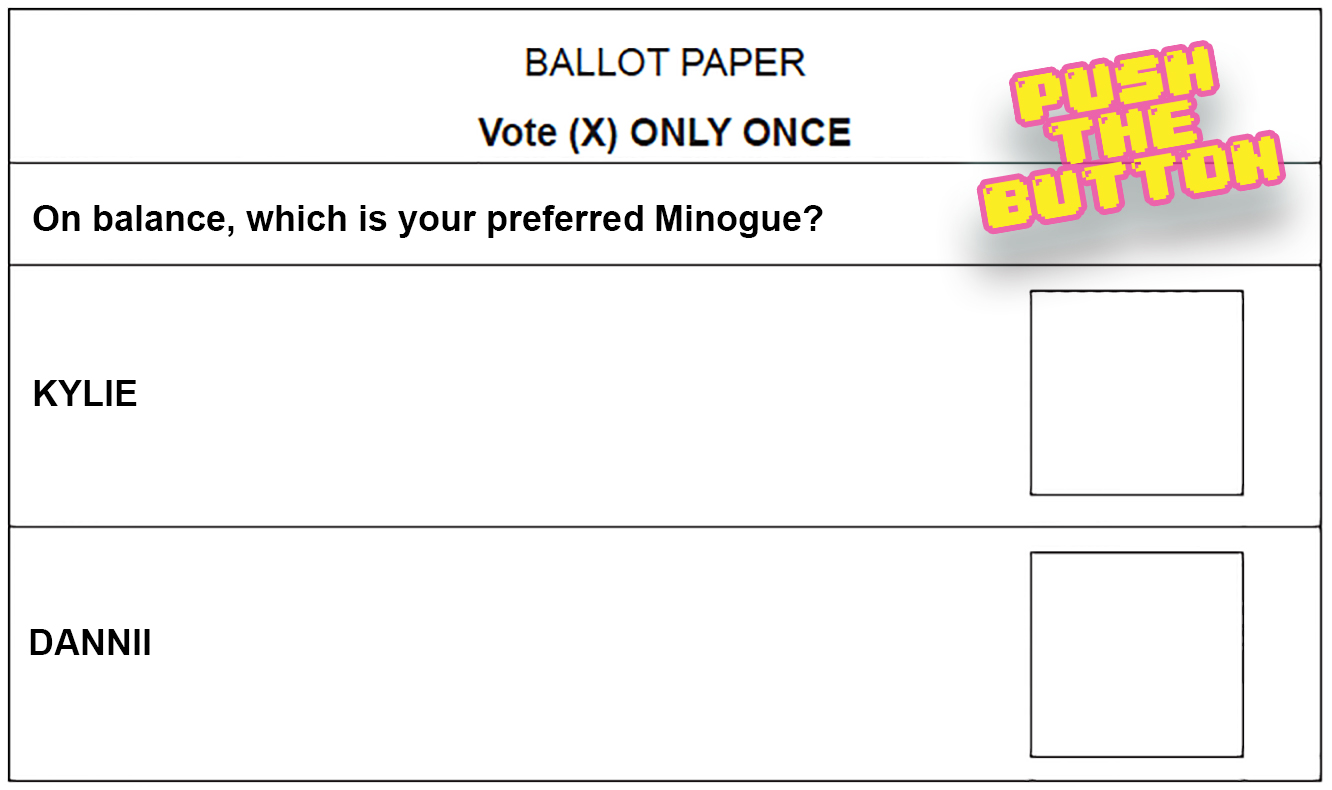 Pick a side, dress in your team colours and make your vote COUNT.
We will respect the outcome of the vote and continue the night only playing tracks from the winning Minogue for the rest of the evening.
There can be only one.
1-555-CONFIDE. CALL NOW. SATISFACTION GUARANTEED. MINOGUE HITS ALL NIGHT LONG.
ESPECIALLY FOR YOU we're putting on the biggest night of MINOGUE AMAZINGNESS amongst the pop frolics, posters, badges, nonsense and sing-alongs you've come to expect – and you're right, Dannii, we WON'T be changing the gender references.
Music Policy:
We play THE HITS. Anything 1990 – present day. Note: we will be playing artists OTHER than the Minogues too!
Requests taken via Twitter all night long (@PTButton / #playthehits)
THE SCIENCE PART (CONCENTRATE):
9PM UNTIL THE WORLD ENDS (3.15AM). £6.
The Royal Vauxhall Tavern
372 Kennington Lane, London SE11 5HY
SPICEBUS ROUTES: 2, 36, 77,87,88, 187, 344, 360, 436 (NIGHTBUSES:) N2, N36, N344, N87, N88
MIND THE STEP: Vauxhall Station (zone 1) on the Victoria Line. Exit the Station Via Exit 1 and turn right under the tunnel, walk to the end and turn right again, The RVT is the big, gorgeous Victorian pub in front of you!