Find out how Ines Würth, Linda Menger, and Daniel Leukauf use wind lidar and mesoscale models to predict power at an offshore wind plant
About this event
Join us for a joint IEA Wind Task 32 & Task 36 presentation on:
Minute-scale forecasting of power for alpha ventus based on lidar data
Large offshore wind farms supply a lot of energy, but thanks to the weather that can also mean lots of small and large fluctuations. So, accurate and timely forecasting will be essential for their integration into the power network. In this webinar you'll find out how wind lidar and mesoscale modeling can help.
In the ParkCast project we are developing, optimizing and evaluating new methods for minute-scale forecasts of the power performance of offshore wind farms up to 60 minutes ahead with high temporal resolution. Our aim is to significantly improve the temporal resolution and forecasting quality of the wind farm performance in the minute scale, and thus make a contribution to grid stability and supply security.
During this project we installed a long-range lidar on top of the nacelle of a turbine for 18 months at the alpha ventus wind farm. The measurement data are assimilated into a high-resolution weather model. We will evaluate the benefit of this data on different forecast horizons.
In this webinar we present our methods and our results, and explain how it could be implemented on other offshore wind farms.
The ParkCast project is a collaborative research project between Stuttgart Wind Energy (SWE), University of Stuttgart and the Center for Solar and Hydrogen Research Baden-Württemberg (ZSW) and is funded by the German Federal Ministry for Economic Affairs and Energy.
The webinar will be presented by Ines Würth (SWE), Linda Menger (ZSW), and Daniel Leukaif (ZSW).
About Task 32
Since 2012 Task 32 has built a strong community that works together to identify and mitigate the barriers to adoption of wind lidar for wind energy applications.
We do this by providing a structured forum for international collaborations between researchers, vendors, and users to exchange needs, ideas, and experience. The Task focuses on producing tangible results such as recommended practices that can be used by practitioners. And, Task 32 works in collaboration with other IEA Wind Tasks and related industry and academic groups to help encourage scientific investigations and align them with users' needs.
Find out more at https://iea-wind.org/task32/.
About Task 36
Wind power forecasts have been used operatively for over 20 years. Despite this fact, there are still several possibilities to improve the forecasts, both from the weather prediction side and from the usage of the forecasts. The International Energy Agency (IEA) Task 36 on Forecasting for Wind Energy organises international collaboration, among national weather centres with an interest and/or large projects on wind forecast improvements (NOAA, DWD, …), operational forecasters and forecast users.
Find out more at https://iea-wind.org/task-36/.
Do you want to share your experiences?
If you've got anything you want to share with the Task 32 wind lidar community through one of our webinars, please send an email ieawind.task32@ifb.uni-stuttgart.de.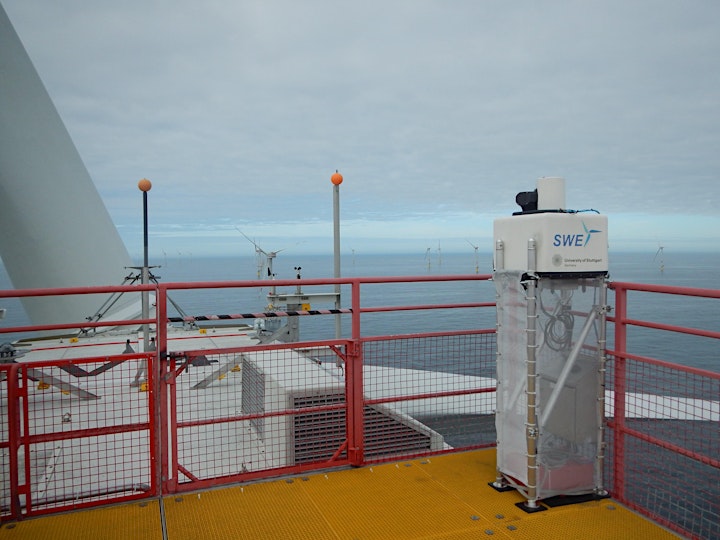 Agenda
The following agenda is tentative and subject to change. All times are given for local time in Berlin, Germany on December 8 (Central European Time).
14:00 Welcome and introductions
14:05 Lidar measurements and Taylor based forecasting - Ines Würth
14:20 Assimilating data into WRF - Linda Menger & Daniel Leukauf
14:35 Q&A
FAQ
Is this for me?
This webinar is for both the wind lidar community and the energy forecasting community.
I've registered, but I didn't get any meeting details.
First, you could be on the waiting list. That means no ticket until someone else decides to cancel theirs (sorry!).
If you are not on the waiting list, you should have had an email with the meeting details. Check your spam folder for mails from eventbrite or ieawind.task32@ifb.uni-stuttgart.de.
I can't find any details of the webinar
If you are registered for the webinar, you should have had the meeting details via email. They can also be accessed through this website.
You'll also get a couple of emails in advance of the meeting with a "view now" button. This is where you'll find the details of the webinar and any other material.
Can I get copies of the presentation(s)?
Usually, yes. We'll share details of how presentations can be downloaded after the event.
Why are there a limited number of seats for this webinar?
We are limited by technical reasons. And, keeping events small helps us manage security.
Organiser of Minute-scale forecasting of power for alpha ventus based on lidar data