Description
Welcome to Mirfield Show 2019
It''s nearly showday! You can buy your tickets on the day at the gate! An army of 40 committee members spend all year planning Mirfield Show, and we're so excited to see you there!
Mirfield Show is proud to be one of the lowest priced family agricultural days out in Yorkshire – especially as it remains free for all children under sixteen. And considering the number of events, competitions and attractions inside (most of them free also), families say it is a great value day out for everyone.
Mirfield's biggest non-profit event is held every year on the Sunday before August bank holiday with visitors exceeding 10,000 people a year.
Main Attractions:
Les Amis d'Onna - Cactus Djake's Western Extravaganza
For the full running order see the website by clicking here
FMG:
We are proud to have Huddersfield based, FMG, as one of our sponsors for 2019. FMG are an award winning business specialising in fleet incident management and specialist vehicle recovery services, delivering business-critical, 24-hour vehicle and driver support to blue chip customers, leasing providers, motor insurers, Highways England and several police forces.

Burg Wachter:
We are delighted to have the Burg-Wächter Secure Community Scheme partner with Mirfield Show. They are locking up a secure future by supporting local communities. Burg-Wächter provides products that keep people's home, businesses, property, equipment and precious items safe and secure.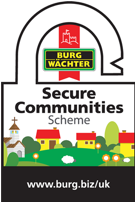 Sponsorship & Advertising:
Are you a business wanting to get your name out there? We have a diverse set of options for you to consider to support Mirfield's biggest family event and get your business noticed by a vast amount of people in advance to the day as well as on the day!
Email - marketing@mirfieldshow.com
Stalls & Attractions:
All field stalls for this year are filled. Applications close in February each year. We have a reserve list, so if you are intrested please get in touch.
For other attrations and bookings queries get in touch.
Email - bookings@mirfieldshow.com
Competitions:
As always we have a variety of amazing competitions and games to keep everyone intrested! With many announcements coming, and already happened keep in touch with us on social media and the website.
Email - competitions@mirfieldshow.com