Event Information
Location
All Hallows Church
Leeds
LS6 1NP
United Kingdom
Description
The Live at All Hallows series of gigs returns for our autumn run. We start with a rare trip to Leeds for Canadian singer-songwriter Miriam Jones with support from Leeds's own Flocks. Miriam is probably best know in the UK for her appearances at the Greenbelt arts festival. She's passing through Yorkshire enroute home from Scotland and we jumped at the chance to host her.
Miriam has a way of singing the soul back home without putting it to sleep. Poppy and light? Yes. Soulful and reflective? Indeed. Folky and human? Absolutely.
She has a particular gift for writing earth and angels side by side, and a voice to sound them so. Described in a recent live review as 'Springsteen in a Kitchenette', Jones' skilful and passionate performances (whether as a no-frills bass and acoustic duo or her full-band the Red Sea), along with a vulnerable writing style, never fail to delight her audience. This will be a duo gig with Miriam's husband Jez Carr.
Following two studio albums recorded in Canada, (Sign & Semblance 2005 and Being Here 2007) Miriam moved to the UK, wrote an EP (Inside Free 2008), recorded and released a song a month in 2009 (The Solitary Songs), and then finished her third album Fire-Lives in late 2010, subsequently rerecording a couple of tracks at Abbey Road, for radio play. Recorded live in her Oxford terrace with a band of bass, drums, electric guitar and Miriam's own acoustic guitar and straight-forward piano, Fire-lives sparkles with raw spirit and power in a thoughtfully combined set of heartening songs, sometimes buoyant and winsome, at other times slow-burning and dark.

"Miriam isn't just mining the usual female singer-songwriter vein. She's got some fresh ideas, rhythmically and harmonically. It was a privilege to be a part of her project. I hope lots of people find this music. It's got beauty and surprise all in one package. Which is a lot like life, right?"
Charlie Peacock, Sr. A&R Consultant-Sony/ATV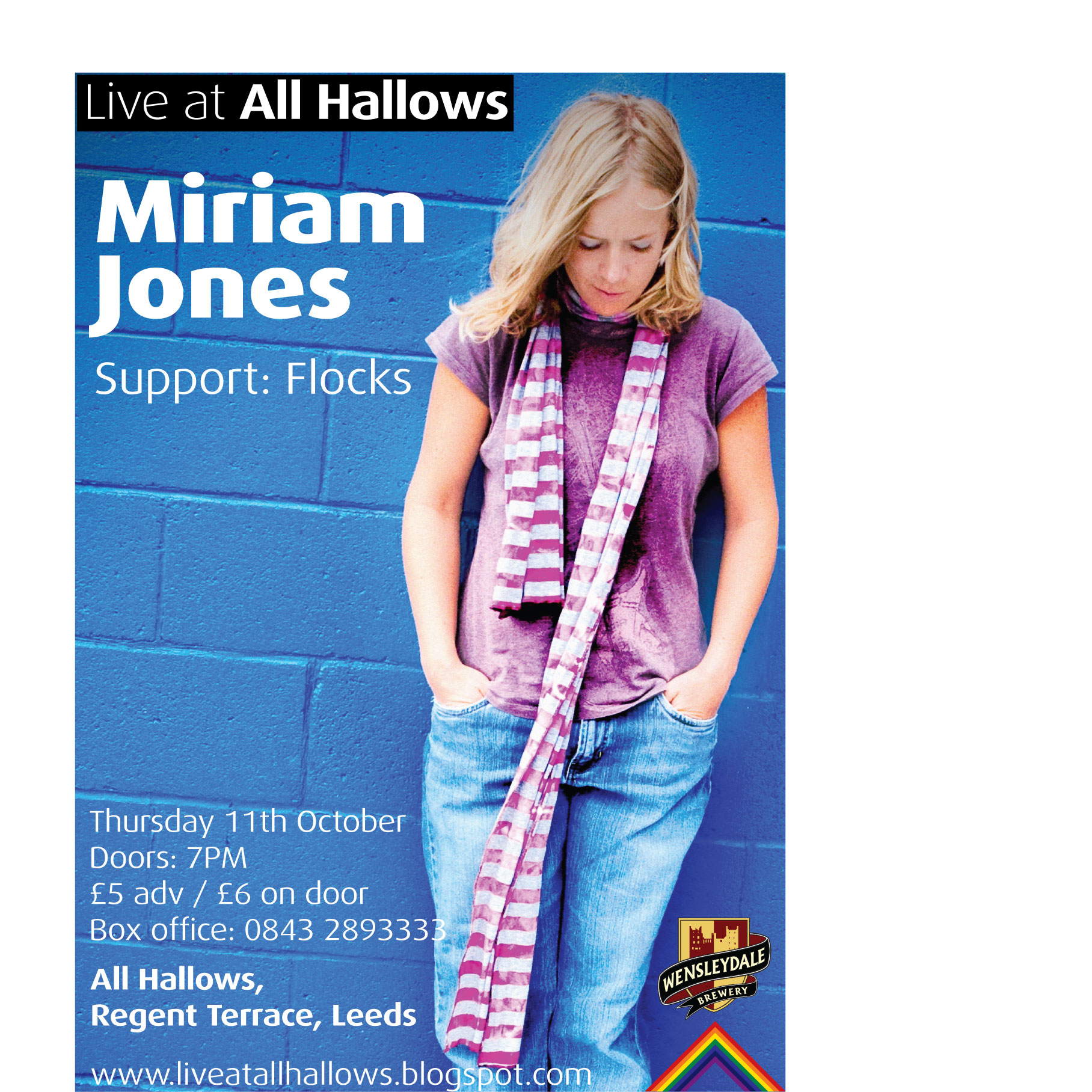 Date and time
Location
All Hallows Church
Leeds
LS6 1NP
United Kingdom
Organiser of Miriam Jones Live at All Hallows
We are a bunch of friends who run gigs together in a friendly, acoustically wonderful open & diverse church in Hyde Park Leeds. We like music and musicians and wanted to hear even more live. Come and join us?
Our mailing list - http://eepurl.com/dpn2XD - please sign up for occasional emails about our gigs, and other things we think you'll be interested in. We rarely send more than one email per month. We will NEVER share your data with anyone else and we'll only use it to send you information as above. Watch out for the email with the link it it that you need to click on to confirm subscription to our mailing list. Thank you!
We tweet at @liveatallhallow
Facebook page www.facebook.com/allhallows.gigs
Spotify playlist at http://open.spotify.com/user/stevethack/playlist/78jsQHUrIS8Cf2IrVyd2ON
Email us at: liveatallhallows (at) gmail (dot) com
Small print:
Note that eventbrite is an electronic ticketing service: you WILL NOT BE SENT A PAPER TICKET in the post. You will receive an email with a pdf ticket attached; in order to reduce paper waste we'd encourage you to use the eventbrite app or bring the confirmation email on a smart phone, or alternatively bring your order number and the name in which the tickets were purchased. Thanks..
Ticket Terms and Conditions for Live At All Hallows:
- Right of admission reserved.
- We reserve the right to refuse admission, or eject from the venue, any person who disrupts the event in any way.
- No alcoholic drinks may be brought into the venue.
- No illegal substances may be brought into the venue. Anyone caught in possession of these substances will be ejected and the police will be called. 
- In the event of cancellation, only the face value of the ticket will be refunded.
- Tickets cannot be exchanged, refunded or returned unless the event is cancelled, moved to another date, or if details of the event are significantly changed after a ticket is purchased (significant changes being a change of headline act or venue).
- Tickets may be transferred to another name with the agreement of the promoter. Contact us via Eventbrite.
- No professional type audio-visual recording equipment maybe brought into the venue without authorisation.
- Ticket holders agree to appear for no fee in any filming or recording of the event attended.
- The venue will not be held responsible for any loss or damage of personal belongings.
- No electronic cigarettes or similar to be used in the venue.