Description
Everyone you encounter has a story to tell.
That's why we started Misfit Local – it tells stories you won't hear anywhere else, and it's just for you
Get tickets now to be sure of your space!
* We're committed to keeping Misfit Local free. You can choose to make a donation, if you're able to. We'll never hassle you for money.
---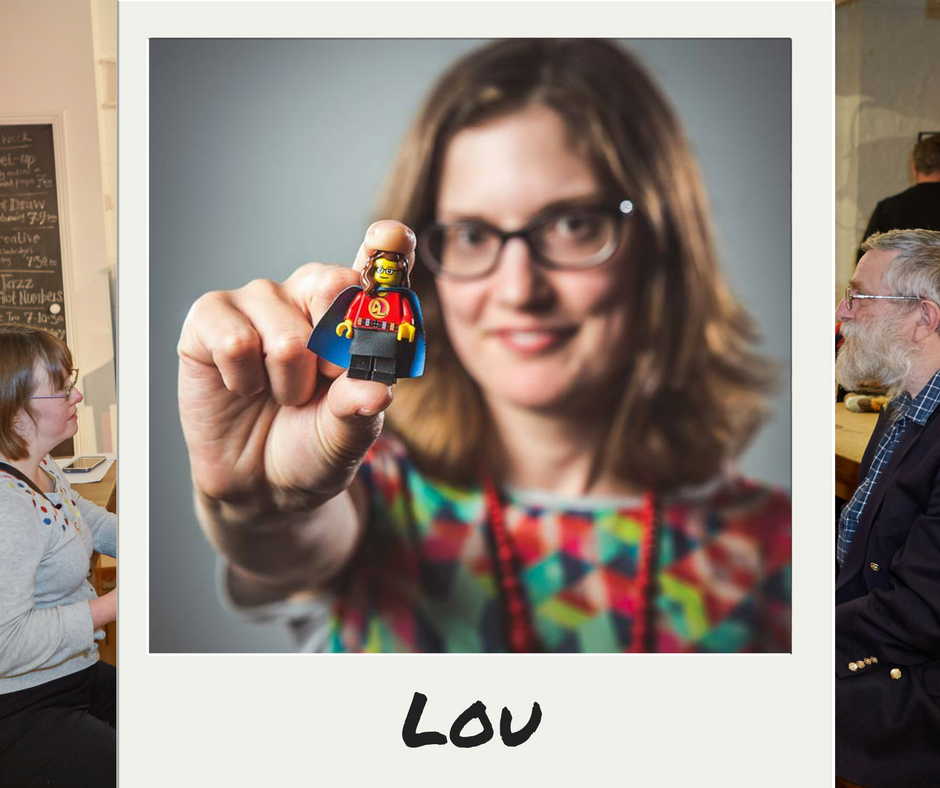 This Month's Misfit Storyteller - Lou
Our Misfit Storyteller is someone with a story to share that you can learn from - a story of overcoming obstacles, making a positive difference locally, and the lessons from their adventures.
Back in 2013, Lou invented a super hero alter ego called Danger Lou to help her to take more risks in life. Since then she's completed a number of 30 Day Challenges based on taking more risks and having more fun in her life. Challenges have seen her working out ways to boost her fitness, taking photos to help her get up earlier, or doodling every day to feel more creative. Most recently, she's been working on a model to help you understand the stages that you go through when you're facing change in your life.
Come along to find out how to have a more playful approach to making changes in your life, and to have a go at fighting Lou's evil nemesis. Expect conversation about robots, scaring yourself, and outer space. Because if change isn't the final frontier, what is?
---
What to Expect at a Misfit Local Event
Misfit Local events feature a local Misfit Storyteller sharing his / her experiences, work, and the different adventures encountered and lessons learned along the way. This is followed by a brief Q&A.
---
What people say about Misfit Local:
"I had a great evening thanks to @youcanhub and #misfitlocal. Global change on a local level = inspiring." @Sabahlalalala
"Great to meet you all there tonight! You added a new perspective to my socialising... thank you." @chryssiesgreece
"Loved it!" @MerryMotive
"Exciting idea sharing at #misfitlocal!" @Rebecca_ChampUK
"It's so different then any other event I've been to in Cambridge... usually I have to answer 'what do you do' a million times...here it's focused on people!" Anonymously captured through our feedback form.
FAQs
What is Misfit Local?
We created Misfit Local with the goal of curating a nurturing, supportive space for people like you and me. It's a space where people often say "Yes!" to exploring new ideas, instead of thinking of all the reasongs not to start.
It is also a space to listen to stories from Misfit Storytellers who call the Cambridge community home. Misfit Storytellers are just like us - trying to make a difference where we can, trying to understand our journey so far, and trying to help others along the way.
Do I have to get tickets?
I know - it's a free event. Why do you need to get tickets? By getting a ticket, you're really helping us to plan the event - it's your RSVP. It ensures we have enough space for you and can set up the venue for you. Getting a ticket will also mean you get a handy reminder 48 hours before the event, and we'll keep you informed about future dates. You can unsubscribe from future event reminders at any time.
Optional Donations It's takes time, effort, and resources to make Misfit Local happen - just like it does to put on a gig or show a film. If you value Misfit Local and want to contribute to its running costs, you can choose to make a donation along with your ticket, if you wish.
What will you do with my email address?
We won't sell your data, ever. We'll send you a reminder ahead of the event. We'll add you to our mailing list so that you get reminders about future events and links to information that is mentioned in a particular event. You can unsubscribe from these reminders at any time.
Is the event accessible?
Hot Numbers is located in an old brewery, and has the kind of access issues that come along with an older building. There is stepped access in to the cafe, which can be overcome with a ramp - please bring your own portable ramps. In the past we have supported attendees in wheelchairs to gain access to the cafe by sharing their ramps (note that the venue doesn't have its own). The toilet isn't a disabled toilet and there is no hoist.
If you have any questions or concerns please use the "contact the organiser" button. We'll do our best to support your access to the event.
Are there ID requirements or an age limit to enter the event?
No! All ages are welcome. Once you've got your ticket, you just need to show up and give your name. Our youngest attendee has been under one year old. Please note that at some events there may be swearing during the Misfit Story, depending on the Misfit Storyteller.
What are my transport/parking options getting to the event?
By Bike There are a small number of bike racks outside Hot Numbers, just over the access road that runs down the side of the cafe under the trees. There are more racks on Mill Road opposite Al Amin.
By Bus Mill Road is on the Citi 2 Bus Route. Take the stop nearest Gwydir Street, then make the rest of your way on foot.
By Car There is free parking after 5pm in the Gwydir Street Car Park. There is also free parking in the Great Eastern Street Car Park and in certain streets off Mill Road. Please check the parking regulations on local streets to be sure you won't get a ticket when you park, and be mindful of local residents - you are parking in their home. All part of the Misfit Local message - create the community you want to be a part of!
Do I have to bring my printed ticket to the event?
No - save some trees! Once you've registered, you just need your name to get in.
I can't make it this time. How do I stay informed about future events?
Easy! Add yourself to the Misfit Local mailing list here.
What is a Misfit?
Our community is the very first Misfit Local community in the world

We're part of a global network and movement, started by Melissa and AJ Leon, who are committed to living life with intention and doing work that truly matters. The global network meet at a conference in Fargo, North Dakota, every year

The movement began with AJ's series of essays called the Life and Times of a Remarkable Misfit. Get your hands on the pdf here

AJ and Melissa came to Cambridge in 2013 as part of their book tour and you can listen back to that event here using Soundcloud.