Description
In some dusty corner of the sprawling vicarage at Kintbury, there is a cache of family letters which hold secrets that Cassandra Austen is desperate should not be revealed. Should she act to protect her sister Jane's reputation? Or leave the contents of the letters to go unguarded into posterity?
Fans of Jane Austen will delight in Gill Hornby's new book Miss Austen. Based on a literary mystery that has long puzzled biographers and academics, it's a wonderfully original and emotionally complex novel about the loves and lives of Cassandra and Jane Austen which ingeniously imagines what Jane's sister Cassandra Austen's own life might have been like, both before and after Jane's untimely death. Join Gill at Heffers as she tells us all about the book and the stories behind her story.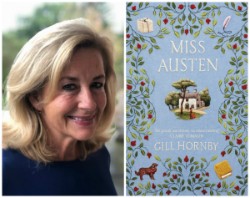 Tickets for the event are priced at £7 in advance or £8 on the door, and can be purchased through this page, by calling 01223 463200 or in person at Heffers bookshop. Please note that tickets are transferable but non-refundable.
The discussion will be chaired by novelist and scholar Janet Todd.
If you are unable to attend but would like to request a signed copy, please send an email via the 'contact' button on this page.
Like this? See a full list of our forthcoming events by clicking here.