Description
Who will be crowned Miss Caribbean UK this Year?
The time has finally come…… The stage is set……… And now these 12 Finalists will compete for the coveted title of Miss Caribbean UK 2019
There will be; glamour, fun, entertainment and fabulousness so remember dress to impress as this show will be filmed for TV
MCUK………POSITIVELY PROMOTING THE CARIBBEAN
https://www.youtube.com/watch?v=4IBh-NabSoU&feature=youtu.be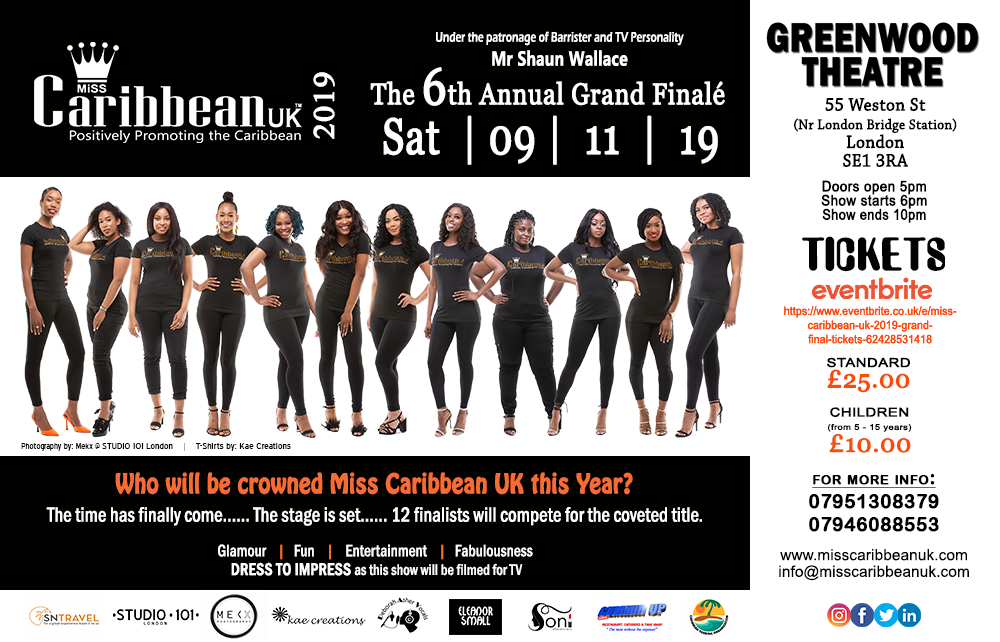 Organiser of Miss Caribbean UK - 2019 GRAND FINAL
Welcome to Miss Caribbean UK 
"Positively Promoting the Caribbean"
Miss Caribbean United Kingdom was set up as an event to promote all the different Caribbean countries under one umbrella. The event uses a pageant to promote, educate, inspire and celebrate the historical and cultural impact of the Caribbean within the United Kingdom.
Miss Caribbean UK (MCUK) is the first Afro Caribbean beauty pageant to go National. We have held heats across the UK creating shows that are dynamic, informative, inclusive, and unique and which we hope will leave a legacy of awareness of the positive contributions that the Afro Caribbean Community has made, and is still making to UK culture.
We want to ensure that this event continues to grow and includes the whole Caribbean community, both here in the UK and Internationally.
​Our strap line is, "POSITIVELY PROMOTING THE CARIBBEAN"
​We are therefore, pleased that personalities from; TV and film, music and politics are eager to support this cause.
​We are also delighted to announce that the Barrister and TV Personality Mr Shaun Wallace has agreed to become our first official Patron. Known for being one of the Chasers on ITV's quiz show THE CHASE where he has the nickname: The Dark Destroyer, Mr Wallace has made the following statement: "I'm delighted to announce that I am the Miss Caribbean UK Patron and have been for the past four years. I think that Miss Caribbean UK is a really positive way to promote the Caribbean in the UK. It is tremendous to see such a wonderful cause grow organically and I look forward to seeing British women of Caribbean descent continue to being promoted in such a positive light." 
​MCUK Connecting Communities!
https://www.facebook.com/MissCaribbeanUK
https://www.instagram.com/misscaribbeanuk/
https://twitter.com/MissCaribbeanUK
https://www.linkedin.com/in/miss-caribbean-uk-352b602b/
https://www.pinterest.co.uk/caribbean0845/