About this event
Following a ridiculous year, what better way to relaunch our workshops than with something super summery and upbeat.. introducing the Summer Zumba throwback!
Those of you I've known for a long time will know I started this journey as Miss Gold Zumba; teaching Zumba classes in the local community for nearly a decade, it makes me so happy that so many of you now attend our monthly dance workshops.
Zumba is the ultimate feel good session covering salsa, reggaeton, merengue and cumbia, mixing low and high intensity moves for an interval-style, calorie-burning dance fitness party. Energy will be turned up to the max.. expect tight tums and toned bums in the days after, a sneaky workout amongst the fun.. bring a drink!!!
This jam-packed 90 minute dance party will see us learn some iconic Zumba classics including Shakira's Waka Waka, Pitbull's Timber, Swalla, JLo's On The Floor to name but a few. We'll start with a full body warm up to summer party tunes and end with a super chilled cool down.
Dig out your favourite gear and trainers, get ready to Zumba dance your socks off and leave feeling AMAZing!
Early booking recommended. Spaces are limited to 17 due to restrictions in place at the moment.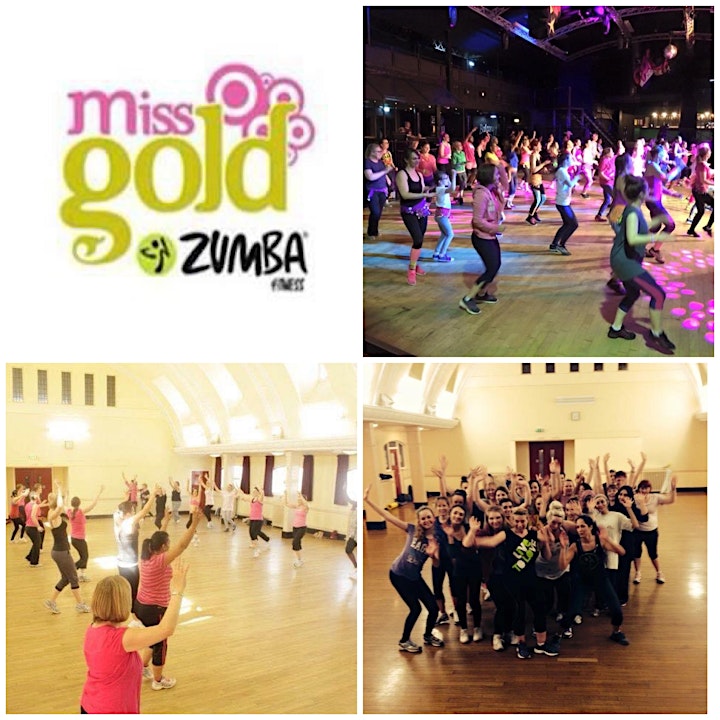 Organiser of Miss Gold Workshops - Summer Zumba throwback! (2021)
Miss Gold Dance Workshops are 90 minutes of confidence building, body celebrating, dancing fun! An opportunity to learn some iconic routines in a welcoming and friendly space.
FAQs:
▪️ What should I bring?
Your energy and a drink. Although not a fitness session as such, you will find yourself feeling well worked after 90 minutes! A sneaky workout amongst the fun. Win win :)
▪️ I'm not a dancer, are these workshops for me?
I take your 1 question and raise you 4!
1. Does dancing make you feel good?
2. When 'that' song comes on in the car do you hope other drivers can't see your sit-down-bum-shake-dancing because you can't help yourself?
3. Do you find yourself watching music videos and think 'I wanna do that!'
4. Do you want a welcoming atmosphere where you can lose yourself for 90 minutes in something fun and up beat that sees you nailing a whole routine from start to finish?
If you've answered yes to any of the above, see you soon :) 
 ▪️ Do I need to print my ticket? 
No, your email booking confirmation via Eventbrite is enough. Just turn up.
NEW!!!!! *** ZUMBATOMIC with Miss Gold has arrived ***

The brand new way to celebrate your child's birthday!

Energetic warm ups to all the latest songs
Zumbatomic® routines - learn & perform
Party games
Stickers for everyone during the games
Gift for the birthday girl/boy
Prize for each party guest
Zumbatomic® certificate of completion for each guest

To check date availability call Roya on 07979 854935