Be a Rocket Star & do something extraordinary this summer with our exclusive Mission Discovery, 5 day NASA led Summer School
About this event
Enter planet Earth's most exciting Summer School today
We can't wait for you to join our team!
👨🏻‍🚀 Learn from real life NASA astronauts
🙌🏾 Take part in the most exciting challenge in the universe
🤩 Make friends that will last a lifetime
🚀 Book your seat today and get ready for lift off
👩🏻‍🔬 Open to 14 - 18 years
🤑 Get $200 AUD off with early bird tickets... Only 50 available
Where will Mission Discovery lead you...

The Mission Discovery Summer School invites you to do something extraordinary
Mission Discovery invites you to spend a week working in teams, under the close guidance of NASA astronauts, NASA personnel, rocket scientists and world-renowned professors. The goal is to design an experiment, which could benefit the human race, whether it is on Earth, the Space Station, the Moon, Mars or beyond.
With the help from our brilliant NASA role models, you will finish the week by presenting your idea to the Mission Discovery judges. The best experiment will selected, built at NASA and launched to the International Space Station (ISS) to be conducted by the astronauts on board.
There is no selection process, giving everyone equal opportunity to get involved. The majority of students come on their own and form quick long lasting friendships. We welcome groups big or small, just let us know ✨
Our expert team will take your learning to the next level ✨
Meet your NASA instructors
👨🏻‍🚀 Dr. Steve Swanson - NASA astronaut & ISS Commander
👩🏾‍🔬 Sarah Murray - Senior NASA Leader
👩🏻‍🔬 Julie Keeble - Mission Discovery chief Space Scientist at Kings College London
👨🏻‍🔬 Steve Harridge - Proffessor & Space Scientist at Kings College London
👨🏻‍💼 Christopher Barber - Mission Discovery Founder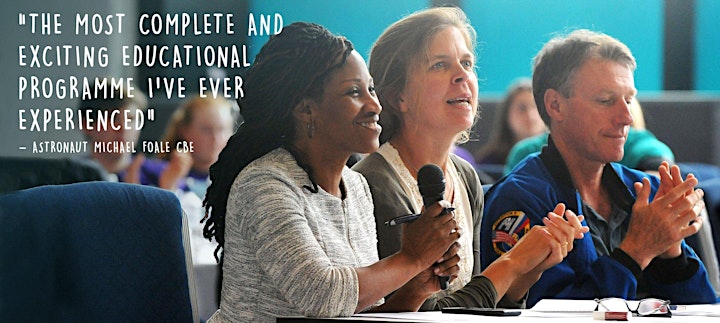 Give your University application a boost ✨
Mission Discovery Brisbane will be held at the Queensland University of Technology (QUT) Gardens Point Campus.
QUT is committed to providing real world learning experiences and research solutions across a broad range of fields. Their strengths include award-winning teaching, relevant research that benefits the community, a commitment to entrepreneurship and creativity, high student satisfaction and excellent graduate employment outcomes.
Each day students will register at the QUT Gardens Point Campus, an incredible venue that will be the Mission Discovery base for the proceeding 5 days… Sign up today and launch your future 🚀
Making dreams come true
Mission Discovery was launched in 2012. Since then, we have worked with 13 NASA astronauts, held programmes in 4 continents for over 7,000 students sending 33 experiments into space on 8 different rockets with more experiments in the pipeline to be launched this November 24th.
Sign up today & join our team 🚀