Event Information
Refund Policy
Contact the organiser to request a refund.
Eventbrite's fee is nonrefundable.
4 weekly mainly light-hearted, on-line talks, about a plant-related Christmas: Tues @ 10 starting December 1st, £5 each or all 4 for £16.
About this Event
This ticket is for the entire course of 4 sessions or you may purchase a ticket for individual sessions via the links here (Dec 1st The Folly & the Ivy; Dec 8th Naked Ladies and the Scarlet Monster; Dec 15th Step into the Christmas Card; Dec 22nd Mistletoe and the Druids).
Attendees will be sent a Zoom link 2 days prior to the start of the talk, and a link to the recorded session will be sent shortly afterwards.
Midwinter festivals, even before Christianity, have always involved bringing greenery indoors for decoration as a symbol of undying life but these days rather than rosemary and ivy its likely to be something much more colourful. In this series of talks we'll discover why a Greek nymph ended up on your sideboard and how a Mexican weed became the world's best selling pot plant. We'll also be looking at what's on Christmas cards and why, at ivy clad ruins and festive swags and on the serious side how a Georgian clergyman reinvented British history. Intrigued?
Dec 1st: The Folly & the Ivy - Caroline
Erasmus described folly as the seasoning of pleasure, an anticipation of the jolly season of Christmas with festoons of ivy. Ivy clad architectural follies from Mt Edgcumbe to Biddulph Grange, inspirational swags and topiaries, horticultural light relief in the form of Misalliance and parties from Mr. Fezziwig's Ball to Vicar and Gipsy fancy dress. As the German philosopher and cultural critic, Friedrich Nietzche, with a moustache to rival any ivy swag, wrote: 'We should call every truth false which was not accompanied by some laughter'.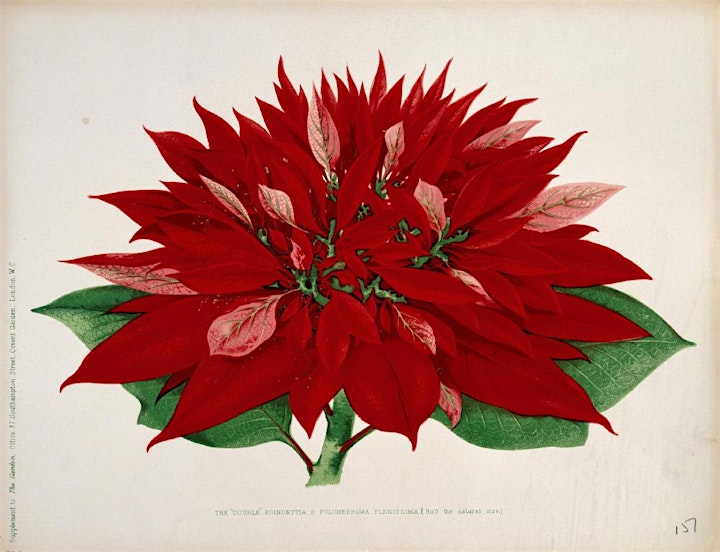 Dec 8th: Naked Ladies and the Scarlet Monster - David
People like to fill their houses with flowers and plants at Christmas. Is this a new trend? Have the range of plants changed over the years? What does a Victorian Dean of Manchester have to do with naked ladies and why do we all know the name of the American ambassador to Mexico in 1828? This talk will do a roundup of some of our most popular seasonal plants in art and botanical history.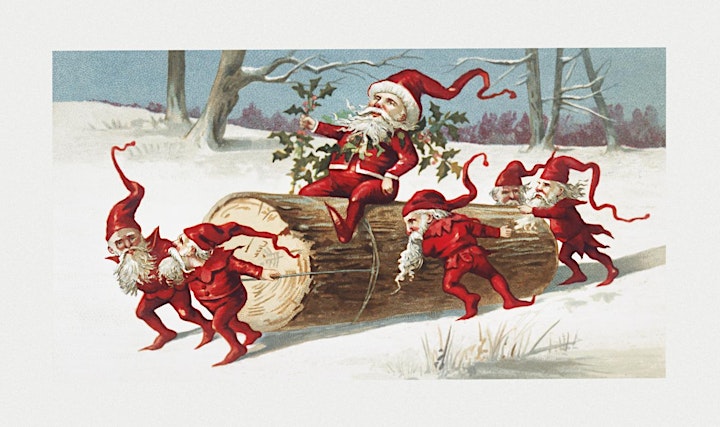 Dec 15th: Step into the Christmas Card: Caroline
For the last 150 years Christmas cards have been adorned with nativity scenes or holly, ivy and mistletoe, a rotund Father Christmas, hosiery, trees, with shouts of Noel, Noel. Sacred and profane, plant symbolism carols that echo the sacred magic of the nativity scene, the lowing animals popularized by St and Francis of Assisi, shepherds and kings, all playing their part and foretelling the future. There are also fashion plates, New Year wishes and cartoons. So what on earth do Christmas cards portray – tasteful or tasteless?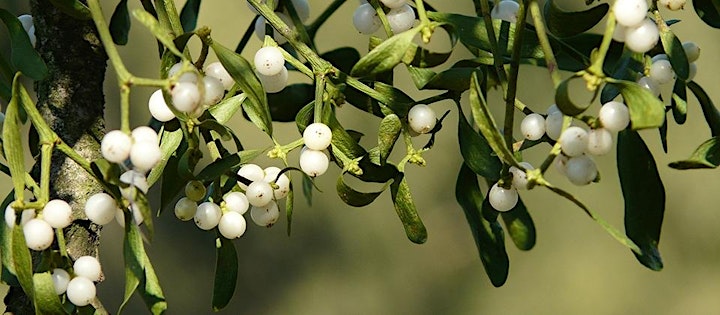 Dec 22nd Mistletoe and the Druids: David
Mistletoe is a mysterious plant without any obvious source of food, without roots, that grows way above the Earth but is not blown away by the wind, that stays green when its hosts have lost their leaves, and that seems capable of spontaneous reproduction and continuing life. It must have been an extraordinary sight to those without our knowledge of its botany and ecology. It has medicinal uses so why was it disapproved of by Christians. How did it kill a Norse god? Where do the Druids come into the story and what's it all got to do with a Lincolnshire vicar?
Caroline Holmes is an experienced and accomplished lecturer working for a wide range of organisations including leading tour and cruise operators. She is also a Course Director for the University of Cambridge Institute of Continuing Education including this year's Virtual Summer Festival of Learning 2020. Her own gardens are open to the public and have featured in many magazine articles and on television in both Britain and Japan. She is author of 11 books including a comprehensive history of Water Lilies published in 2015. For more information about Caroline see her website www.horti-history.com
After a career as a head teacher in Inner London David Marsh took very early retirement (the best thing he ever did) and returned to education on his own account and did an MA then a PhD in garden history. Now he lectures on. gardens history anywhere that will listen to him, and helps organise the Garden History seminar at London University's Institute of Historical Research. He is co-chair of the Education and Events Committee of the Gardens Trust, for who he organises courses and writes a weekly blog which you can find at https://thegardenstrust.blog
Date and Time
Location
Refund Policy
Contact the organiser to request a refund.
Eventbrite's fee is nonrefundable.