Mixed creative writing, drawing, & arts Classes for young people aged 10-14 at The Westhoughton Hub this autumn.
About this event
Summary: In these arts workshops, we will lightly explore mythology and folklore whilst trying out different arts, creative writing and drawing techniques and in an informal and creative environment. You will then have the opportunity to have your work featured in an exhibition to celebrate your achievements.
Date/Time/Location:
There are 6 dates , available to young people aged 10-14, as follows:
Mondays 13th , 20th & 27thSeptember and Mondays 4th, 11th & 18th October 2021 at 6-7pm at The Westhoughton Hub.
More info: This course is funded by The Baring Foundation and is for anyone aged 10-14 living in Bolton/Greater Manchester. We do not charge for our workshops so they are free. All materials are provided.
The course is open to young people of any ability so long as they have an interest in developing their artistic skills. If your child is outside the ages, please contact us to discuss bbgetinvolved@outlook.com
Although we have strong ethos surrounding mental health at Breakdown Bolton, the course itself is not about mental health but to support people, through creativity, to pursue their artistic interests and talents.
All members of the Breakdown Bolton team working on this project are experienced in working with young people, are safeguarding trained and have enhanced DBS checks.
Following this course there will be the opportunity to have your work showcased at our exhibitions. We are also creating something for a group publication, funding permitting, to further showcase the work of our participants.
Contact:
www.breakdownbolton.com @breakdownbolton bbgetinvolved@outlook.com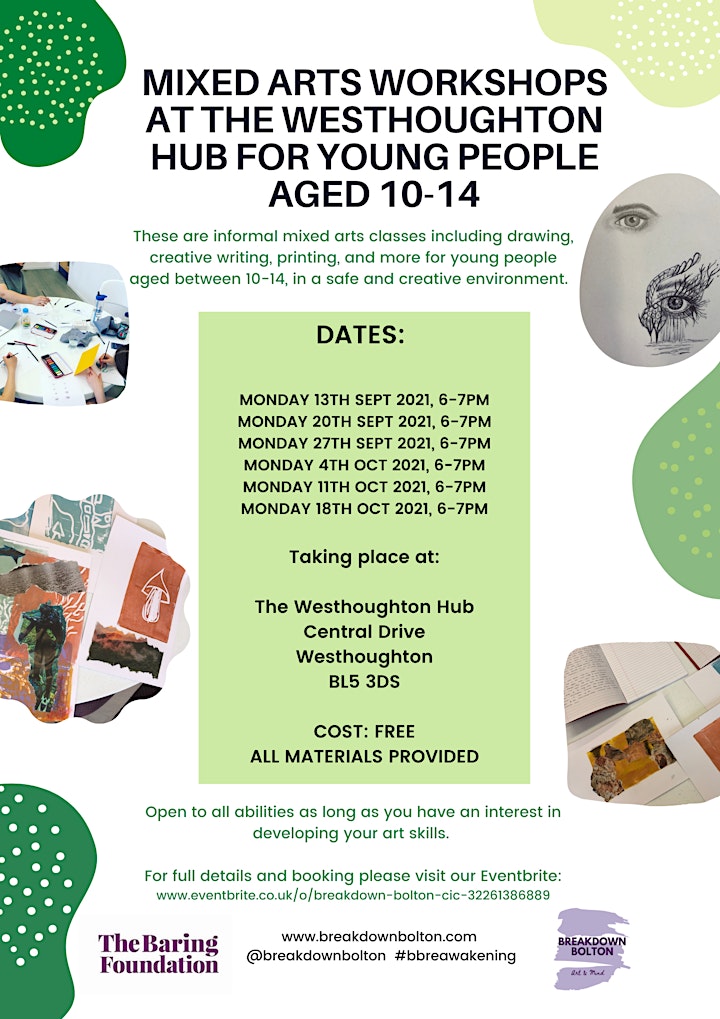 Organiser of Mixed Arts workshops for young people aged 10-14 at The Westhoughton Hub